Hrithik Roshan, the great Bollywood star, has got a good looking physique and a charming personality. He is a good actor and a great dancer. He recently had a back injury because of which he was bed ridden for many months. Now, he is back with more charm and vigour than ever before. He made an amazing physique for his upcoming movie "Krrish 3", scheduled to be releasing on 4 November, 2013.
Hrithik had a back injury and was on bed for many months. He was not able to resist his cravings for cigarettes, cookies and muffins during the period. He was smoking 3 packs of cigarettes a day at a time. Alarmed, the star hired Kris Gethin as his personal trainer. He wanted to incorporate fitness in his life and desired to look like a superhero in his upcoming movie "Krrish 3". He had a waist of 91 cm (or 36 inches), which was to be reduced. He also wanted to build more lean muscle mass. His new personal trainer was to help him in that sphere as well.
The Workout Plan of Hrithik Roshan for the movie Krrish 3
The body design plan that was followed by Hrithik for the movie "Krrish 3" consisted of 3 phases. These phases are described below:
Fundamental Phase – During this phase, Hrithik learned the basics of strength training. This training phase prepared his body for the intense training program that was to be followed in the coming weeks. This program had multi-muscle, isolation and compound movements. These movements were designed so that they could work the muscles to the full capacity. It also developed each muscle group separately. This gave Hrithik's body a toned appearance. The phase also helped in lowering injuries.
Momentum Phase – The exercises and workouts of this phase added some strength to the muscles of the actor and made them denser. Heavier weights were used during this phase. Dense muscle groups increase the basal metabolism rate of the body. The body burns more calories during the day. Thus, Hrithik was able to burn more calories a day, till the end of this phase.
Dramatic Transformation Principle Phase – This advanced level had simple yet intense workouts. Great results were attained during this phase as the exercises laid distinct stress on the muscle groups.
Because of the knee injury and slip disc, Hrithik had to do a lot of functional training and cross fit exercises.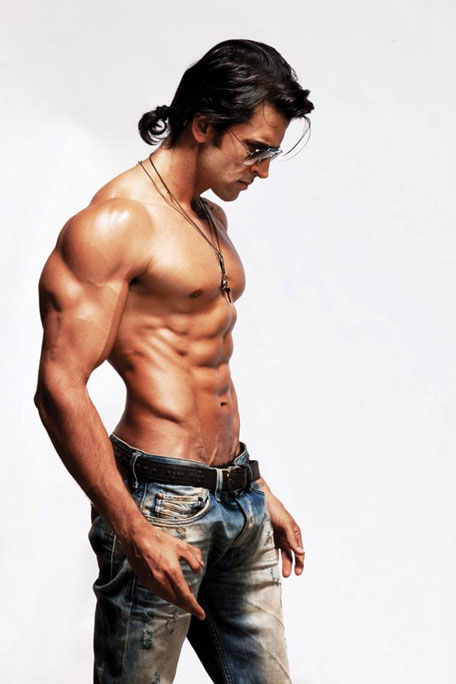 The whole body transformation schedule was to be completed in a period of 12 weeks. They (Hrithik and Kris) were able to complete it in a 10 weeks period. These 10 weeks were full of hard work. A sincere and dedicated approach and 10 weeks of perseverance and discipline helped Hrithik to succeed in carrying out the body transformation.
Hrithik Roshan Diet Plan
Hrithik did not opt for crash diet plans. He had gone on such plans before. This time, he wanted to have more permanent changes in his lifestyle. Therefore, he hired the well known celebrity nutritionist Marika Johansson as his diet consultant. Marika advised Hrithik to change his eating habits. He was also advised to change the food items, he was eating. He had to eat several times a day rather than eating 3 heavy meals a day. Marika further provided Hrithik with a diet plan that had large amounts of proteins and other nutritious food items. Some of the unique recipes of the diet plan were protein muffins and meat balls.
Hrithik followed the diet plan and ate for 7 to 8 times a day. He ate carbohydrates in the form of oats, sweet potato, pasta, brown rice, etc. He got protein from egg whites, chicken, protein shakes and other animal products. He ate nuts in the form of snacks. Roshan got the essential omega 3 fatty acids from omega oils.
He used to had 100 grams of meat each day. Apart from it, he also ate fibrous carbs, sprouts, broccoli and spinach. These staple food items provided him with fiber, vitamins and minerals.
Now the transformation is over. Hrithik is enjoying protein powdered pancakes in sugar free syrup these days. He also likes yoghurt and banana spilt with protein powder and eats two toast slices, seven egg whites with two egg yolks.
Hrithik liked his meals during the transformation plan period, which he found to be nutritious as well as tasty. He was amazed at the capacity of the human body and how much it is capable of doing. He says he feels more in control of his body now and he will carry on with the nutrition plans.