Iskra Lawrence tells how to feel your best, beautiful at any weight, shape, size and height!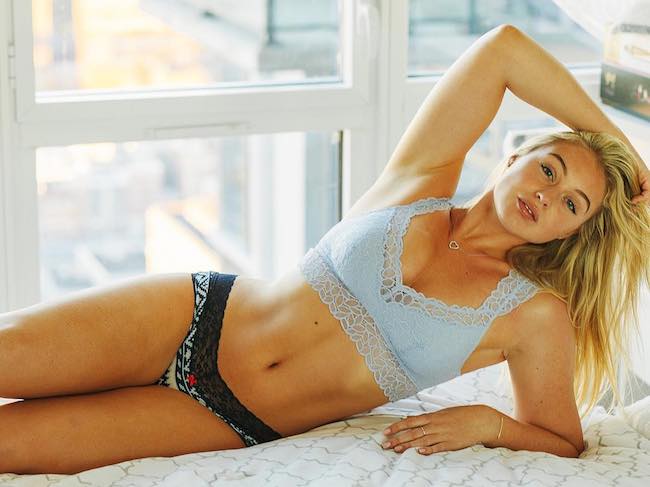 She hates the word 'plus-size,' or for that matter any other label that might make you feel less beautiful and confident as your natural self. Iskra Arabella Lawrence is a size 14, 5'9" British model who is heavier than the accepted size and measurements of mainstream models. She did not want to give up modeling but hated herself every time she mistreated her body with extreme dieting. However, if you want something badly enough, there is always a way! And Iskra sure found success for herself owning her curves and extra pounds every step of the way.
Career Highlights
Presently, she represents the lingerie line Aerie in USA, and after 13 years of print modeling debuted on the runway at New York Fashion Week in 2016. A guest author in many publications such as Time and Huffington Post, she is also a columnist for Self magazine.
Additionally, Iskra is the managing editor of the web publication, Runway Riot which she uses as a platform to promote fashion, make-up, fitness and all other forms of self-care along with glamor for women of all shapes and sizes.
Being a brand ambassador of National Eating Disorders Association (NEDA), she claims to be the founder of the NEDA Inspires award and tours throughout the USA, visiting universities to promote a healthy body image among youngsters magnifying recognition of various eating disorders in the process and ways to cope with them.
The Message From Her Struggle
Iskra has a huge fan following all over social media and uses her popularity to share the realizations that came to her after much mental suffering, so young women worldwide can start living ABOVE the pressures, complexes, and insecurities inflamed by the picture perfect fashion industry. How? By posting Instagram photos that are completely untouched.
She started modeling at 13 but was dropped by her agency at 15 because they thought her hips were too big! At her slimmest when she was a UK size 8 in her late teens, she reveals she was a lot unhealthier as compared to her current weight and size. A heavily retouched photo of models in magazines leaves everyone obsessing over their physical flaws.
Culturally, curves are in, so she is lauded for having a perfect body at the moment. But while she was struggling to make it big in the modeling industry, lean and straight figures were the norm and it was considered shameful to have heavy hips!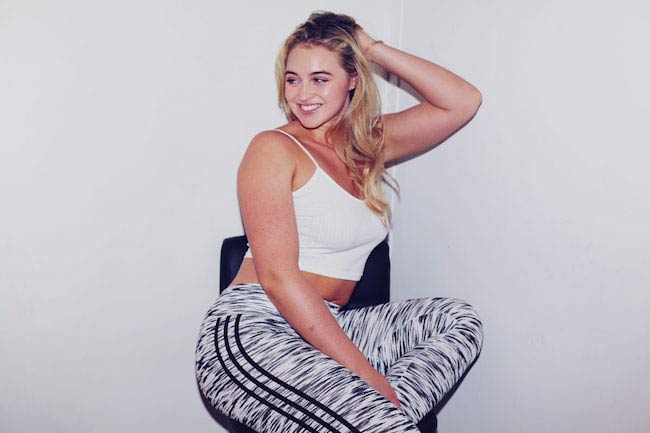 Iskra's Top Tips to Feel Your Best Self:
Industry standards are fickle. Don't take them too seriously!
She insists you don't need to wait with bated breath to reach some imaginary point of perfection to start having fun in your life and experience happiness. Get out in the world with a sense of purpose and engage in whatever empowers you with a sense of accomplishment.
Being thin is not the same thing as being healthy.
Not having a thigh gap was the end of the world for Iskra once upon a time. Not anymore. Extreme diets left her sluggish and grumpy with a tendency to be low all the time. Whereas, being active does not feel like a burden when a person is mentally and physically healthy.
Usher in body confidence by looking in the mirror and picking 3 features that you are proud of the most.
The goal of diet and exercise is not to alter who you are but to be the healthiest version of yourself which can be different shape and sizes for different people. If you dislike exercise but do them anyway chasing a calorie deficit, you are setting yourself up for misery. Look for activities you enjoy most that will help you stay trim. When you respect your body enough, you naturally want to nourish it with balanced nutrition and make it stronger with exercise without feeling any external pressure.
Consider fashion as a means of self-expression. Don't use it to seek acceptance from others.
As managing editor of RunwayRiot.com, Iskra has made it her purpose to glorify fashion with different body types that do not conform to the standard measurements of the modeling industry to convey the message that all women can feel every bit glamorous as all the lean and slim runway models. As different women share their insecurities on Runway Riot's YouTube channel, the audience becomes self-aware enough to not get distressed by demeaning remarks that objectify people.
Iskra's Workout Routine
Frequency – She aims to hit the gym 3-4 times every week and her workouts are hard and intense.
Breakthrough Discovery – As revealed in an interview with Shape magazine, Iskra noticed her body radically improving for the better when she started lifting heavy weights. She was concerned about losing her curves until she looked at Serena Williams for inspiration. Though tennis star Serena Williams is extremely muscular, Iskra finds her gorgeously well-built. She is impressed by the power she displays on the tennis court and the way she uses her body as a weapon to stay on top of her game.
The Aftermath – Iskra soon realized that being physically strong also makes you feel more confident, hence she can't do without her weekly dose of heavy leg workouts that include plenty of Glute bridges, Bulgarian split squats, and jumping squats. Check out the following workout montage that showcases Iskra's love for intense leg workouts.
Fitness on the Go
 – While traveling, Iskra carries her
resistance bands
to complement her body weight workouts. Even though she has tried her hand at Pilates and swimming, the usual exercises commonly practiced in most gyms such as push-ups, tricep-dips and plank to push-up for ARMS, squats, jumping squats and lunges for LEGS and bicycle crunches, Russian twists and alternate arm to toe touches for ABS work just fine for her as for anybody else.
Her word of caution – According to her, warming up and cooling down, before and after a workout respectively are no-brainers which must be followed like a sacred ritual. It pays off to work on your mobility with a foam roller and flexibility with frequent stretching. Self-awareness is essential to understand the difference between feeling the burn in the muscle from pressure on the joints. Avoid any exercise that causes the latter.
How does Iskra keep herself motivated to workout consistently?
With good music! Her favorite jams add the element of fun to the most boring gym environment.
The sense of accomplishment that comes post-workout with the endorphin rush feels amazing. Iskra often writes that down in her journal as a reminder to re-visit whenever she feels too lazy to exercise during winters.
Working out regularly helps develop a better relationship with food. She does not feel guilty every time. She spontaneously treats herself with desserts such as a piece of cheesecake.
She no longer feels any stress about her appearance right before a big event or a photoshoot knowing that she consistently invested her time in the gym and feels fabulous!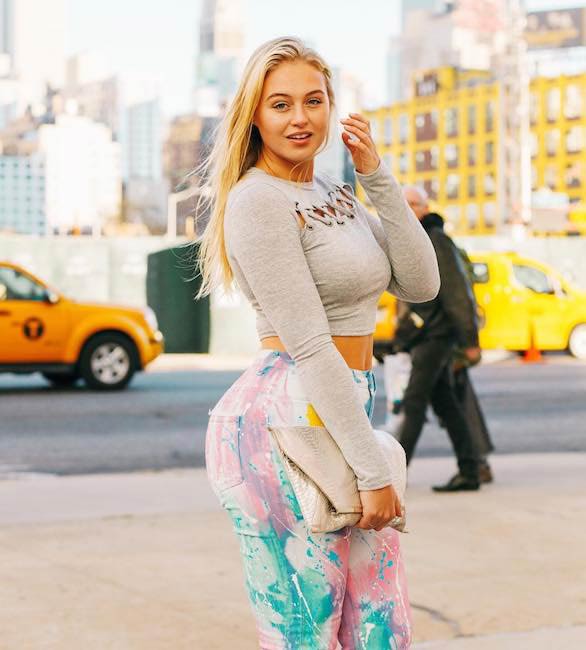 Iskra Lawrence Diet
Eat to build! – Getting shredded is not her aim. Iskra eats to build muscle that allows her to indulge frequently, though in moderation.
Learn to cook simple, healthy meals – When not traveling, Iskra cooks most of her meals at home. She knows how to prepare quick fix unprocessed meals such as salmon and broccoli cooked in soya sauce. Sweet potato and chicken wraps are also a frequent part of her daily meals.
Daily Morning Detox with Cold Pressed Juicing – Iskra told Shape magazine that her favorite healthy treat every single morning is a condensed juice containing a carrot, apple, celery, cucumber, ginger, and beetroot.
Favorite Unhealthy Treat – She is extremely fond of pizzas, burgers, and fries and still takes out the time to enjoy them during restaurant visits.
Pre-workout – As crazy at it seems to some of her friends, Iskra eats a light meal 30 minutes before her workout that usually comprises of salmon and sweet potato. It does not make her queasy.
She nearly passed out once while working out in a fasted state in the morning, hence avoids morning workouts and prefers to train in the evening when she feels more energetic.
Post-Workout – Iskra always refuels with a protein shake without fail. Depending on how she is feeling, she either prepares a healthy version or the sinful, indulgent version.
She prepares the healthy protein shake by adding a scoop of protein powder to mango, spinach, almond milk, and ice. When she wants to spoil herself, she adds Oreos, Nutella, pecans to regular milk along with a scoop of protein.
Seems like Iskra finally found happiness by re-arranging her life around working out hard and eating well!