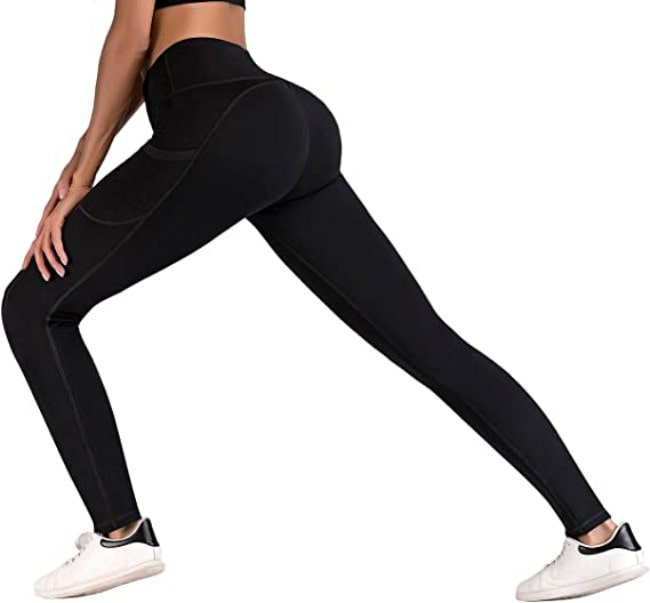 Yoga helps to keep you fit, burn calories, and to meditate. So, it keeps your body and mind both healthy. It is a great exercise that improves your flexibility and posture. To enjoy yoga and perform better at yoga classes, you need a good yoga pant. If you don't wear comfortable pants, then you won't be able to do various movements. When purchasing yoga pants, you must give importance to quality. So, even if the price is a little high, you should invest in a good yoga pant as it will last for many years and will make your yoga sessions comfortable. Here, we are going to review the IUGA High Waist Yoga Pants and find out why it is so popular in the market today.
Design
In this yoga pant, you will get style, performance, and comfort. This high-quality yoga pant is great for fitness enthusiasts, especially those who are interested in doing yoga. It has a wide high-rise waistband with tummy control that hides your muffin top and gives you a flatter tummy. The high waist design makes you look slimmer as well. There are two side pockets and a hidden pocket so that you can keep your important accessories like keys, mobile phones, and other things. The material with which it is made is stretchable 4 ways and it allows flexibility in movement. The gusset crotch also maximizes free movement and the interlock seams reduce rubbing and chafing. This pant is created to fit every style and different lifestyle of people.
Build Quality
This pant has been made by yogis, so you will get all the important features you need in a yoga pant here. The pant has been manufactured after a lot of research and advice from the best yogis in the world. Extreme care is taken in every step of making this pant, so you won't find any flaw in the material or stitching. It is made of super soft material and so you will feel comfortable wearing it. The four-way stretch material provides support and compression. The fabric is thick and non-see-through, so you will feel comfortable wearing it in front of others without any skin showing. The ultra-stretch fit pant makes you look slim and conforms with every movement making you look attractive and feel comfortable. It is breathable, so you will stay dry even if you sweat. You won't experience any skin irritation while wearing these pants.
Size
You can find this pant in different sizes from X-small to XXX-large. So, this pant is appropriate for super slim and oversized people as well. Just measure your waist and you will get the perfect fit. It provides full coverage of your legs and waist, making you feel comfortable during the yoga classes.
Ease of Use
The elastic waistband makes it comfortable to put on. It doesn't roll over during workouts; the waistband stays in place. As the fabric is stretchable, you can do any movement conveniently. The pant won't tear even if you bend or stretch too much.
Comfort
The elastic waistband provides a comfortable fit and the stretchy fabric gives more freedom of movement. So, you will feel super comfortable while doing yoga. The pant hugs your body in the right places to make you feel comfortable throughout the yoga session.
Effectiveness
Whether you are doing the foundation poses or the difficult ones, you will feel comfortable wearing these pants. This pant is perfect for yoga, weight lifting, cross-training, running, and even everyday use. The fabric is of sufficient thickness so that it is not see-through, at the same time, you won't feel hot or uncomfortable wearing it. The pant provides the softness and comfort to allow you to practice more. It stretches in 4 different directions, so you can squat, kneel, bend or lift without feeling any restriction. This pant is designed to improve your performance. It keeps the muscles warm and shapes the body. You can get fit in style wearing this pant in your yoga classes.
Pros
You can find these pants in different colors and sizes.
It is made of high-quality materials.
The waistband will stay in place and won't fold over.
It will keep your tummy in control and result in a flatter tummy.
It has a moisture-wicking feature, so you won't feel sticky even if you sweat.
It contours the body and gives you a streamlined look.
It is skin-friendly, so you won't have any rashes or skin irritation.
You will get maximum coverage while doing the yoga poses, so there won't be any skin showing.
It improves your performance.
It has a good price and you will get great value for money.
You get a 30-day money-back guarantee if you are not satisfied with your purchase.
Cons
The color of the paint may fade after some time.
There are fewer darker colors.
It takes time for the sweat to dry out.
Final Verdict
Yoga is not only about keeping your body fit. It has the spiritual factor in it for which many people now join yoga classes. To ensure that you get the most benefit out of your yoga classes, you should feel comfortable wearing your yoga pants; otherwise, you won't be able to move your legs free to perform the different poses. Iuga Yoga Pant is one of the best quality yoga pants available in the market that will help you to enjoy your yoga classes. This pant is made of high-quality materials that are soft and comfortable. It has a wide waistband which gives full coverage. The pant is stretchable in 4 different directions, helping you to move freely. You can get these pants at an excellent price. You will love wearing the pant for your yoga classes and look slim and fashionable.