Blonde bombshell, Jaime King seldom fails to stun us with her svelte figure. The charming actress stepping on red carpet can always be seen in perfect shape. Even after welcoming her first child, son James in 2013, it didn't take the hottie more than four months to snap back in the pre-pregnancy figure.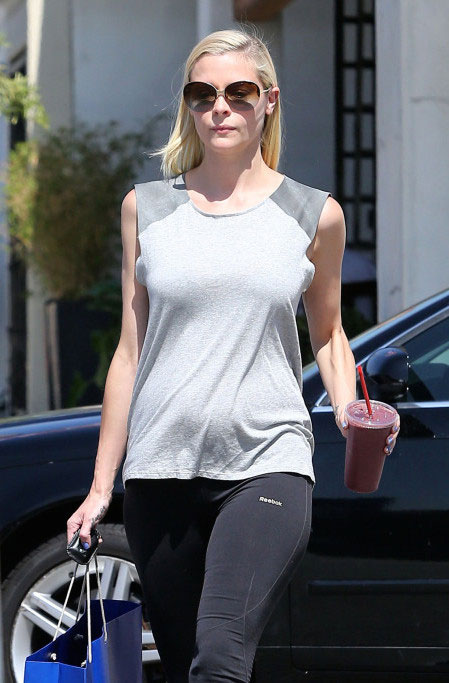 Paleta – Organic Meals
The sultry actress doesn't have her body go through starvation diet programs. She rather swears by diet program namely Paleta which delivers organic and nutrient loaded meals to her doorsteps. Meal services rendered by the diet program are apt for people who cannot plan their diet chart due to extremely busy schedule at work or unavailability of time. Jaime reckons, most of us remain obsessed about what not to eat to acquire lean shape. However, if we switch our view from "what not to eat" to "what to eat," we certainly can stay immune from myriad diseases and acquire the body we have always wanted.
Watched Number of Calories
Just as vices like alcohol, cigarettes etc. have harmful impacts, unwary consumption of foods too cause irrevocable damage to our body. Jaime being fitness freak keeps an eye on the number of calories she consumes. She follows the diet regime of 1200 calories for two days and then 1400 calories for another two days, and so on. Aside from that, she prefers eating mostly raw foods in her diet until dinner. Her dinner mainly consists of protein rich diet which nourishes her worked out body. Among wholesome beverages, vegetable smoothies are her favorites. She adores smoothie made of pineapple, kale, oranges, coconut, almonds, pea protein etc. the most.
Workouts with Friend
Jaime favors executing workouts in the company of friend(s). She herself hits gym and performs workouts in the company of her friend, Jessica Alba. She contends that the precious company of the fit and slender friend prompts her to cross the self-made comfort zone and attain such targets which she could have never attained in her own strength.
Under the guidance of her fitness instructor, Ramona Braganza, she performs myriad workouts in gym. In addition to them, she has also performs some custom workouts. Nike Rockstar Workout and Rock Your Body are some of the examples of her workouts which are blend of athleticism and cardio through dancing.
Post Pregnancy Weight Loss
Melting away weight in general is fine but shedding away post pregnancy weight within four months past the birth of baby is truly commendable. Since your body is very fragile after pregnancy, you cannot resort to workouts. Also, being nursing mother, you cannot opt to trim down the number of calories. Jaime took the best way; she stayed prudent about her calorie consumption in the nine months of pregnancy.
She kept her from foods which could bulk up surplus calories in her body. She consumed plenty of wholesome and nutrient dense foods such as fruits, veggies, lean proteins etc. in her diet which provided nourishment to both her and her unborn infant in womb. Among exercises, Jaime did nothing in particular but strolling. She refers to dragging stroller equivalent to Pilates as it builds up both your core as well as arms.
Healthy Tips for Fans
You can start with making changes in the first meal of the day to suit your objective to shed weight. Since first meal is the most important meal of the day, it will not only get rid you from unsolicited pounds but will also boost your energy. To comprehend the influence of breakfast, there was a test done on two groups of people. While one group was to consume 200 calories in breakfast, 500 calories in lunch, and 700 calories in dinner, other group was to consume the same in reverse that is 700 calories in breakfast, 500 calories in lunch, and 200 calories in dinner. To the astonishment of all, people in second group with largest number of calories in the breakfast were found to have better metabolism and energy levels. Here are some tips which shall help you make healthy breakfast choices.
Cereals with Large Flakes – Always pick bigger size flakes over smaller size flakes. With larger size flakes, you are likely to consume fewer calories which will further keep check on your weight.
Select Oat Bran – Oat bran is not only the easiest option to prepare breakfast; its fiber density also keeps you full for longer duration. With its consumption, you are unlikely to suffer from unanticipated cravings for the rest of the day.
Consume Protein Diet – Prefer consuming protein rich diet in breakfast. Protein packed food items trims down your consumption of foods in rest of the meals such as lunch and dinner. You can eat two boiled eggs in the breakfast. Aside from fostering weight loss process in your body, eggs being rich in nutrient named choline rev up the functioning of your nervous and cardio system.