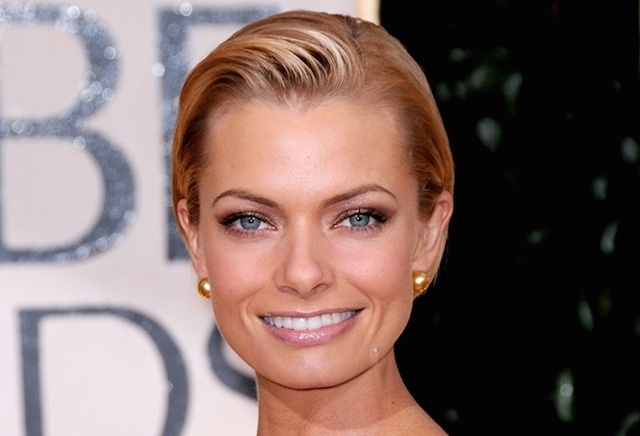 Blonde hair, blue eyes, Jaime Pressly is an American model and actress. Very popular for her role in My Name is Earl, the smashing beauty has conquered several prestigious awards such as Emmy award, Golden Globe Award, and Screen Actor Guild award. The sultry actress owns one of the hottest and sexiest bodies of Hollywood. It's only her forever lasting charm and glam that had her being nominated as the hottest celebs of Hollywood by shape magazine within two years past the birth of her first baby, son Dezi James in May 2007.
Unlike other shaped up celebs of Hollywood who endeavor to acquire skinny and emaciated figure, Jaime adores glancing her hourglass and curvaceous figure. She prefers feminine body to gaunt figure and that's the reason she didn't spend much energy of her in trimming her butts post pregnancy.
Jaime Pressly Diet Plan
The striking beauty eats very healthy and nutritious diet. She pays special attention to her diet and incorporates nutrient dense foods in her diet. She indulges herself in her favorite foods once in a week, which slaughter all her cravings and temptations and detoxify her mind from the alluring thoughts of yum foods.
She inculcates rich sources of protein such as broiled chicken breast, grilled fish, eggs etc. in her diet. She shares, during her pregnancy she got inconsiderate towards foods and allowed herself to cherish all kinds of junk and processed foods. Without bothering about the influence of those foods on her body, she treated her body like a garbage bin. However, she had to pay the toll since she grew forty-two pounds overweight due to that.
Sentient about the fact that surplus fats accumulated inside the body can be purged only with the aid of detox diet plan, she succumbed to cabbage soup diet plan. The diet program has you bank entirely on cabbage soup for six days and allows you to eat eight bananas once in six days. You are supposed to drink cabbage soup three to four times in a day. Although the diet program is extremely low in calories, but while pruning the time duration of the diet program, you can utilize the diet solution to eliminate toxins from your body. Not to mention, Jaime shed numerous pounds with the diet plan. However, since celebs abide by diet programs while being monitored by their nutrition experts, it's not recommendable for you to follow such extreme diet plans without any expert supervision.
Jaime Pressly Workout Routine
Sculpted and beautiful from head to toe, the stunner relies heavily on workouts. Even to scorch post baby pounds from her body, she used exercises as the most potent weapon, which didn't fail to flatter Jaime with overwhelming outcomes. Under the supervision of her personal trainer, Mike Jones, she practiced workouts for two hours in a day and five times in a week. Push-ups, sit-ups etc. were the integral parts of her workouts. In addition to that, her personal trainer had her practice exclusively orchestrated exercises such as suspension training, wherein you are to use your body for creating resistance. Her workouts were mainly targeted to burn pounds from inner and outer thighs.
With the aid of intense workouts, she could torch thirty-two pounds in a period of three months. Jaime shares, normally yoga is told to be excellent workout for women to shed weight without being bruised, however, she doesn't feel enthralled by yoga. Tough and weird postures of yoga don't sound appealing to her.
In her regular routine, when she has to prepare her body for audacious roles, she practices grueling workouts such as cardio, strength trainings, squats, ab exercises etc. to bestow athletic look to her body. She leaves no stone unturned in aiding her body acquire slim and ripped shape.
Healthy Recommendation For Jaime Pressly
Getting sylphlike figure with well-defined curves is dream of every woman. However, to attain enviable and lithe figure, you need to shake hands with workouts and need to develop cordial terms with them. There are two selves prominent in each one of you. While one of your selves is positive, other one is negative. Positive self of yours enthuse you and keep you full of beans, while negative self of yours sells you all the creepy reasons why something won't work.
Your job is to figure out and accentuate positive thoughts popping up in your mind. More support and love you will show to positive thoughts, more powerless the negative thoughts will grow. In addition to that, schedule your workouts in the same way as you schedule your work at office, or your meals of the day, or any other important work. Doing so will develop discipline and dedication in you towards workouts. Four to five days workouts in a week, for thirty minutes to one hour are sufficient enough to mold your body in trimmed shape.