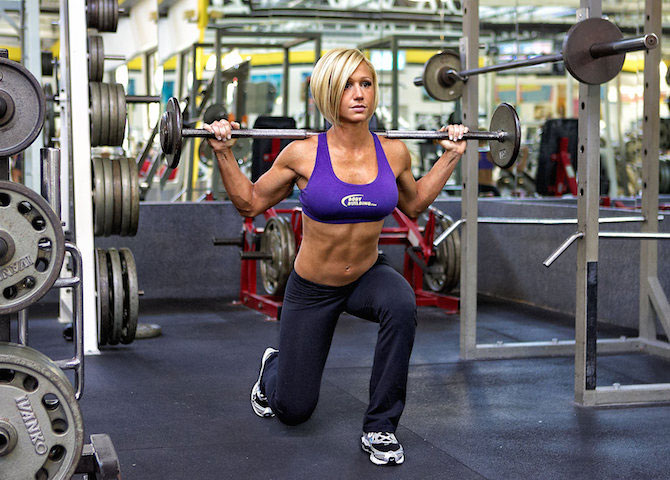 Fitness model, Jamie Eason who is the role model for millions of girls owns perfectly sculpted figure with incredible curves. The glam celeb dishes out her diet and workout routine, which uphold her in paragon shape, let's have a look.
Connection Between Sleep And Diet
Jamie contends that your sleep pattern and diet goes hand in hand. You might feel astonished to know what kind of logic is this!! Well, the stunner has physiological and psychological facts with her to back her statement. She states that when you don't sleep adequately, you feel dearth of energy and to get rid of that slothfulness, you consume carbs. Thus, more fatigued you feel, more carbs you are likely to consume. Best way to overcome such cravings is get yourself minimum eight to nine good night's sleep as it will get you a lot closer to your weight loss objective. Moreover, nurture the habit to put yourself to sleep early at night. Waking up till late at night promotes your intake of unwholesome foods which further pile up calories in your body.
Balanced Nutrition is Vital
Jamie states that if you wish to acquire fit and svelte body, you cannot overlook your diet. While abiding by nutrient laden foods, Jamie eats clean foods. She revitalizes herself with healthy meals after every three hours, which keep hunger pangs at bay and speed up her metabolism. Besides that, she abides by portion control and avoids the consumption of sugary, processed, fatty, salty foods, etc. She acknowledges the relevance of cheat days as they detoxify her brain from the sinister cravings.
However, she is not much in favor of them. She rather accentuates consumption of wholesome yet tasty foods. In addition to that, the foods you consume on cheat days depend entirely on your long term objective. For example, if your objective is to acquire optimum health, you can eat junk foods on cheat days. Contrarily, if your goal is to slim down, you shall strictly steer clear from junk foods. Jamie eats sugarless chocolate to relinquish her craving for sugar.
Consumption of Supplements
Jamie points up the consumption of supplements for they nourish your body with essential nutrients which you probably might be missing in your diet. For example, most vegan people don't get sufficient omega-3 fatty acids. So, they shall consume fish oil supplements daily to foster calorie burning process. Apart from that, women are usually found to suffer from lack of vitamins, so they shall consume multivitamin supplements to save themselves from loss. Jamie herself consumes following supplements in her daily routine.
BCAAs – To amplify the number of lean muscles
Glutamine – To recover from strenuous workout session
Energy Supplements – To re-energize her when she feels down
Multivitamin – To ensure optimum health
Protein Powder – To help her body grow muscles
Change is Possible
Jamie contends that she has seen women restraining themselves from going along with fitness plan believing that it's too late. They believe that they have already caused great havoc to their bodies by being on unhealthy lifestyle for such a long time and it's of no use to switching to healthy lifestyle now. But the good news is that it's never too late to render new and healthy beginning to your lifestyle. The fitness icon too had been into unhealthy eating habits and a similar lifestyle for a long time, but the sea of change came when she was diagnosed with cancer in 2005. However, instead of feeling disheartened, Jamie preferred transforming her life for good. She motivated herself and began her career as a fitness model. When the bombshell can earn so much of name and fame after being through so much in her life, you and I can certainly work towards making our lives healthier and happier.
Live Fit Trainer – Twelve Week Program
To provide better and precise directions to her fans, Jamie has devised her own diet and workout program namely "Live Fit Trainer". Twelve week program will impart you step by step directions about gym workouts. She has included both upper and lower body exercises. After starting with low intensity workouts, the fitness program will take you to high intensity workouts. Strength training has been thoroughly pointed up in the plan as Jamie calls it as the backbone of workouts. You need to couple your workout routine with six small meals in a day. In the meal plan, you will also get list of suggested recipes. Needless to say, these recipes are simple to cook and yum in taste. You can freely avail the fitness program and adhere to it as per the directions.
Six Days Workouts
Jamie works out six days in a week. Her exercises consist of strength training, interval training and cardio workouts. She adores weight training the most and refers to it as the most powerful remedy meant to maintain youthful skin and body. The workout session of Jamie begins with weight training and is followed by cardio workouts. Jamie doesn't miss to tone varied muscles of her body and to suit the goal; she has allocated her workouts based on days. She suggests her fans to keep the fun factor alive in workouts because it saves you from the weariness of exercises. And for her followers who have the time constraint, she recommends them to embrace cardio workouts such as running, swimming etc. These are superb workouts for they render you full body workout. In addition to that, she keeps switching to newer and more challenging workouts such as bootcamp training, circuit training etc. Here is one of the samples of her weekly workouts.
Day 1 – Back
Pull ups – 5 sets, 5 reps
T-bar Rows – 3 sets, 10 reps
Single Arm Dumbbell Rows – 3 sets, 10 reps
Seated Rows Close Grip – 3 sets, 10 reps
Lat Pulldown – 3 sets, 10 reps
Day 2 – Shoulders
Seated Dumbbell Press – 3 sets, 10 reps
Side Lateral Dumbbell Press – 3 sets, 10 reps
Drop Set of Lateral Raises with Cables – 3 sets, 10 reps
Seated Rear Delt Flyes on Machine – 3 sets, 10 reps
Day 3 – Legs
Seated Leg Extensions – 3 sets, 10 reps
Smith Machine Squats – 3 sets, 15 reps
Walking Barbell Lunges – 3 sets, 20 reps
Standing Calf Raises – 3 sets, 20 reps
Seated Calf Raises – 3 sets, 15 reps
Day 4 – Cardio (40-60 minutes)
Day 5 – Arms, Chest and Abs
Seated Incline Dumbbell Press – 2 sets, 10 reps, followed by jumping rope for two minutes
Cable Flyes – 2 sets, 10 reps, followed by cable bicep curls (2 sets, 10 reps)
Roman Chair Leg Raises – 3 sets, 10 reps
Bicycle Crunches – 3 sets, 25 reps
Day 6 – Legs
Seated Leg Curls – 3 sets, 20 reps
Smith Machine Squats – 3 sets, 15 reps
Stiff Legged Deadlift – 3 sets, 15 reps
Leg Press – 3 sets, 15 reps
Lying Leg Curl – 3 sets, 10 reps
Seated Calf Raise – 3 sets, 10 reps
You may also want to watch her various workout videos below.