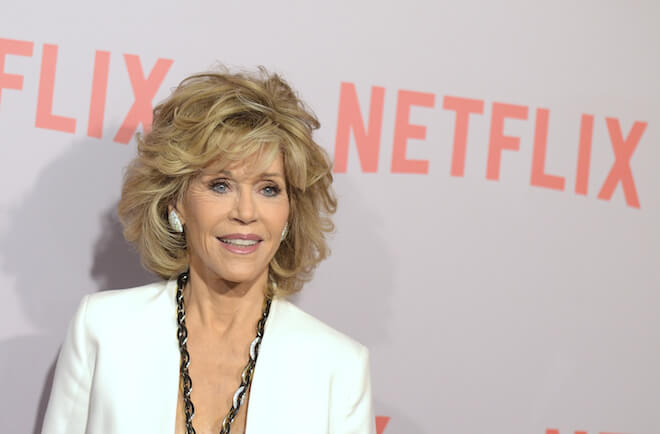 She is the first fitness guru who had the guts to launch her unique workout videos that are still loved by thousands of people. We are talking about none other than Jane Fonda, who despite crossing the age of 77 is still charming us with her great looks and incredible acting abilities. Her fans always wonder how she keeps up with the great looks and what are the workouts, she follows now? If you are among them, then do have a look at the workout and diet secrets of Jane Fonda that are mentioned below.
Her Workout Routine
Fonda is focusing on core training these days. Her aim is to keep her muscles toned and her body aligned. She is also focused on keeping her gluteus medius, VMO, shoulders, back and pelvis strong. The fitness expert works out slowly and is switching her exercises. She has replaced running with walking, downhill skiing with cross-country skiing and has given up riding horses.
She takes assistance of light weights and resistance bands to complete her exercises. Last but not the least, she also does Pilates (a bit gently) on a regular basis. If the report published by Inquistr.com is to be believed, the daughter of Henry Fonda hikes for an hour almost every day and does resistance training four days a week.
Accepting Change
As reported by Yahoo, the talented actress has admitted that she isn't able to do her favorite aerobic exercises anymore because she has one knee and hip replaced. But this doesn't mean that she is not concentrating on her health. The pretty lady has opted for different forms of exercises and wants everyone to follow her lead. She says that if you can't do a single form of exercise, don't give up exercising. Instead, just find another form of exercise that doesn't put strain on your body.
Her Workout Advice
The recipient of the American Film Institute's AFI Life Achievement Award believes that everyone should do some form of exercise on a daily basis. She understands that people are usually too lazy or busy to work out regularly. Her advice to such people is to find even a little time (even 20 minutes will do) and move. Choose an exercise you like and get started.
Benefits of Exercising
No matter, which type of exercise you have chosen, Fonda believes it will make you a fit person. Exercising regularly will make a difference in how long you live; it will improve the quality of your life and will make you feel good.
Diet Routine
The two time academy award winner has also stated that diet plays a key role in keeping her fit, active and beautiful. She usually starts off her day with a healthy breakfast of soft-boiled or poached eggs, whole-grain cereal or toast, yogurt or fresh fruit. She prefers having a late lunch and a very light dinner. She often skips the dinner completely.
Diet Rules
The former fashion model has some very simple yet necessary diet rules. She stays away from most forms of sugars and completes her quota of sugars by eating fresh fruits. She tries to eat something dark green and dark purple, red, orange, or yellow on a daily basis. She also likes having fish regularly.
Her Diet Advice
She advises people to cut down on sugar and lower their intake of carbs especially those people who want to look like her.
Believe in Yourself
The Oscar winner motivates people to be a better version of who they are. She says that everyone should realize that they can get better if they truly believe in it. Believing in yourself may get harder as you get older, but you should never give up faith. She also adds that you should stay brave and keep trying. In her opinion, you should also be ready to leave your comfort level and stretch your limits as it will help you become who you are supposed to be.
Women can get health benefits from friends
The mother of three has a unique piece of advice for all the women. She wants you to stay close to your female friends as its good for your health. How's that? She insists that women can reduce their stress levels by talking to a female friend about all their problems. This contributes to them having a longer and less stressful life. It's a really unique advice we must say. Won't you agree?