5 ft 10 in tall, hot, and sexy, Jenna Elfman is an American film and TV actress. Naturally slender, Elfman owns a perfectly curvaceous figure. Best known for her roles in TV series Dharma & Greg and the movie Keeping the Faith, Elfman resides in the hearts of millions of fans. In the TV series 1600 Pen, she played the role of funny comedy queen and we must say that she still looks as young and glam as she looked in her twenties.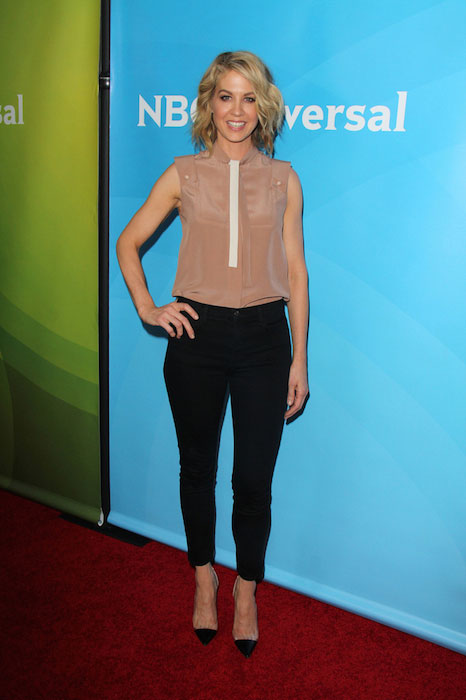 Her super toned body makes no room for cellulite. When it comes to beauty and fitness, Elfman seldom fails to startle her fans. It's not that the fab star looks gorgeous by chance or due to amicability of some of the noble genes, she has got inheritance. Her slim physique and curvy figure actually testifies the conscious diet and regular workout, Elfman practices to maintain her treasure figure. Married to actor Bodhi Elfman since 1995, Elfman is overly busy mother of two sons. But the most commendable thing about her is that despite her hectic life, she has learnt the ways to maintain her health and fitness without disrupting her personal and professional life.
Jenna Elfman Diet Plan
Fresh and youthful body of the bombshell is nothing but the outcome of her love to balanced and nutritious diet. While abiding by very wholesome diet regime, the stunner renders very healthy beginning to her body by consuming one glass of lemon water first thing in the morning. After that, she eats something light such as peanut butter, oatmeal etc. in her breakfast.
The kickass beauty consumes several small meals in a day which certainly keeps a check on her hunger pangs and keep her invigorated all the while. Among snacks, instead of opting for potato chips or other junk food, Elfman makes healthy choices and inculcates several nutrient dense foods such as apple, berries, buckwheat rice cakes, pumpkin seeds, peanuts, fresh fruits, vegetables, etc. in her snacks.
She generally steers clear from sugary and dairy food items. Apart from causing an increase in your weight, these food items also cause an increase in your blood sugar level and cause several other ailments. The marvelous star drinks plenty of water in a day and to escape from the indolence to drink water, she keeps water bottle available with her all the while and sips water frequently to keep her body hydrated. Elfman reckons, junk and processed foods are just like energy suckers and she doesn't wish to waste her energy with the consumption of such trash food items.
Jenna Elfman Workout Routine
Elfman knows that it's impossible to be in perfect shape without workouts. However, being a busy wife and mother of two, she cannot devote all her time to workouts. She rather utilizes her time in a discreet manner. For example, she performs lunges while brushing her teeth. Besides that, she keeps a set of dumbbells (weighing ten pounds) in her bathroom and does 15-20 reps of weights to condition her muscles. Likewise, she does 15-20 lunges prior to going to bed at night.
Elfman being enthusiastic about her exercises executes numerous physical activities such as stair climbing, walking, running, hiking, dancing etc. Running is her favorite cardio workout and she devotes three days in a week to running. She is also an avid ballet dancer. Jenna has been practicing ballet dancing from the tender age of five. Apart from them, she also banks on yoga, for no other workout is as easy and effective in building up flexibility as yoga is. A body doing workouts without relaxing is just like an overheated machine which is very likely to go dysfunctional. Elfman seldom compromises with her sleep and dedicates eight to nine hours of sleeping to her body, which inevitably rejuvenates both her body and mind.
Healthy Recommendation For Jenna Elfman Fans
Here comes one recommendation for Jenna Elfman fans. Should you wish to make your body repellant to fats, beware of the beverages you drink all the time. In modern days, soft drinks, energy drinks, sugary beverages, alcohol etc. have become so common that they have become an inevitable part of our daily consumed food items. These beverages accumulate numerous unsolicited calories in the body.
If you cut back the consumption of these beverages and vow to drink only water and tea / coffee in your daily routine, you indeed can assist your body and save it from growing overweight. Water is the most natural and prominently available detoxifier. Unlike other detoxifiers, you don't have to struggle to find it. And if you drink luke warm water having lemon juice added into it first thing in the morning, you certainly can strip off unsolicited calories from your body and enhance your youthful age because it eliminates all the toxins and dead cells from your body.