The 23-year-old American and TV actress, Jennifer Lawrence is a renowned Hollywood icon. Most recently, her bestowment with the best actress academy award nomination increased her fame. At an age of 23 years, this is not a mere achievement. Most of her fans and admirers are expecting much from her particularly from her upcoming movie "The Hunger Games" in her role as Everdeen Katniss. Bearing this in mind, Jennifer has hired a trainer (Joseph Horrigan) for stringent workout and diet streamlining. A comprehensive analysis of these two aspects will be explained further in this context.
Jennifer Lawrence Workout Routine
The program lasts in duration of six intensive weeks focusing on agility and speed training. In the preliminary stages, it goes for 3 days a week but with increased endurance, the days can go up to four for perfection. On each day, morning and evening exercises are scheduled. All these sessions begin with warm-ups to get blood flow on course.
At her 5′ 9″ height and around 130 pounds weight, she attributes treadmills to her leaner and impressive shape. In every session, with the help of her trainer, she does sprints, medicine ball exercises, track drills and agility drills. All these are summed up by bike riding in stationery positions.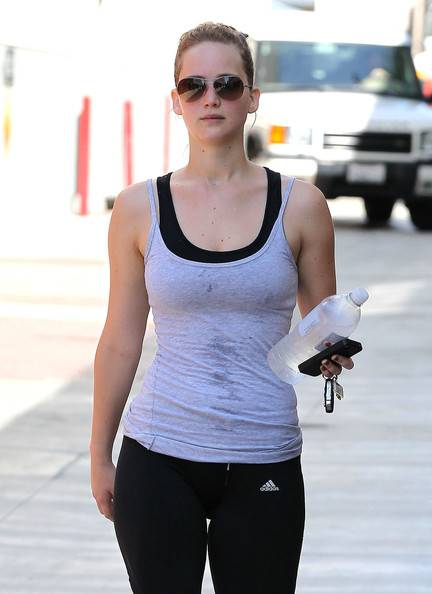 Her role in the upcoming movie demands worrier stunts and skills, hence she needs concentration and flexible body. And for this she is practicing yoga. For excellent stunts, reinforcement is being done through tree and rock climbing to reach the pro level.
Cardio exercises are inevitable
Intensive exercising requires oxygen to prevent burning out. Jennifer thus values cardio exercises since these strengthen muscles particularly the heart muscle, facilitating increased blood circulation as well as reduce stress and depression in tasking activities. This is possible by improving fat used by muscles as well as aerobic metabolism speed.
Other than just indoor activities that appear less practical, Jennifer also values track runs. At her flexible age, she is a considerably good athlete.  She is confident that such exercises enhance endurance in preparation of tasking activities in her role in The Hunger Games movie.
Jennifer Lawrence Diet Plan
Calorie intake is the key
Rather than focusing on eating specific foods, Jennifer's aim is to optimize calorie intake. With this flexible plan, the opportunity to choose foods based on Jennifer's preferences is open. However, this is a big transition since previously she was on a diet, which had massive proteins. In this case, the calorie intake also has limitation in terms of portion control. The secret is taking many carbohydrates contrary to fats.
As Jennifer assents, the focus is not on becoming lean but being healthy. She detests dieting terming it a retrogressive approach to shape streamlining. To balance her calorie intake, she eats regular foods. To get a touch of all nutrients and avoid nutritional diseases she advises on eating a lot of fresh vegetables and fruits.
Do not underestimate beverages
Sugared drinks such as coffee, orange juice and tea often contain more calories compared to junks such as burgers. Bearing this in mind, Jennifer adds such beverages in her menu. To remain hydrated always, she binges on water. Also as a protein source, she feeds on special fish with less fat.
Consistency is inevitable
As Jennifer's trainer affirms, the outcomes of such a program solely depend on the individual's effort. In this context, Jennifer never missed any session; she adhered to the stipulated exercise and diet regulations and was not deviant at any particular time. In essence, to get expected outcomes individuals must do as instructed.
Jennifer's workout and diet plan is simple but has farfetched outcomes to facilitate healthy living and extreme body flexibility. From a summative view, the secret is adhering to your trainer's tips and practicing the virtues of commitment and integrity as Jennifer reiterates.