Jessica Biel or sometimes nicknamed as Jesse has insane workout routine. When it comes to workout, she knows how to stay fit. She practiced martial arts for her film Total Recall. But, it is not a part of her regular workout routine. She likes to work on her butt and undergoes a series of exercises to stay fit and avoid boredom. Continue reading for her usual workout schedule.
Jessica Biel Workout Routine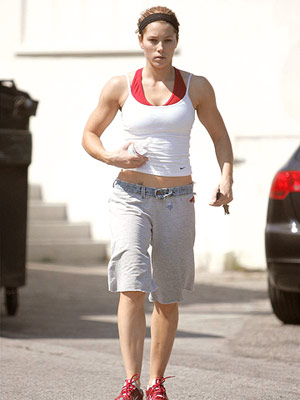 She takes the help of personal trainer Jason Walsh. She is mostly on the run fir filming various movies and TV shows. Hence, she does mostly the exercises which does not require any equipment so that she can perform it, irrespective of her location. She loves going outdoors and do a variety of exercises. She says that her parents were an amazing couple, from whom she took these habits. She describes them as "Hippies" who used to do rafting through Grand Canyon. Her exercises list is as follows –
Running – Running is a great cardio vascular exercise which builds your overall body muscles. It works on your ankles (when you lift your foot up), increases hip stability, improves thigh and shoulder muscles, spinal stability. So, no matter where Biel is she can indulge into running or a quick jog and improve her endurance.
Circuit Strength Training – Circuit training targets strength building and muscular endurance. According to this, Biel is supposed to undergo a series of exercises to complete one circuit. It is again good for building overall body stability and may / may not require equipment, depending upon the exercise. Her toned muscles are the result of circuit training only. Now, she has developed a habit of going outside and do exercises while enjoying the ambiance. To develop upper body, one needs to performs Squat ups, Bench dips, Back extensions, Pull ups, Medicine ball chest pass, Bench lift, Inclined press up. For lower body, squat jumps, step ups, bench squat, shuttle runs can be done.
Jason shared a sample circuit workout, which he normally does with his clients. He recommends a maximum of 1 minute rest in      between circuits (for newbies). Decrease the time between different sets, as your endurance level increases. The normal circuit would go from 25 to 30 minutes (It depends upon your fitness level and how much you rest in between the sets).
Firstly, do a warm up for almost 10 minutes. Warm up can be done on elliptical trainer, or on treadmill, or slow running, etc. Then, do these 3 circuits.
Circuit 1 – 3 reps
Jump squats – Hold for 30 at each side
Side planks – 15 reps
Push ups – 10 reps
Circuit 2 – 3 reps
Squat to press (requires Dumbbells or Medicine Ball) – 15 reps
Pull ups – 10 reps
Bent over rows (requires Dumbbell) – 15 reps
Circuit 3 – 3 reps
Lateral Lunge – 10 reps on each leg
Step up – 10 on each leg
Straight Leg Sit ups – 15 reps
Sports – Sports like beach volleyball, football are some of the great way to learn a sport and develop your overall personality. Jessica likes to play any sports with her friends. It keeps her mind healthy and refreshing.
Plyometrics – Jessica's trainer, Walsh describes her workout as grueling and challenging. Plyometrics are the ones which are not easy and are most challenging. Exercises like jump squats and jumping lunges involve speed, quickness, and power. In plyometrics, the muscles exert maximum force in shortest possible time. She has been doing these for a couple of months and Jessica Biel's fitness level speaks of this.
Yoga – Yoga is good for physical, mental, and spiritual disciplines. She indulges into yoga atleast 2 times a week. She says –
"Yoga is a constant for me because it keeps my muscles long and flexible."
She also takes her dog out for hiking. In this way, she makes her workout more enjoyable and free from boredom. Additionally, in this way, she also makes her pets to stay fit. She was a fit player from her early days. By the age of 6, she was doing gymnastics like a professional.
Jessica Biel Diet Plan
One element for a healthy body is workout and the other one is a healthy diet. She told to Elle –
"For me, getting enough sleep, drinking lots of water, having a healthy diet, and staying away from alcohol are musts. It's so boring, I know, but doing those things really helps."
She eats a lot of vegetables, and grain proteins. She is a fan of fermented veggies and probiotics also, which she considers great for her skin and digestion. This is what has attracted Justin Timberlake, which made him to date this talented actress. They have engaged and are planning to marry soon. This fabulous babe also drink green tea, and includes veggies like beets and zucchini into cakes and fudge.