Jordin Sparks, the winner of 6th season of American Idol held in year 2007, lost around 50 pounds of weight after that year. This was one of the most impressive weight loss goal attained by a Hollywood star in the recent times.
In 2012, Jordin starred in the movie "Sparkle". She looked amazing with her much improved figure. After she won the American Idol crown and became famous, Jordin adopted a diet plan that had low calorie intake. She also went on to an active exercise plan. The combination was for reducing weight, while remaining healthy.
Jordin Sparks Workout Routine
Jordin hired a personal trainer to fulfill her workout requirements. At the start, she could not do sit ups and pull ups. So, they had to move to the next exercise, which could best suit her.
Now, under the supervision of her personal trainer, Jordin performs a wide range of exercises. These exercises work different muscle groups of her body. She performs different sets of exercises on different days, so that her muscles are not fatigued. She performs exercises like running, boxing and lunges. She also performs 1 hour of circuit involving cardio-vascular exercises. Now, her workout includes simple exercises, for example, running up the stairs.
After 2 years of workouts, Jordin can now perform exercises like bicep curl, triceps extension, shoulder press, etc. Jordin executes 12 reps of these exercises in her daily workout. She likes Zumba (a form of dance). She also performs other outdoor activities like going for hiking on the mountains or strolling her dog.
Jordin Sparks Weight Loss Diet Plan
Jordin Sparks revised her whole food regimen for getting slimmer. She consumed fewer calories and removed all the junk food and unhealthy items from her daily menu. She reduced the consumption of sugar to its lowest amount. For that, she had to sacrifice her coffee from Starbucks. She also stopped having late night dinners. Sparks made sure that she don't eat anything, 2 hours before going to bed at night. She also started feeding on healthier snacks such as apples and SmartFood Popcorn.
She resisted eating heavy diets and started to eat in lesser portions. At a time, her food was just enough to fit a plate of normal size. But she did not stop all food items. She went for the Brownie, when she craved for it. In a single day, her diet provided her with almost 1440 calories.
Breakfast – She likes to have yogurt and granola protein shake, apple, banana or a protein bar in the morning meal.
Lunch – In lunch, she eats grilled chicken, arugula salad, olive oil with lemon.
Dinner – Her most probable dinner menu is salad, 3 or 4 ounce streak and corn.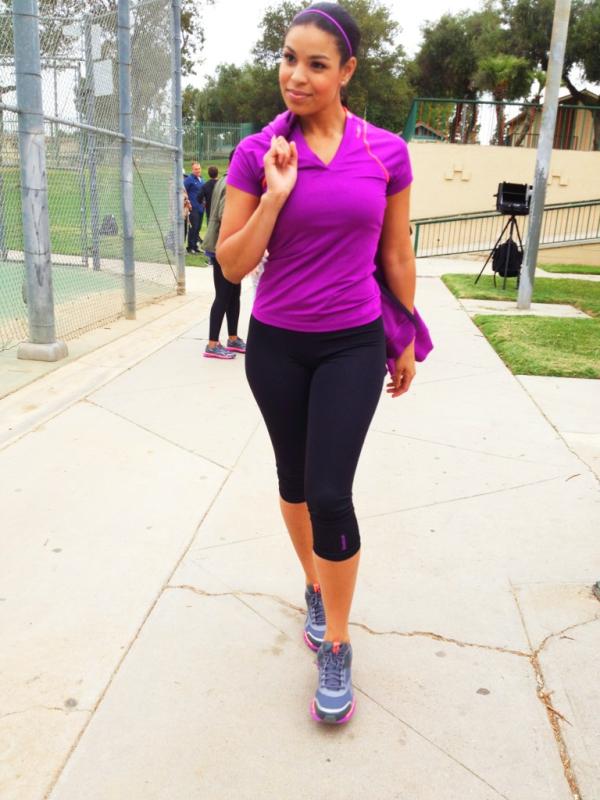 She eats chicken and lean proteins. These food items fulfill her protein requirement. Barbeque chicken and berry are few of her favorite food items. For her sweet tooth, she eats Toblerone Chocolate.
The low calorie diet plan of Jordin provided her with plenty of nutrients. It is not very healthy, but fulfills the requirements of the golden songbird.
In the first four months of following this diet plan, Jordin was able to lose 15 pounds of weight. Being conscious of what one is eating is the key to lose weight, this is what Sparks believes. According to her, one should eat only when one is hungry. She lost 50 pounds of body weight in a period of 18 months. Jordin always gave first priority to her health and not to her waist size.
Jordin was able to lose weight by following the diet and workout routine with sincerity and perseverance. Now, this workout routine and diet plan is a part of the daily life of this star.