Some people think that Jordyn Woods is just the best friend of Kylie Jenner while some think that she is just another popular woman who is trying to lure people with her looks. However, the reality is far different from these perceptions as Woods herself is a star with millions of Instagram followers, loads of modeling assignments, and a popular business venture. She has built an amazing body via hard work and her thoughts on body positivity are also inspiring. If you are impressed by her beauty, then you should learn how to live on your terms by reading her thoughts below.
Jordyn Woods Workout Secrets and Thoughts on Body Positivity
Workout Goals
The stunner gained a passion for fitness after an unfortunate incident, her father's death. Some people have accused her that she works out due to vanity reasons but she doesn't care about such people or their opinions. She doesn't work out with the aim of losing some weight. Instead, her focus is on being active because it helps keep her physical and mental health in check. She wants to be the best version of herself and doesn't care much about what people think of her.
Affordable Gym Wear
When she started exercising regularly, she realized that she could not find fashionable gym wear that would fit her perfectly. So, she started a fashion brand known as SECNDNTURE where you can buy everything from sports bras to windbreakers and even comfortable leggings. The amazing thing about this brand is that everything is priced under USD 80. The sizes vary from XS to 2X which means they fit every woman, be it someone thin or a plus-sized one.
Blocking Negativity
Woods blocks the negativity, especially that comes from social media platforms, by thinking that everyone has his or her own opinion and she shouldn't care about it. When she first started working out and shared her progress on social media, people accused her of not being body positive anymore. She didn't understand where their ideas came from but was certainly clear about body positivity. For her, body positivity is about loving yourself and being the best version of yourself without caring about what others think of you. She thinks people need to learn to love themselves and not care about what others have to say.
Being Real
The beauty has said that she never tried to fit a certain standard while growing up. However, she does pressurize herself at times to be fit, not to please people but because it pleases her. In her opinion, being real is more important than being perfect and the reality is that no one is perfect. So, she leaves home looking like what she wants to look like and not like someone who is always put together. She is in favor of being your own self and showcasing that without a doubt.
The Turn to Fitness
Though Jordyn has been an active person almost all her life, she didn't start exercising regularly until she lost her dad. After that, she started exercising regularly with a trainer and realized that workouts served as her therapy. When she was working out, she could deal with things that were happening in her life by distancing herself from everything. While working out, she avoided looking at her phone and over thinking everything. She focused only on the workout and put all her energy into it.
The Gym is Intimidating
The lovely lady admits that she also finds the gym to be an intimidating place at times because many times you have no idea who will already be there or what you'll be put through in a session, especially if you have never been to a gym before. She still gets intimidated while going to the gym and still she visits it by reminding herself how great she feels while leaving it. Most of the times, she feels empowered while leaving the gym after a satisfactory workout session.
Workout Secrets
The model also accepts that she feels quite happy during the time that she spends in the gym and agrees that she has even become addicted to the gym now. She has a love-hate relationship with cardio exercises and thinks that weight training and bodyweight training are also equally important to remain fit. In her opinion, being consistent matters a lot when it comes to fitness and workouts. She does something every day which varies from jogging to squats, weights at home or hitting the gym. Even if you do a little bit of something, it will help you on your fitness journey and will surely be better than doing nothing at all. Tracking her progress also helps her to stay motivated and be fit. When she sees how her body has changed in the last few months, it helps her to be more dedicated to fitness in the future.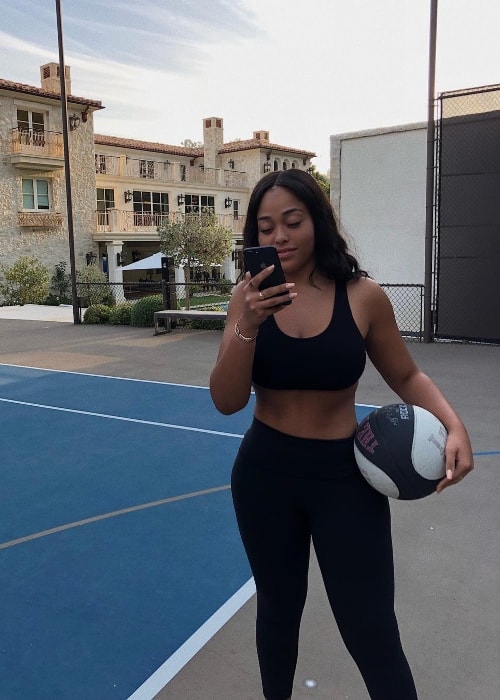 Inspiring Others
Jordyn often pleases her fans with workout videos that she shares on social media. She doesn't do it for fun or to show off her abilities. She does it because she knows that many of her millions of followers get inspired by watching her videos and it motivates them to hit the gym as well. Even she sees her mother and other people on Instagram doing something they love to do and it, in turn, motivates her to be more active every day and reach a new level of fitness constantly.
Featured Image by Jordyn Woods / Instagram