Julianne Hough is one of the busiest celebrities who always like to juggle projects and stay active to be fit. Her workout secrets are wide-ranging and include everything from CorePower yoga to hiking and cycling to group workouts.
She also follows some amazing diet secrets like not giving up carbs and eating planned meals that help her look amazing. She places a lot of importance on sleeping and tracks it as well. Know all her recent fitness secrets right here.
Workout Secrets
The workout secrets of the stunner are varied. Sometimes, she does dancing with her brother Derek Hough and sometimes, she opts for toning classes or even hiking. She also loves CorePower Yoga and does it alone and in a group as well. Her workouts usually start at 9 in the morning. For her, a perfect workout week would involve cardio, strength training, flexibility and recovery days.
If she is on the road, she may skip the morning workout. In such situations, she works out at 1 PM. While traveling, the workout is simple and includes taking help of a circular resistance band. She puts it right above her knees, does a kickback and side leg extension. Then, she pushes against the band to extend the leg out to the side as well as the back.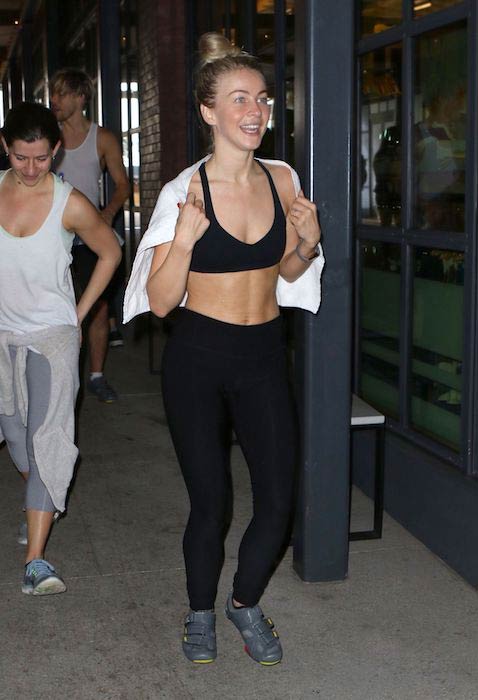 In case she wants to hit her core, she does side planks and bicycles. Once the side planks get too easy, one can add in a leg raise or a dip to keep things challenging.
Keep Moving
The biggest workout secret of the actress is that she never stops moving. She takes help of a tracker to record her moves as it buzzes when she has been sitting for long. She even competes with her family regarding how active everyone is and her dad is leading the chart at present. He is very consistent and a former triathlon lover, so he is better than all of the other family members. Apart from family, Hough also holds FitBit competitions with her friend, Nina Dobrev.
Being Strong is the Goal
The singer admits that she needs the workout and diet so that she can be strong enough to get through a show.
Meal Plan
The most vital diet secret of the diva is that she sticks to a healthy meal plan that helps her to look amazing and achieve all the fitness goals. Here it is.
Breakfast
She has a homemade juice on an empty stomach and then, has some steamed eggs or oatmeal with avocado and tomato.
Lunch
Grilled chicken salad or something with quinoa or rice. She also uses the services of Postmates when she can't cook the lunch herself.
Dinner
Dinner usually includes chicken, vegetables, and vitamin-packed sweet potatoes.
Love for Carbs
The Dancing with the Stars (2005-Present) judge likes to have carbs in every meal because if she doesn't have them, she craves them and goes overboard by having pasta or pizza. She thinks that if you pick the right carbs, they won't make you feel fat or bloated.
Food for Brain
The capsule collection designer for fitness wear line MPG Sport likes to eat starchy veggies and whole wheat bread because they make her brain work better.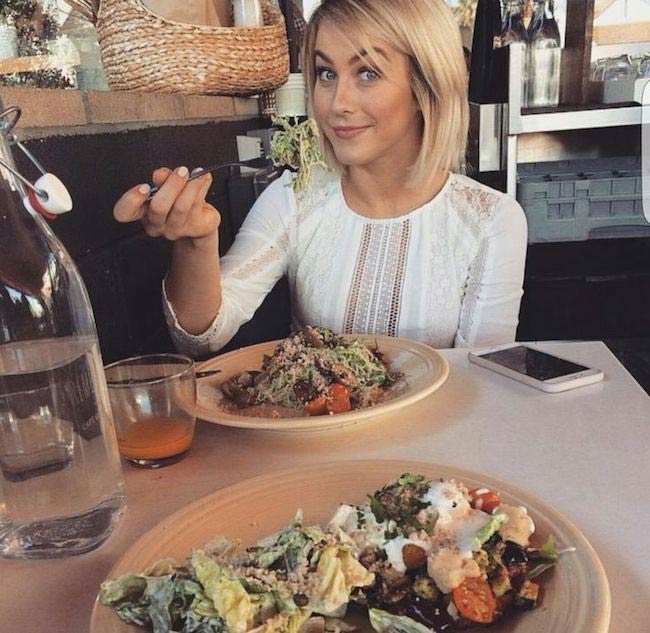 Importance of Sleep
The fiancé of the ice hockey player Brooks Laich uses an app to track her sleep because she thinks ample sleep is as good as a second workout. She advises fans to get good sleep so that you can rest and recover from a workout. Sleep impacts her overall fitness goals and health.
Luring Sleep
In order to lure sleep, the New York resident listens to a sound machine and sprays stuff on the pillow to calm her down. It takes her about 30 minutes to fall asleep. Lavender helps her to soothe her senses as well.
Workout and Diet Secrets for Wedding
Juli says that she is not following any special workout and diet for her wedding because she doesn't want to look too different than she is, as a person. She would probably indulge in some beer and a burger the night before and then, come back to her normal workout and diet. For her, having cheat days is fine because she makes up for it by being good for the next few days.
Some of the workouts she is sticking to remain in shape for the wedding are Body By Simone, Anna Kaiser, and cycling kick because she likes the high-energy and great music available there. She is also sticking to CorePower Yoga and trying her hand at jump roping these days.