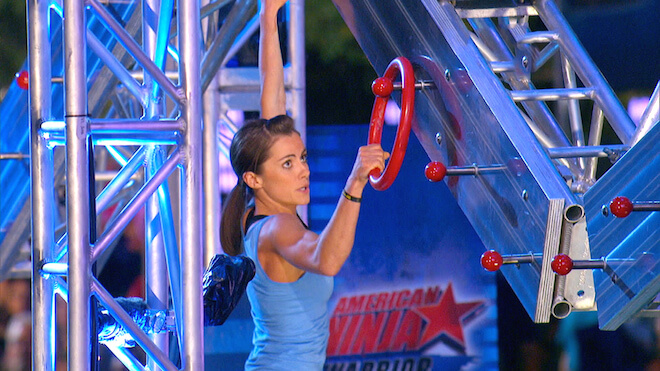 Kacy Catanzaro, the first woman gymnast to qualify for the finals of famous American sports challenge "American Ninja Warrior" is back with a bang. She is participating in 7th season of the same sports competition and is likely to participate in the finals of the show. If you have applauded her performance in the show and are dying to know the secrets behind her fabulously flexible body, then here's a treat for you. The pretty athlete has spilled beans on her fitness fundas just recently and has offered some cool advice to her fans as well.
Workouts are Exciting
As reported by Shape, the talented athlete loves to do workouts on a regular basis and calls them "exciting." She also admits that she never ever dreads going for a workout.
Favorite Workouts
The fit lady has acknowledged that she pays special attention to obstacle training as it keeps her super healthy and fit. It should be added that her boyfriend and trainer Brent Steffensen designs most of these trainings to keep her in shape. Apart from Obstacle Training, Kacy loves to do bodyweight training and circuit training as these exercises keeps her heart rate up while strengthening her body. These exercises also play a key role in keeping her body so lean.
A New Runner
Catanzaro was very forthcoming with her learning experience with some forms of exercises. She said that she has never been a long distance runner, but she is trying hard to run a few miles regularly. The running has helped her to add value to her cardio and endurance training. Running also helps the agile athlete to get the ability to perform even when she is tired.
Workout Advice for Women
The fit athlete was also very forthcoming with workout advice for all her female fans. She advise her female fans to perform pull-ups regularly as it will help them to boost their upper-body strength. Her own experience with the pull-ups has helped her to clear the obstacles that she needed to lift her own body weight in the show so they are quite useful. Learn the proper pull-up techniques at Bodybuilding.com.
Working Out with someone is great
Kacy is happy with the fact that she gets to train with her boyfriend Brent Steffensen because it's a great idea to workout with someone who can motivate you when you are not giving your best. She also states that it's easier to be a bit lazy when you are alone and having someone to point that out really helps you get the best results out of the workout.
Special Smoothie Recipe
The sports celebrity is also eager to share her fitness secrets with the world. This statement can be attested by the fact that Kacy eagerly shared her smoothie recipe with her fans. She advises her fans to make smoothies with anything that's handy and healthy as well. She is not a big fan of protein enriched smoothie. The usual recipe of her smoothie includes using POM Wonderful pomegranate as the core element. Then, she adds in one ripe frozen banana along with one tablespoon, each of coconut chips and cacao nibs. She also adds four tablespoons of chia seeds and two thin slices of raw beet to make it a perfect mix. Check out some cool recipes for energy smoothies at LifeHack.org.
The Right Time for the Smoothies
The famous sports personality shares her smoothie with her boyfriend too and they usually have it after the morning workout session as it helps them to feel rejuvenated and get the energy back. But, there's no hard and fast rule about it. You can have it anytime of the day.