Are you looking forward to losing weight and consider dieting as the essential tool to defeat your stubborn fat? Here comes the gorgeous Indian celebrity, Kareena Kapoor to prove you wrong.
After flaunting her zero-size figure, Kareena has finally reverted to her normal figure which nonetheless is absolute. She no more likes to be known as a heroine with the zero-size figure.
Well, Whatever!!! She is the one, always a beauty and in perfect shape.
After being in a relationship with Saif for such a long time, Kareena finally tied the nuptial knot with Saif in February. The entire Bollywood had been waiting for the royal wedding of this adorable couple.
Most popular, sizzling beauty Kareena has set a benchmark to all those striving hard to lose weight anyhow. This hot Bollywood sensation has proved, if you have a strong determination, and vow to live a disciplined life, dedicated towards something as big as losing weight, then no one can stop you from getting your body in shape.
Size-zero Kareena
The heroine dazzling everyone with her zero-size figure since 2007 was not born like this. Before starting her career in Bollywood, Kareena used to be a real chubby Punjabi girl.
Under the supervision of popular dietician and nutritionist Rujuta Diwekar (Mumbai based celebrity nutritionist), Kareena followed a strict nutritional diet and fitness programs to become slim and the result is not hidden to anyone. Within a year, she became an epitome of fitness for millions of young people struggling to lose weight.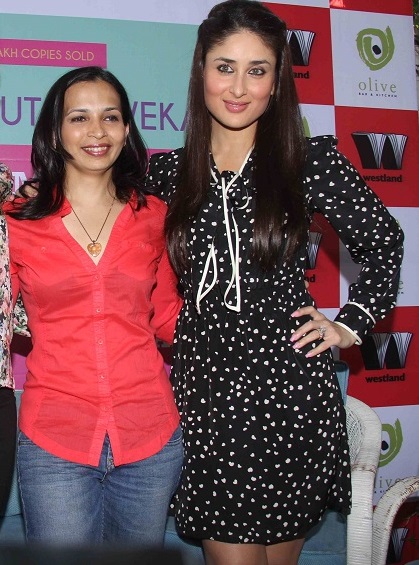 According to Rujuta, her role in a film demanded her to look super slim and sexy. And this was the time when she first met Kareena and from that time on, Rujuta has been her dietician and nutritionist.
Quitting cheese, butter, paranthas, pasta and Thai and Chinese cuisines, which are her all-time favorite food items, was in no way easy to her. But firmly determined to attain zero-size figure, she substituted her favorite foods with nutritious foods like soups, salads, yogurt, vitamins, minerals and low-calorie food.
Without starving herself with dieting and depriving her body of essential nutrients, Kareena lost many kilos in a very short span of time. Rujuta's exclusive diet chart for Kareena was one of the main ingredients responsible for bringing this drastic change in her figure.
Kareena Kapoor Workout Routine
The young inspirational star doesn't show any carelessness when it comes to her fitness. She somehow manages to steal two hours from her every day's hectic schedule. She suggests her followers also to give at least one hour in a day to exercise.
Refraining herself from air-conditioned gyms, Kareena simply loves Yoga. She highly advocates yoga to get a healthy, perfect and fit body. Cardio exercises and Yoga are the parts of her daily workouts.
Kareena Kapoor Diet Plan
Being a hardcore vegetarian, Kareena includes all the healthy and nutritious vegetarian foods in her diet. Starting her day with fruit juice or milk, she doesn't like to begin her day with tea or coffee. She prefers to have a simple but healthy diet.
Having her breakfast with muesli, bread slices or paranthas with milk, she includes dal and chapatis in her lunch. She eats a lot of green salad in lunch. For dinner; she prefers to have something light like dal, chapatis or vegetable soup.
Having a small chunk of meals after every three hours keeps her energetic throughout the day. Snacks like nuts and soya milk are parts of her small meals which provide fuel to her body. She avoids having high-calorie diet like rice, but she finds herself unable to resist her love for cheese. So, she does include a slice of cheese in her breakfast along-with paranthas or sandwiches.
Kareena believes that the food consumed in a day should be in proportion with the day's physical activity. Dieting for getting size- zero is not less than a crap to her.
Kareena Kapoor Beauty Tips
The most charming and vivacious celebrity with ever glowing face suggests her fans to include plenty of water in their daily routine, justify your every day's food intake with exercise, never go out in sun without wearing sunscreen, follow a balanced diet and keep feeding yourself small nutritious foods after a certain period of time.