When Kate Middleton became Catherine, Duchess of Cambridge everyone was quick to compare her with her late mother-in-law. So, she has lived up to the reputation and has been quite exemplary as far as her public image and well-being is concerned. And now with her pregnancy reports, all eyes are again on her. Under such a constant public scanner, it sometimes becomes difficult to get out there and keep yourself fit. However, Kate has done it quite exceptionally and here is how she did it:
Kate Middleton Workout Routine
Always Outdoors – Anyone and everyone who has been asked about Kate's workouts, stresses that she just loves to go outdoors (when at home) for her cardio instead of conveniently going to a gym. Her most favorite sports are running and rowing, the latter which she does at a private gym in Clarence House.
Killing Two Birds With A Stone – Being the Duchess of Cambridge, we wouldn't expect Kate to try anything that may cause harm to her body. But, here, she is multi-tasking even while exercising. Kate makes extensive use of weights in her cardio exercises that prevent her from spending any special time lifting weights. This lends her body the shape, it requires and tones her muscles of her limbs and upper body. She also combines squats with lunges or push-ups with step-ups.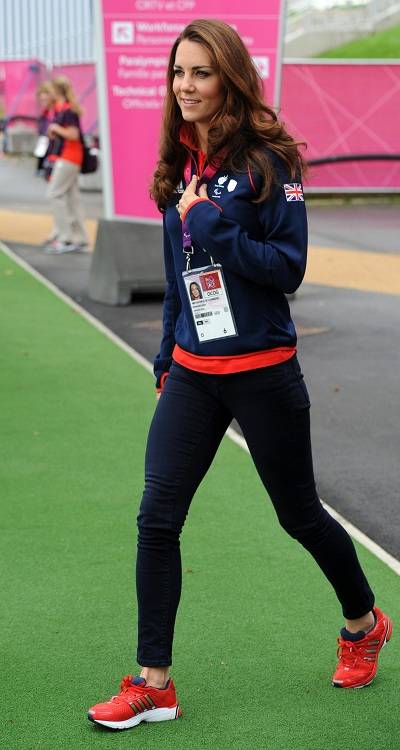 Swimming and Skiing – These are Kate's holiday pastimes and mind you, these are some of the healthiest sports, one can pick for a vacation to the snowy mountains or to Egypt. Skiing can burn a whopping 1400 calories an hour by working your upper and lower body while swimming increases your stamina and tone your body. Both of these seem to have left a positive effect on Kate.
Stress Buster – Being constantly in the limelight and under media coverage can take a toll on Kate's health. This is why she does yoga in between the exercises. The Asanas release the lactic acids built up during the exercises and fasten the distribution of oxygen throughout her body. It hence allows her to be alert and confident all the time, thus naturally hogging the limelight due to her radiating energy.
Kate Middleton Diet Plan
Kate Hates Dieting – Kate is one of those few royal celebrities, who don't have a personal trainer or a dietitian. She has her own normal diet plan, which she sticks to strictly and so far it has worked in her favor. Kate's already lean figure does not really require her to go to a dietitian and hence she just has to maintain it by eating a proper diet without unnecessary fats or cholesterol.
So What Is Kate's Healthy Diet? – According to Kate, a healthy diet for her is a fresh serving of lean meats, a seafood and lots of vegetables. She believes all these give the necessary nutrients required by the body. She is also believed to like beans and salads and has them as snacks in the evening to keep her fresh.
The Dukan Diet – Although, widely controversial diet plan, the Dukan way of eating has been widely used by celebrities to get in shape for a special event like a marriage as in the case of the Duchess of Cambridge. The plan is a four-stage diet consisting of- attack, cruise, consolidation, and stabilization.
Kate's Indulgences – Following a normal diet also involves eating something that you like, no matter what its nutritional value is, once in a while. Kate is known to have a sweet tooth and she stocks up on Haribo Starmix and Tangfastics whenever home. Eggs, salami, and cream also figure in her favorites along with dried fruits, oatmeal, and Kettle chips. The bottom line is it is important that you allow your body to have something that it craves for but in moderation.
Moreover, the real challenge for Kate now lies ahead when she will be becoming a mother in a few months' time. It will be totally up to her to increase her level of workouts and improvise her diets to get back in shape. Let's watch and see. Till then you can follow this plan to make yourself look like the Duchess of Cambridge and watch people around you bow before you!