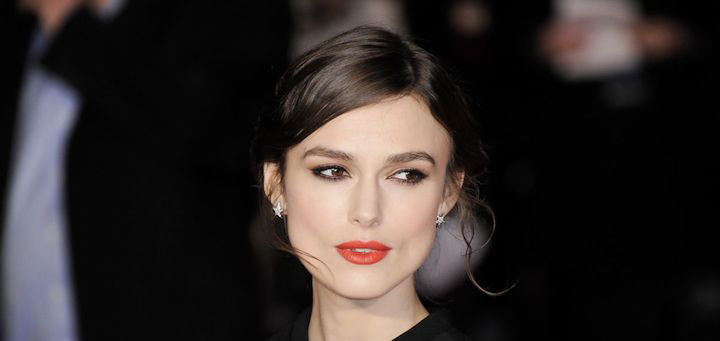 Nominated for Academy Award and eminent for her cherished roles in Pirates of the Caribbean: The Curse of the Black Pearl, Pirates of the Caribbean: Dead Man's Chest, Pride & Prejudice, Pirates of the Caribbean: At World's End, Keira Knightley is an iconic British Actress. Genetically blessed with slender body, Knightley has enviably flat stomach and toned arms.
The brunette has reportedly been accused of anorexia; however, she roots out the buzzes and contends, she has got long and slim body from her father. Right from the age of seven, the dazzling actress started acting. She asserts, if you are still skeptical about the sanctity of her words, you can check out in her movies, how lean she was in her childhood days.
Knightly shares; she rather intends to gather some weight to look hotter and sexier. And she had been to doctor also couple of times for the same reason. But doctor recommended her to stop exercising and eat plenty of foods to acquire size 12.
Keira Knightley Diet Plan
Though it's hard to believe, but Knightley's mom calls her a big foodie and claims that she adores foods and eats them without giving much thought to them. However, malnourished body of knightly depicts an altogether different story.
Well, the mesmerizing beauty admits that she prefers having six small meals in a day and practices portion control. She eats foods whenever she feels hungry, and nourishes her body with balanced and nutritious foods. Instead of being resistant to foods, she eats all her favorite foods, while maintaining their portion size small.
Keira Knightley Experience With Gyms and Yoga
Knightley simply scorns gyms. She in fact tried gym couple of times but couldn't stay there for long. Monotonous exercises of gyms immensely bore her. While sharing her experience about gym, she tells, she had been to gym and saw everyone doing exercises on diverse gym equipment.
She kept sitting while relishing the glance. And then she was offered water having cucumber slices added into it. She drank the beverage, returned home, and decided to stay really far from gyms and their ambiance.
English beauty prefers workouts under the direction of personal trainer over gym, and spends around one and half hour in doing workouts. She also abhors yoga, which have you make weird postures with funny and tough to pronounce names.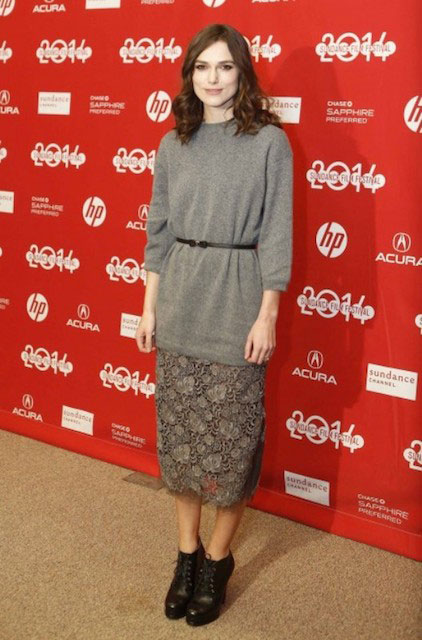 Keira Knightley Workout Routine
Resistance training, stretching, and swimming are parts of her workouts. She dedicates three days in a week to workouts. All her exercises are radically different from each other. Resistance training practiced by her sculpts her body parts and builds her stamina.
Stretching exercises enhance the suppleness of her body and adds elegance into the beauty of mesmerizing beauty. Swimming practiced by her makes sure that she doesn't lose muscles, and burns sufficient number of calories.
Besides that, cardio workouts ensure good health of her heart, and improve her sleeping pattern by stripping off stress. Apart from regular exercises, Knightley prepares her for her roles in movies by practicing archery, axe fighting, boxing, weightlifting etc.
Healthy Recommendation for Keira Knightley Fans
Goddess of sculpted and svelte figure, Knightley inevitably has numerous fans looking up to her to know her secret formulas. If you too are looking forward to getting figure like her, inculcate healthy food habits with workouts in your daily lifestyle.
Food is the natural fuel required to bestow adequate nourishment to your body. Starvation can seldom be advocated as a healthy way to torch pounds. So, never ever resort to it. Moreover your body has naturally been designed to function in a particular way.
Starvation sends the message of famine to your body, as a result of which your body begins accumulating fats. And instead of melting weight, you begin gaining weight. Apart from that, in the dearth of nutrients, your body becomes very susceptible to become victim of severe diseases.
Knightley self-proclaimed statement that her legs don't have sufficient strength to mount several stairs must be an eye opener to you. From this statement of hers, you can gauge the endurance level and stamina of the fragile lady.
Health should be your all time supreme priority and you shall endeavor to acquire that only, because weight can be stabilized through several ways, but health being lost might be very daunting to recover.