Ethereal beauty, Kelly Brook is an English model, actress, and TV presenter. Credited with incredible hourglass figure, Kelly indeed is one of the hottest celebs of Hollywood. Size ten Kelly adores her voluptuous and curvy feminine bod. Having no intention of shedding single pound from her body, the bombshell doesn't haunt her with the idea of restrained foods and tough exercises. She rather follows cool attitude towards them and does eat what appeals most to her.
With the aid of her seducing ways and sultry body, the fab model has been able to win numerous awards such as; she persistently was nominated as one of the FHM 100 Sexiest Women in the World from 1998 to 2010, and she graced the cover page of FHM World Cup 2010 special issue, and won countless other accolades like them. Her self-realization of owning treasure figure can aptly be gauged from the fact that she doesn't step back from flaunting her n*de bod to the world.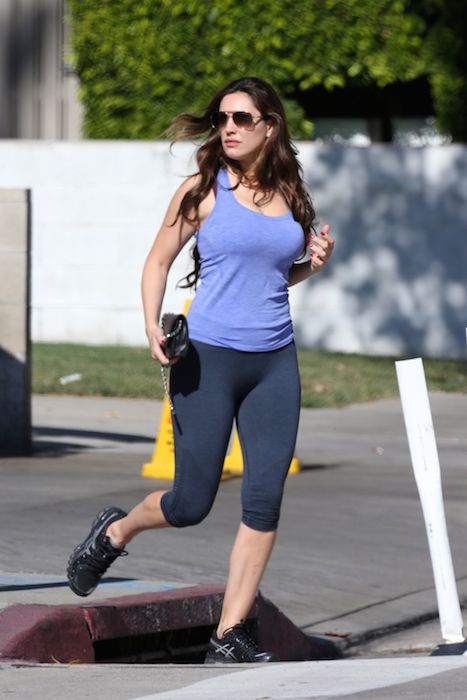 Being practical and realistic, the brunette believes in catering to healthy lifestyle habits over creepy ways of torching pounds. She values eight hours of sleeping, and no matter what happens, she doesn't skip her peaceful sleeping hours. Since rays emanating from TV, computer, mobile etc. distract her sleep, she stop being in front of them minimum two hours prior to going to bed.
Kelly Brook Diet Plan
Kelly is one of the celebs who allow them to relish their adored foods without being restrictive. The phenomenal beauty doesn't believe in fad or starvation diet plans; however, she adhered to macrobiotic diet once in her lifetime. The diet plan is mostly vegan and propounds the idea of eating plant based foods. Although from nutrition point of view, the diet plan didn't disappoint her, but instead of shedding weight, the diet program had her gain pounds. Before it would have been too late, she resumed her old eating habits.
The sassy model is in cordial relationship with foods and doesn't consider them her foes. She eats all kinds of foods in moderation. Even when she is with her pals, she doesn't get carried with the moment and maintains her portion size small. The electrifying beauty has natural despise for junk foods and she depicts her aversion by steering clear from them. Let's have a look at typical diet plan of Kelly Brook.
Breakfast – Kelly prefers having porridge, soft boiled eggs, tea, coffee etc. in her breakfast.
Snacks – She likes having biscuits, fruits, peanuts, almonds etc. in her snacks.
Lunch / Dinner – Her lunch usually consists of tuna, salmon, sushi with mixed veggies etc.
Since Kelly consumes plenty of foods in her meals, she doesn't require much of snacking. And owning to her big appetite, Kelly splurges foods once in a week. Besides that, instead of eating foods in restaurants and hotels, being an ardent cook, she prefers cooking foods at home. She incorporates ample healthy and nutritious foods such as green and leafy veggies, nuts, seeds, lean protein etc. in her diet.
Kelly Brook Workout Routine
The divine beauty not being obsessed with intense workouts prefers outdoor activities to gym. She self-proclaims of having superb inner strength, which enables her to do tedious physical activities such as running, stair climbing, hiking, swimming, cycling etc. without being exhausted.
The bombshell hits gym as per her mood and fitness objective. Since her workouts are directed to ensure optimum well-being, her personal trainer has her do myriad stamina and endurance building exercises. Among conventional workouts, she loves doing Pilates and practices it twice in a week.
Besides that, she executes workouts having proportionate amalgam of fun and exercise such as boxing, aqua aerobics, skipping, rope jumping etc. Kelly was lately captured executing dead-lifts at gym by her personal trainer Adam Ernster. While mostly women are found staying away from weight lifting, Kelly seemed quite comfortable as well as amused while doing it. Being ballet dancer perpetually for ten years has also added suppleness to the sylphlike figure of Kelly.
Healthy Recommendation For Kelly Brook Fans
Here comes one recommendation for all the fans looking up to have toned and angular figure like Kelly Brook.
Many a times you are totally prepared to embark on weight loss programs, you in fact follow them as well, but appetite popping up every now and then hinders your way to shedding weight. To keep check on your appetite, you can inculcate rope jumping in your daily routine and stick to it religiously.
Since rope jumping mitigates the level of hunger creating hormone, known as ghrelin in your blood, you can bring massive reduction in your appetite with rope jumping. Although other exercises such as running and cycling also mitigate the release of ghrelin hormone, but none of them is as potent as is rope jumping. So by adhering to scientifically proven method, you can translate your dream of acquiring sought after figure into realty without being perturbed by unsolicited hungers pangs.