Kelly Ripa is one of the most energetic TV personalities. She is juggling a very demanding career, a happy marriage and 3 kids at the same time. Still, she finds time to workout regularly and follow a diet plan that suits her body type. So, if you are in a mood to get inspired for working out and following a diet as per your body needs, then this article is meant for you.
Workout Routine
The bubbly blonde finds time to workout every day and rarely makes an exception to this rule. Her exercise routine varies a lot. She runs at least one time every week, goes to cardio classes like dance classes for four days in a week and tops it off with SoulCycle (spinning workout) twice a week to keep herself fit. Wow, that's amazing.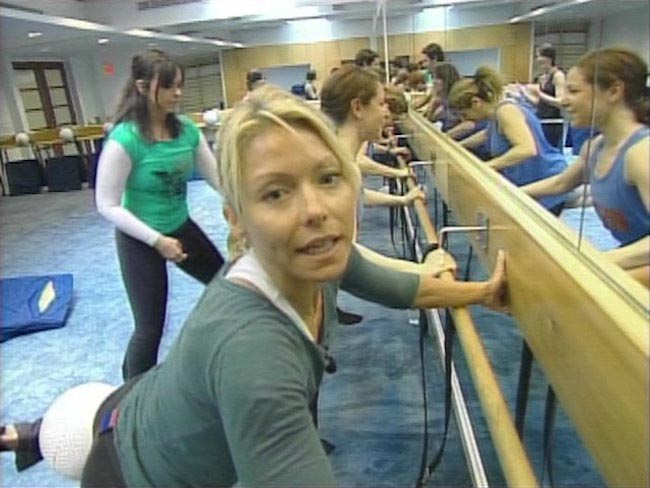 Workouts are Essential
For the gorgeous actress, workouts are an essential part of her life. She knows that not working out is acceptable for many people. But she thinks that she is not one of them. Workout is needed by her body type and it has become a vital part of her daily routine now. Apart from making her look great, the exercises also make her feel emotionally well.
Preferred Exercise
The preferred exercise of the TV star is dance classes. She thinks of it as a club where she and her friends can dance and enjoy each others' company. Kelly thinks she is too old for clubbing, so she compensates lack of clubbing with dance classes. (We don't think you are old Kelly!!!)
Workout Journey
Huffington Post recently reported that the talk show host initiated the habit of working out really late in life. She only got to it after her youngest son was in nursery school. She started with simple exercises and her workout routine was very slow. The lovely lady worked out for three days a week in which she mostly spent half an hour on the treadmill. She then started jogging and running a lot. She increased her running and jogging targets consistently until she got good at it.
Working Out for Kids
The TV producer also says that working out isn't just benefiting her, it is benefiting her kids also. She wants her kids to have a healthy lifestyle and lead by example. Thankfully, all her kids have an active lifestyle which includes participating in sports. She thinks it's a direct result of seeing their parents exercise regularly.
Developing a Habit
The workout routines have not been a piece of cake for the daytime TV celebrity. She thinks it's a problem for everybody to be vigilant about their health and fitness. But the key is to make it a habit. If it's a habit, you will not have to make an extra attempt towards health and fitness because it will be a part of your routine.
Great Opinion
The face of the My Unstoppable Mom Campaign from Children's MOTRIN also got some great fitness advice a few years back. She asked her sister-in-law how does she (the sister-in-law) runs so much? (These were the days when Kelly wasn't health conscious). Her sister-in-law told her that she does that to keep her body happy from inside. She further added –
"If we wore our insides on our outside, everybody would exercise."
Really, it is a great opinion.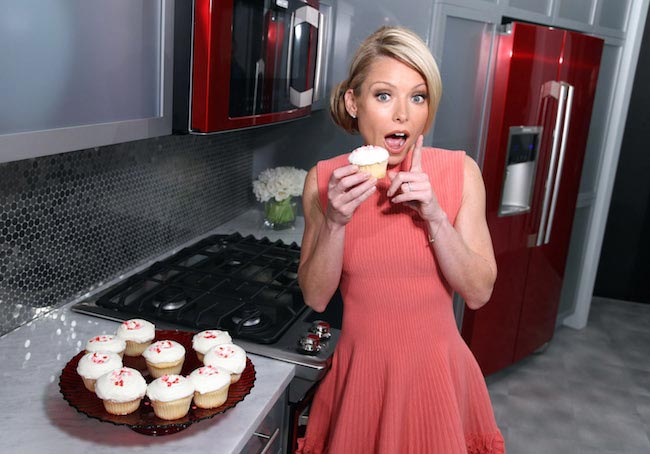 Diet Plan
While talking to People, the owner of Milojo said that she has recently started following an alkaline diet. She is not adhering to it strictly as she takes some milk in her coffee and likes a glass of wine every now and then. She makes up for the adjustments by going on a diet cleanse for 7 days very often in which she strictly follows all the rules. She thinks this new diet has helped her avoid a lot of pain in life. Kelly also added that she usually eats more on a cleanse diet than normal days but "the difference comes with what you eat and how you eat it".
Cooking Attempts
The beauty also likes to cook a bit and gets full support from her family. Her husband, Mark Consuelos likes the roasted, slow-cooked pork with hot chile peppers, she makes. She also likes cooking Italian food but confesses that she is not a great cook and her family bears her food just to encourage her. (Aww!!! That's so sweet)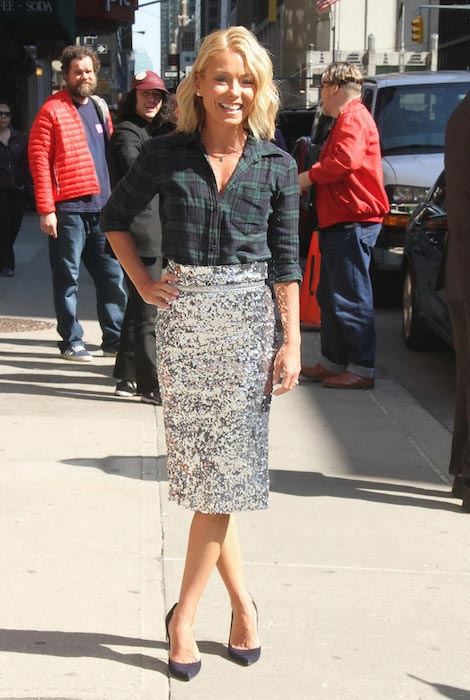 Balancing the Scales
When asked about how she manages to juggle such a busy life, the woman who was named one of the Most Powerful People in Media by The Hollywood Reporter in 2012 says it can be done if women accept failures, support each other and seek out help when they are overwhelmed.
The stunner also shared a new lesson she learnt in life. One of her friends had a ring that had some diamonds missing. When Ripa asked about it, her friend said that she is not fixing it because life is imperfect too. So people should not be too hard on themselves and should follow her motto of "Imperfect is the new perfect."