Kerry Katona has tried a variety of health and fitness routines in her life. She is a celebrated British TV personality who keeps trying to lose her weight and follows various yo-yo diets. She has been flaunting her weight loss since the past few days and has kept her vow to lose weight. She took the pledge a few months back. So, what did she do to lose the excessive weight and how unusual was her weight loss journey? Let's find out.
Her Vow
The Atomic Kitten star had announced her decision to lose weight a few months back and it was reported by OK.co.uk. She claimed that she would get in such a shape that people would fail to recognize her.
Her Wish
The diva also shared what she would consider a perfect body for herself. She was aiming for smaller boobs, toned thighs, and a pert bottom. Kerry stated that she was desperate to lose her jelly belly. In her own words –
"I chase the kids around the house growling, 'Belly's gonna get ya!"
The Weight Loss Secret
The celebrity had planned to look great by being strict with herself. She wanted to try everything that's wise. She planned to train, eat healthy foods, consume protein shakes and started eating little and more often. She also launched a new slimming plan KFIT Kerry-Nutrition so that others can know what she is doing. She launched this plan on the Boxing Day. This plan includes several protein shakes, green tea detox shakes, and fat metabolizers.
The Result
The result of her dedication has been awesome. She recently showed off her svelte frame via her snaps published in the OK! Magazine. She also shared that she has lost two stones and three dress sizes. She was 14 earlier and now she is just 8.
Working with Fans
The mother of five ensured to remain stuck to the weight loss goals by involving her fans on to her weight loss journey. She wanted her fans to give a try to her weight loss methods and get great results like her. They also indirectly motivated her to keep going without losing focus.
The Earlier Attempts
This is not the first weight loss attempt of the former I'm A Celebrity Get Me Out of Here (2002-Present) contestant. She had launched a fitness DVD in 2010 and was seen attending GI Jane Bootcamp in September 2015.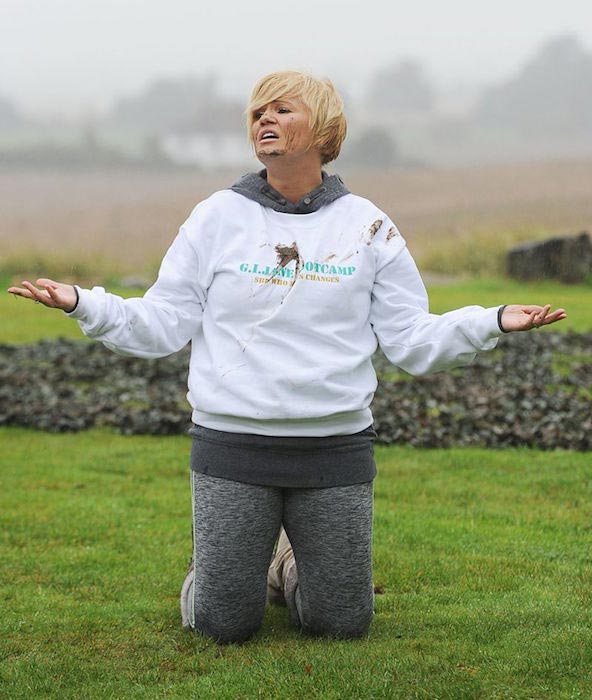 Cutting Out Alcohol
Kerry has also changed her bad habits in order to stay healthy. She has cut down on her alcohol intake and now never drinks on weekdays. She does admits to having a bit when she is on a night-out but further adds that these night-outs are very rare, reports Daily Mail.
Indulging a Little
Though Katona is very serious about staying healthy this time around, she does indulge a little especially on special occasions. She recently put on a sugary feast for her son, Max on his birthday. As a part of the treat, her entire family enjoyed crisps, doughnuts, and cupcakes.
Well, after going through the weight loss journey of the media personality, we would just like to wish her luck. We would love to see her stay in shape for a long while and so will her fans. After all, losing extra weight is the first step towards getting fitter, won't you agree?