She has helped the players of basketball team L.A. Lakers, dancer and choreographer Beto Perez, and TV host and actor Mario Lopez to get in shape and still, she is very down to earth. We are talking about none other than Kirsty Dunne. The celebrity trainer just got chatty about keeping healthy, managing weight loss the healthy way, and getting a beach body. She also shared some useful diet and workout tips. Have a look at all her ideas here and try some of them, won't you?
Distinguishing between healthy and unhealthy weight loss
The creator of the OTG3 Cleanse believes that healthy weight loss happens when you focus on wellness, nourish your body and aim for losing just one to two pounds per week without feeling deprived of anything. On the contrary, when you try every diet, over train your body, stress about weight loss and fast a lot, you will be heading towards unhealthy weight loss. These habits would disturb the biochemistry of your body and could lead to negative health implications and a slow metabolism.
Healthy Weight Loss Goals
The brain behind 21 Day Metabolic Shape-up program thinks that losing one or two pounds a week is good enough. It will not lead to breaking down of muscle tissue and it will also not harm your BMR, i.e., resting metabolism. She spoke against the claims such as lose 10 pounds in 10 days. She said that these claims would only help you lose water weight called glycogen and it's very likely you will gain it back soon. She is also against relying too much on weighing scales and numbers, reports Yahoo.
Weight Loss Advice for Beginners
The fitness enthusiast thinks that if you are a newbie to weight loss, you must focus on nourishing your body without dieting. She wants you to focus on performance goals rather than being dependent on the aesthetics of weight loss. She opined that when a person feels great about running an extra mile or doing 20 extra pushups, that person will feel more motivated towards weight loss. This motivation would let the person work harder the next time.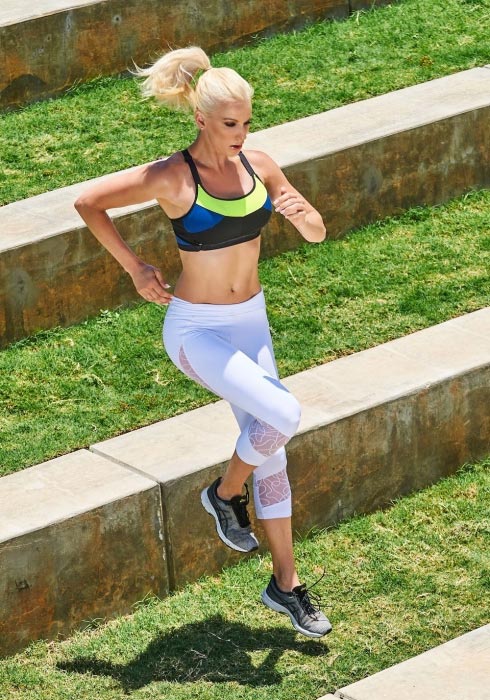 Motivation Advice
If you need motivation to stick to your weight loss goals, you need to join a scheduled class. You can also choose to sign up for the weight-loss aims with a friend or a loved one. This will help you keep each other motivated. The support network would also make you more accountable.
Signs of Healthy Weight Loss
When a person is on a path of healthy weight loss, he or she would feel stronger and energetic on a day-to-day basis. While on the path of healthy weight loss, one would never think about the weight loss numbers but focus on developing a healthy body image as well as a new lifestyle approach.
Signs of Unhealthy Weight Loss
On the other hand, when a person is following an unhealthy weight loss regime, he or she will feel drained and dehydrated often. The person would obsess over weight loss numbers, diet, over train and in some cases stress a lot about it. Always remember that adopting extreme methods is not at all healthy.
A Perfect Combination
Dunne is a supporter of balancing workouts with nutritious meals. She says that eating healthy would make you get better results during the exercise sessions. Healthy diets would also aid in your workout recovery. You just need to master the combination of diet and workouts and balance it perfectly.
How to Boost Stamina for Workouts?
The Nature's Emporium ambassador shares that having acai berry bowls with low-sugar fruits and sprinkle of mushroom powder and chia seeds before workouts is a smart choice. This combo would give you more sustained energy for workouts, reports Vitamin Daily. Mushroom powder is one of her most preferred food options as it can be mixed with any meal and it boosts digestion and healthy blood circulation which assists in delaying fatigue.
Balancing Workouts with a Job
The fitness guru really believes that the people who have hectic jobs can workout too. The workouts would help the person to burn calories and tone the body. Some simple workouts that one can do while on the job are taking stairs over lifts or escalators and doing power walks during meeting intervals. You can also perform dips off your chair or do a 30-minute workout during lunch time. You can ask a colleague to work out with you and you can use bands in the park. Measure your progress regularly and you'll realize that these little things really work.
How get a beach-ready body fast?
The stunner has also revealed the secret to beach ready body. You can achieve it by using HIIT (High Intensity Interval Training) as this method targets many muscles at once. It also brings out muscle definition unlike many machines. While some machines restrict your body movements and neglect areas, the band would etch out more definition for sleek looking muscles.
Healthy Eating
'Diet' word is considered to be dirty by the celebrity fitness expert. She thinks that some diets may work for some people but they need to be crafted perfectly. The key is to know what works for your body by eliminating bad food preferences and replacing them with healthy eating habits. When you stick to such a diet, the results of the weight loss would be long-term, healthier, realistic and very successful.
Nutrition Advice
The juicing guru is also a big supporter of having more pH-balanced and more alkalized foods. She also thinks you must avoid all processed foods as they are filled with synthetic chemicals that are hard to digest and may lead to the presence of undigested toxins. You need to replace the processed food with foods which have natural enzymes as these enzymes would stimulate your metabolism and deliver more nutrients to the body.
Easy To Follow Tips
Food Preparation
The nutrition coach wants you to prepare your meals in advance. You can prepare next day's breakfast or ready the veggies for the week in advance. This planning would help you to eat healthy, minimize wastage of food and save money.
Buy Healthy Foods
The wellness expert thinks that you should always shop for foods by making a list beforehand. It will stop you from buying unnecessary foods and save your time because you'll know exactly what you want. If you don't buy foods especially snacking foods in advance, you often end up buying unhealthy foods when you are hungry and it may have a bad impact on your health.
Shop when you are not hungry
The experienced sports conditioning coach wants you to shop for food only when you are not feeling hungry. If you shop when you are hungry, you may end up buying several expensive and unhealthy food items.
Try Workout Bands
Kirsty also admitted that you don't need a gym membership to stay fit. You can use bands as a workout tool as they offer great results when you use them properly. They can play a key role in delivering intense cardio workouts and total-body toning. The best part is that you can use it anywhere, be it a park or your own room.