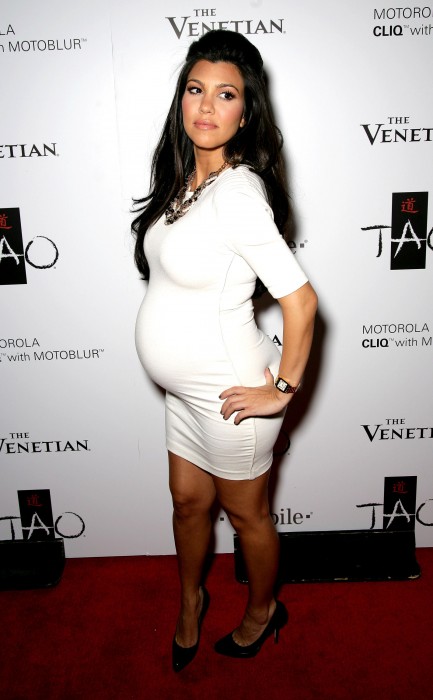 American television personality, Kourtney Kardashian gave birth to her second child, a daughter Penelope Scotland Disick (born 8 July, 2012). After giving to her first child, a son Mason Dash Disick (born 14 December, 2009), she lost her weight immediately because she put herself into daily running and also breastfeed Mason. She figured out that she was losing an extra of 600 calories due to feeding milk. She had gained 45 pounds due to pregnancy and noticed a decrease by 33 pounds in just 3 months. She was extremely happy and worked more to lose the remaining extra weight left. But, due to her hurry of losing weight, she was collapsed at a beach while running. Kourtney felt ashamed of her act. She was doing this to make her body fit for a photoshoot. In her own words –
"'I'm so embarrassed that I punished my body for a photo shoot."
And this time she has different plans. Kourtney has planned to eat unprocessed and healthy food. She is planning to eat salads, fruits, veggies. Also, she does not find much time for workout.
If you are planning to lose baby weight, here are some tips you may want to consider –
Include atleast 5 portions of fruits and vegetables a day.
Eat plenty of fiber rich foods, like oats, beans, lentils, grains, seeds.
Also make time for breakfast.
Drink plenty of water.
In each meal, eat starchy foods such as bread, rice, pasta, (wholegrain varieties for added fiber) or potatoes.
Try to avoid high fat and high sugar foods such as biscuits, cakes, chocolates, etc.
Try to stick to a diet and keep a positive attitude towards your diet.
Do watch your portions at mealtimes and also the number and type of snacks you eat in between meals.
Regarding workout, you can do pelvic floor exercises to tone the lower tummy muscles. This can increase your metabolism rate also. You can choose to do 30 minute of exercises – 3 times a week.
Do breastfeed the baby, especially in the starting months, will definitely make you to lose extra calories and thus weight. This is because your body will make extra milk.
If you are on a diet (say, for 10 weeks), you will not lose the quality of milk, which your body will produce. But, don't diet for long time. e.g. 2 months is OK. Make sure that you don't start dieting immediately after giving birth. Allow your body at least 6 weeks before you go for dieting.