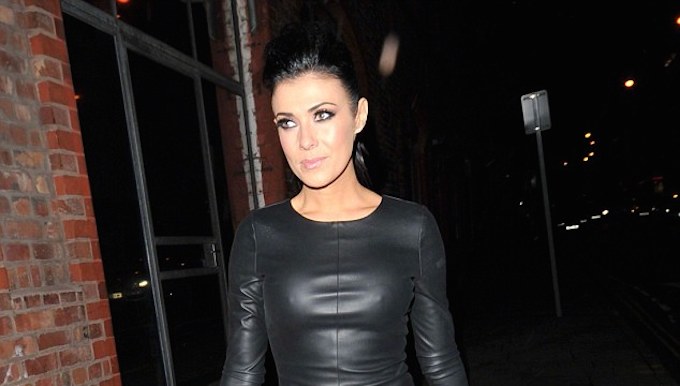 Smoking hot beauty, Kym Marsh is a British actress, former singer, and songwriter. Best known for being a part of the group Hear'Say, Kym came up with her own album, Standing Tall. Endowed with incredible curves, Kym has toned and curvaceous figure. After being divorced to her second husband Jamie Lomas in Jan 2014, the divine beauty is celebrating her freedom. The brunette could recently be seen flaunting her hourglass figure in bikini.
The mommy of three has been spending the surplus time she has got in grooming her paragon figure and really cherishing the lovely moments along-with her kids. The stunner running in her late thirties has amazing flat abs, and buffed legs and arms. Her ripped body has hypnotic capacity to imprison the eyes of viewers especially males.
Kym has been through array of fluctuation in her weight. While being a part of reality show, Popstars, Kym was so chubby that she was often bullied for her weight. However, the humiliation she received in the show touched her so much so that she made her mind to shed unsolicited pounds from her body. She also shares her plight of being victim of eating disorder, bulimia in her younger days. However, now the brunette who is in the best shape of her life takes care of her figure by eating good foods and relying on exercises.
Kym Marsh Diet Plan
Kym was not always vigilant about the consumption of foods. She in fact splurged hostile foods such as cheap beer, pizza, chocolates, and other unwholesome foods in tremendous amounts. And her body had to pay the toll of her wrong eating habits, for she gained enormous weight. However, having got the realization that she should drop extra pounds, she embarked on healthy diet regime and inculcated copious nutritious foods in her diet. Despite having dearth of knowledge pertaining to proper nutrition, Kym seldom succumbed to fad diet programs to scorch pounds.
She nurtured the habit of eating in moderation and started eating all her favored foods in small amount. Being inclined more towards sweet foods, she gratifies her sweet tooth by taking small bite of chocolate bar and throwing the rest of it in garbage bin. Having learnt varied food recipes, she cooks delicious and nutrient loaded foods for her and her family.
To stay honest to healthy eating habits, she keeps her refrigerator full with fruits and veggies and consumes them whenever she feels hungry. Among beverages, she keeps her body hydrated by drinking tremendous amount of water in a day. She loves peppermint tea, diet coke, and cranberry juice. However, since these drinks don't have very promising results, she drinks them not very often.
Kym Marsh Workout Routine
The pretty star is not much in accord with gym. The idea of hitting gym makes her feel sluggish. To do away with her aversion for gyms, she has purchased couple of gym equipment such as treadmill, cross trainer, and few others, and executes workouts whenever she feels like doing them. Apart from that, she performs diverse strength training workouts while being watched by her personal trainer. Her ripped abs and honed limbs indeed testify the religious workouts the glam star practices.
She reveres diversity, which actually is the key to success of weight loss programs and includes workouts such as pull ups, squats, bench press, Olympic lifts etc. in her workouts. To build up her speed and stamina, she runs forty minutes in a day, and does it twice in a week. She not only looks slender but her apparently sleek body holds immense power and strength.
Healthy Recommendation For Kym Marsh Fans
Do you also wish to acquire jaw dropping beauty and figure like Kym Marsh? Here comes one recommendation for you. Like your adored star, learn to live life the way it comes. Since it's seldom easy for a woman to come out of heartbreaks and broken relationships, instead of allowing the negative feelings shatter you, make them your strength. Your blissful life, which is amalgam of health and sylphlike figure, is the best revenge you can ever have from your beau or spouse. Under the stressful situation, the kick ass beauty concentrated all her energy to making her more sexy and demanding.
You too might be going through diverse kinds of difficult phases of life wherein you might find yourself totally helpless. Instead of living in self-pity, make you fall in love with yourself. No one is going to be there with you forever except for your healthy body. So, use your most valuable asset and embark on healthy lifestyle. Take baby steps to ensure you go really far in your pursuit to acquiring slimmer figure. The impacts of bikini embracing figure are so tempting that once you will get addicted to see you in your favorite attire, you will seldom want to resume your overweight body, which will aid you in staying lingered to right things.