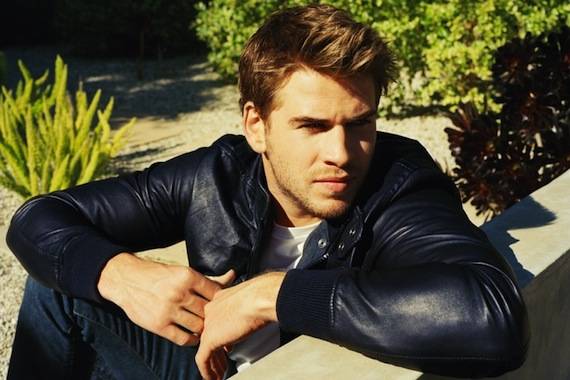 The Hemsworth brothers have always been in the limelight for their good looks, acting and for being natives of Australia. The latest Hemsworth sibling to hit the popularity charts on Hollywood is Liam. With movies like The Hunger Games and Expendables 2 to his name wherein he flaunted his fit and ripped body, Liam has already announced his arrival. His body and fitness techniques are already became the talk of the town and you would be so very surprised to read his secret. So, take a look at Liam's workout and diet plan.
LIAM HEMSWORTH WORKOUT ROUTINE
FOR LIAM, ENJOYING IS THE BEST CARDIO EXERCISE
Liam finds it utterly boring to workout on a treadmill or even a cycle, even though, sometimes he has to pay a visit to a gym just to save time for his busy schedule. For him, the best part of a cardio exercise is not to just sweat but also enjoy it and have a blast. Some of the activities or sports that Liam indulges in are boxing, surfing and running. Punching for about 20 minutes is exhilarating, insists Liam.
LIAM- THE NAVY SEAL TRAINEE
Yes, you read it right…!!!!!! Liam was required to go through a training program under a former Navy SEAL and it was not at all a piece of cake for him. The Hunger Games actor was required to lose about 15 pounds for the action movie and hence had to run the extra mile and lift those extra pounds till he was flat on his stomach, literally. Also throwing tires around and climbing ropes gave him the ripped muscles.
AND YET, HE STILL WORKS OUT EVEN MORE!!
Strength is something that makes Liam standout from his peers in the industry and he attributes it to the numerous exercises, he performs repeatedly without straining himself. Some of them include neck presses, pull-ups, military presses, lateral raises and bench presses. These exercises define his core muscles and tone his body.
LIAM HEMSWORTH DIET PLAN
For Hunger Games, Liam was supposed to look lean and yet strong. Liam admits that he is addicted to food and cutting down on it was very difficult for him. He brought himself to limit to fruits, vegetables and lean proteins. Otherwise, Liam loves to eat till his belly says no. Now that's we call the spirit of eating!
HE LOVES MIXING IT ALL UP
Liam's daily diet generally consists of oats, chicken fry with vegetables, asparagus and tuna fish. More often, he mixes them up to get a variety of tastes attacking his taste buds and also to save time during shoots. This Australian also loves scrambled eggs, sweet potatoes and brown rice. Spices are also his favorite as it helps to increase the rate of metabolism and he loves to binge on pepper fries, red chilies and whole other spicy food items that most of us would not even be able to bring near our tongue.
Liam believes that a simple diet is all this required to be fit or lose weight or even become muscular. He avoids oily food and drinks lots of water to keep him hydrated. Orange juice is his favorite drink of all times and he has never had a single health supplement in his 23 years of existence. Of course, he resorted to one-meal-a-day diet to lose weight for The Hunger Games but that was it.
Not many knows that Liam has worked so hard on his body in the early part of his life that he now needs to just maintain it with a proper diet and workout schedule. The fact that he keeps it simple is an indication of the effort he takes, although he is 6'3" tall. His dedication is worth emulating and definitely seems to be on the way to keeping up with his Expendables 2 co-stars. No wonder, they picked him for the 2nd installment.