Lisa Faulkner is an actress turned chef who has some amazing tips to share with her fans. She recently spoke about how mothers can ensure that their kids eat healthily, how one can be food smart and offered some healthy food swapping tips. We find out all that and her own workout & diet secrets that make her skin glow with health & vitality. Do read them all and learn as much as you can from them.
How to Make Sure Your Kids Eat Healthily?
The diva has shared some simple ideas that will help in ensuring that your kids eat healthily. The first thing that you can do is to involve your kids. If you just lecture them on eating healthily, it will barely do any good. In contrast, if you involve the kid in everything from buying the fruits & veggies to actually cooking the meal along with explaining the benefits of all the ingredients, then you will attain some success. Another thing that can be done in this regard is to eat healthy foods yourself and let your kids see that it's not difficult. Leading by example always works.
Healthy Swapping
The English actress has some amazing food swapping ideas that she shared recently. She says that you can swap the sugary cereals with whole grain toast or can opt for plain cereal with some fruit. Also, start using low-sugar and low-fat yogurt. If your kid is reluctant to eat plain cereal, then you should begin by mixing it up with the regular cereal and slowly replacing the former option. Once they develop a taste for the latter, they won't even notice that they are not having the sugary cereal anymore.
Easy Cooking Tips
As the brand ambassador for Change4Life Be Food Smart has a very busy schedule, she totally understands why people want to make cooking easier. To help you out, she has shared some of her own cooking tips. She says that you can use fresh, tinned and frozen fruits and vegetables as additions to every meal. Add dried fruit to low-sugar & low-fat yogurt for breakfast or add vegetables to a chicken noodle dinner.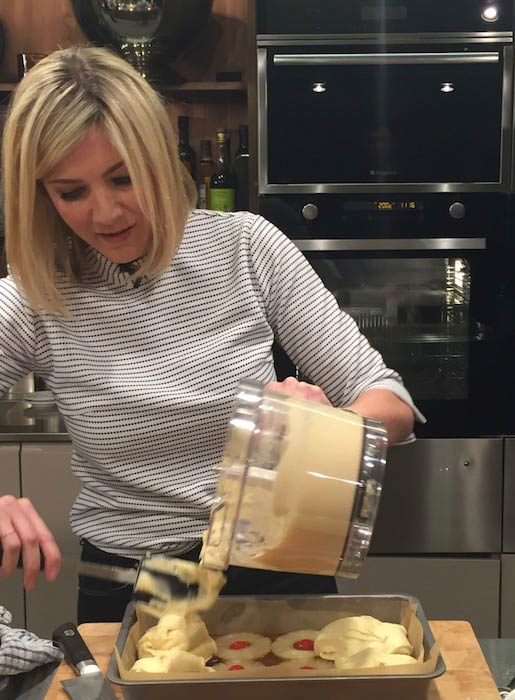 The former Holby City (1999-Present) actress also thinks that cooking in batches is a great way of saving time and money. She opts for vegetables and fruits that are in the season. It ensures that the food is tasty and affordable at the same time.
The Misconception
The TV presenter says that people have a common misconception that healthy foods are expensive. It is not always the case. You can buy fresh vegetables and fruits that are very cheap. You can also find loads of fresh frozen fruits & vegetables in the supermarket that are cheap. There are also a lot of quick & easy recipes that cost £5 on the Change4Life website that can feed a whole family.
The Food Smart Initiative
The girlfriend of chef John Torode has teamed up with Food Smart, a free app that allows you to scan the barcode of foods and drinks to expose the exact contents of the product. She says that knowing how much sugar and saturated fats are in your food will help you to make healthier choices. She and her daughter have a lot of fun in revealing the exact contents of every product available in her kitchen.
How to Be Food Smart
The mother of one suggests that you can be food smart by feeding fruit (fresh, frozen or tinned) to your kids. Children also like eggs and low-sugar and low-fat yogurt. You should also try to replace salt in your food with black pepper and herbs. You can also be food smart and replace your creamy and cheesy sauces with tomato sauces as a great way to cut back on a number of saturated fats you have daily.
Diet Secrets
The Masterchef (2005-Present) winner thinks that healthy diet is not about restricting foods. It's more about having a balance. She lives by the rule that you can have everything in moderation. She also drinks a lot of water and has always done so.
Weight Loss Difficulty
The What's Cooking (2013) host says that cooking rarely makes you put on weight. People gain weight because as you get older, you find that losing weight is becoming a challenge. The solution to this is to eat little bits and quite a lot of them. (She does that too)
Food Preferences
The celebrity chef likes to have steak prepared by John. She doesn't like chips so she couples it with mashed potatoes. She also loves broccoli, spinach, rainbow chard, and watercress.
Workout Secrets
This Morning (2002-Present) star says that she is very active and moves around a lot. Her preferred ways of exercising are walking, yoga and horse riding. She doesn't like to go to a gym. She has tried it and hates all gyms.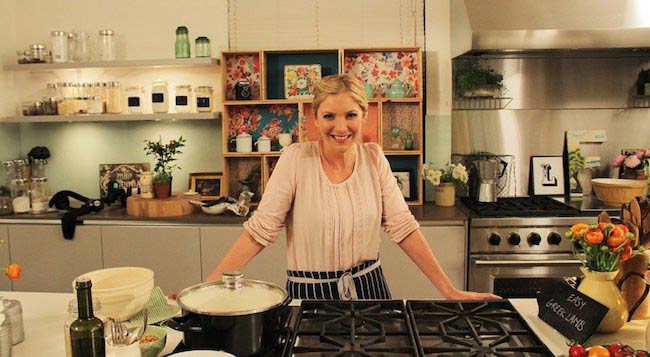 The Loss and the Lesson
The ex-wife of Chris Coghill lost her mother at 44, so she fears that she might also not live much longer. This is the main reason why she is watchful with her health. She always checks herself and keeps up with what's happening with her body. She knows that if she worries too much about dying early, she won't be able to live. So, she tries to enjoy her life while keeping a handle on her health & well-being.
No Plastic Please
The former Dangerfield (1995-1999) actress says that she is terrified of Botox and doesn't think she will ever try it. A skin consultant suggested that she could try it but she refused. She says that if she went for it, John would support her but she doesn't want to lose her face. She thinks that your face gives you a character and she actually likes the lines on people's faces. In her opinion, people looking different is a good thing. She also thinks that giving too much importance to how you look rather than who you are is wrong. It should never be like that.