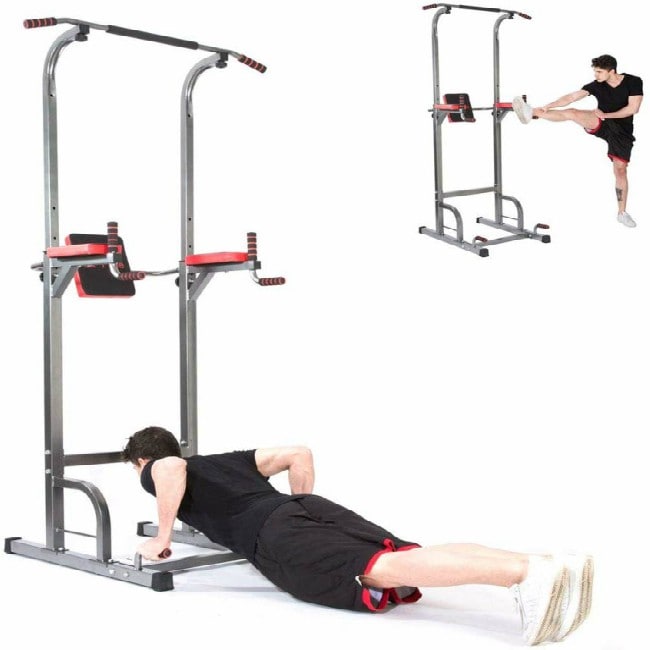 Power tower has gained popularity recently. It is versatile, no doubt; but the main reason for its popularity is that it uses body weight as resistance. This helps to build functional strength. You will be able to build different groups of muscles. Your targeted muscle, core, and secondary supportive muscles will be working. Going to the gym every day can be expensive due to the high gym membership fee. A power tower is relatively cheap and it is a one-time investment. So, you will be able to work out at home without breaking your bank. If you decide to buy a power tower, then you should think of buying the Lx Free Multi-Functional Fitness Tower. 
Design
This power tower is specially designed for home use. It has 4 adjustable height options which will allow you to do exercises in different ways. It is lightweight and so can be carried around easily. You can store it easily as it won't take up much space. It has high-density foam rubber grips that are comfortable to hold. Your hands won't feel tired even after a strenuous workout session. It is ergonomically designed and has a back cushion to reduce the pressure on the spine. It will allow right limb movements and reduce the chance of injuries. It is perfect for both men and women. You will have a very comfortable and effective workout experience with this amazing power tower. 
Build Quality
This power tower is made of a heavy-duty steel frame that is durable and reliable. It won't bend or break even after long hours of workout sessions. It has a weight capacity of 330 lbs. It is built to provide comfort and stability. It has a slip-coated grip in different parts of the station. So, your hands will never slip during exercise and there will be less chance of any injuries. It has padded back and armrests so you will feel comfortable during exercise and you won't feel any pain on your arms or back after an intensive workout session. The equipment is stable and won't wobble during exercise. 
Size
It has dimensions 22.44'' by 38.98'' by 74.80''. It weighs only 50 pounds which makes it portable. You can adjust the height from 74.8 inches to 88.6 inches. It is not that bulky, so you will be able to store it in any corner of the home easily. 
Comfort
The non-slip grips make it cozy and convenient to exercise. The high-density foam rubber grips not only provide comfort but also ensures safety, especially during dips. The back and armrests are padded which will make you feel comfortable during exercise. 
 

Ease of Use

It is very convenient to use the different stations and you will be able to switch easily between different exercises like pull-ups, push-ups, chin-ups, etc. As the grips, back pad, and armrests are comfortable, you will have a great experience working out. 
Effectiveness
The Lx Free power tower is multi-functional and you will be able to perform pull-ups, chin-ups, leg raises, dips, and pull-ups with it. You will be able to do several fat-burning exercises with it. You can get a strong chest and shoulder Performing dips can grow arm muscles and improve your biceps and triceps. If you want to make a V-shaped back, then there is no alternative to this power tower. It is great equipment for a full-body exercise. The dip station can be used for targeted ab crunches and knee and leg raises. 
This power tower is great for your upper body, abs, and the lower body as well. Overall, it's great equipment for a total body workout. You will be able to burn fat and get a perfectly toned body within a very short time. 
Pros
It is well designed, thus making exercises very effective.

It is made of heavy-duty steel which makes it durable.

The height can be adjusted.

The back pad is cushioned, so it will reduce strain on the spine.

The armrests are padded as well to provide extra comfort.

It has non-slip coated foam rubber grips.

It provides comfort and stability.

It is versatile and you will be able to perform pull-ups, push-ups, chin-ups, dips, and leg raises with it.

It is suitable for both men and women.

It has built-in tool kit accessories.

You will get a 100% money-back guarantee if you are not satisfied with the product.
Cons
The instructions for assembling the power tower are not elaborate.

The pull-up bar is a bit short.

Some users found the padding to be of poor quality.
Final Verdict
One of the best ways to get the most out of your daily exercise routine is to personalize the power tower. That way you can tailor your exercises according to your body type and preferences. The Lx Free power tower has four height-adjustable options that will help to make your exercise more effective. This power tower is made of heavy-duty steel and has the right back support and padded armrests. It is one of the most versatile and comfortable power towers you will find in the market today. It has multi-grip pull up bar and push-up handles to train your back, arm, shoulder, and chest muscles. The dip station can help to perform targeted ab crunches and leg and knee raise.
This power tower has everything you need from top-quality exercise equipment. It is well designed, strongly built, comfortable and functional. You will notice the changes in your body soon if you exercise it regularly. The equipment can withstand weight up to 330 lbs and remains stable even when you do intense exercises. So, there are no safety concerns and you will be able to workout with confidence for years. If you are not satisfied with the product, you can get your money back. So, it will be a smart decision to buy this power tower.