Who would not like to be popular and look gorgeous like Madonna? Women of all age groups aspire to look like Madonna.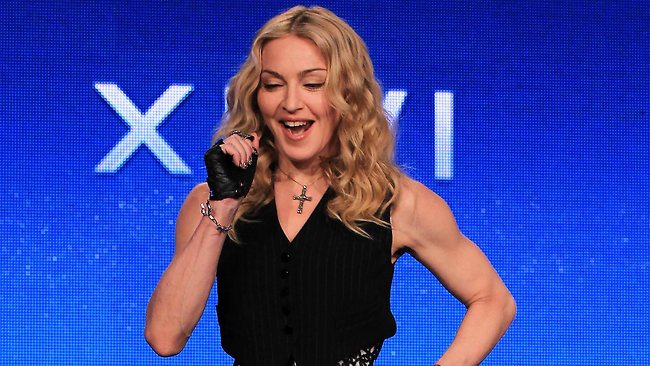 Madonna is an idol who has radically defied her age and still maintains to look as magnificent as she looked in her younger days. However, being Madonna actually is not easy. You require discipline, dedication, determination, motivation, and what not to look like her.
The iconic singer is wildly serious about her diet and exercises. She even overlooked her kids and marriage for the sake of staying slim and sculpted forever. When it comes to her figure, she is just resilient and can do anything to stay like this forever. People are insane and are addicted to various things, but Madonna is crazy about her fitness.
Madonna Workout Routine
Madonna being overly serious to workouts has created her own gym, which is located next to her home. She hits gym six times in a week and practices workouts three to four hours in a day. Her workouts consist of cardio workouts such as swimming, running, cycling, horse riding, strength training, Pilates, yoga etc.
Ashtanga yoga is her all-time favorite yoga which she prefers over all other workouts. She experienced great changes taking place in her body while sticking to Ashtanga yoga. Besides that, she also abides by Stairmaster-climbing for minimum forty-five minutes in a day.
When it comes to fitness, the singer leaves no stone unturned. She also uses power plate at times. Vibration produced by it tones her muscles and enhances her muscle mass. Sensational singer is so self-sufficient and proficient in workouts that she doesn't even seem to require gym to work out.
Madonna Diet Plan
Diet regime followed by Madonna is extremely restrictive and strict. She refrains from fizzy drinks, processed and manufactured foods, refined sugar, and all other unhealthy stuff. Her strict diet regime is not restricted to herself; her children too have to abide by the diet chart prepared by mommy.
Madonna has been following macrobiotic diet since 1990. Macrobiotic diet is based on Japanese eating style. Her specially hired Japanese chef follows Madonna wherever she goes and prepares meals for her.
Despite being so insensitive towards her cravings, Madonna cribs about not being as disciplined and specific about diet as her Japanese chef is. Madonna has conquered her appetite and cravings so well that it seems she has got divine power to do that.
She doesn't relish processed foods even on special occasions such as birthday parties, Christmas Eve and New Year. Restaurant and hotel foods are out of her wish list. Even when she happens to visit there, she just goes for plain water.
What is Macrobiotic Diet?
Macrobiotic diet being mainly vegan diet plan relies heavily on whole grains, fruits, vegetables etc. Mostly animal foods are banished in macrobiotic diet. Macrobiotic diet doesn't point up consumption of several small meals in a day. You are allowed to have just two meals in a day and let your body metabolism get strengthened in the meanwhile. Dairy, egg, poultry, wheat, and manufactured foods are not permitted in the program.
The diet schedule has proven results of reducing breast and other estrogen based cancers in women. You can also inculcate macrobiotic diet schedule in your diet regime by following Madonna daily diet regime, which is as follows.
Breakfast – Madonna likes to have steamed brown rice, whole wheat berries, rolled oats, millet etc. in her breakfast.
Dinner – Madonna prefers having quinoa, buckwheat, soy, green beans, grilled fish etc. in her dinner.
There is a word of caution along with the diet schedule and that is, prolonged use of strenuous macrobiotic diet can cause kidney failure, scurvy, anemia, and other diseases, because the plan is lacking in vitamin B12, magnesium, calcium, and iron.
Healthy Tips for Madonna Fans
Madonna is actually a diva. All her fans indeed would die to have toned body and sculpted face like her. However, following her footprints is neither feasible nor advisable. Let's have a look at some of the healthy tips which will help you in attaining carved body like Madonna.
Workouts inevitably are required to burn calories. Allocate five days of the week to three different kinds of workouts. Practice strength training for two days, cardio workouts for another two days, and yoga for one day. Diversity in workouts will give your body a reason not to reach weight loss plateau and continue shedding weight.
Your diet has to be in complete sync with your workouts. Make sure you eat nutritious and balanced foods. Fruits, vegetables, nuts, seeds, grains etc. should be the parts of your daily diet regime. Should your work involve intense physical activities; your calorie consumption too has to be high to energize you.
Cravings and appetite are natural physiological phenomenon. Don't try to suppress them because more you will curb them, the more they will rule over your body and mind. Take it easy and give your body two cheat days in a week. Permit you to eat your favorite foods without being guilty for these two days.
One of the strongest secrets of Madonna's beauty is her proper sleep. Despite having such a hectic schedule, the star never compromises over her sleeping hours. When she can draw time from her jam-packed schedule, you and I, of course, can do that as well.
Beauty Secrets of Madonna
Madonna has one of the most healthy and youthful skins. After all, she is not giving any reason to her skin to grow old. Having fabulous and flawless skin, Madonna uses natural beauty products. She uses blueberry facial cleanser and properly removes makeup from her skin before washing it. In addition to that, she uses toning serums having amazing aroma.
While choosing her skin care products, she makes sure that they have high antioxidant content. Besides that, she doesn't let dust, sweat etc. settle on her skin while working out, and carries water and towel with her to the gym.