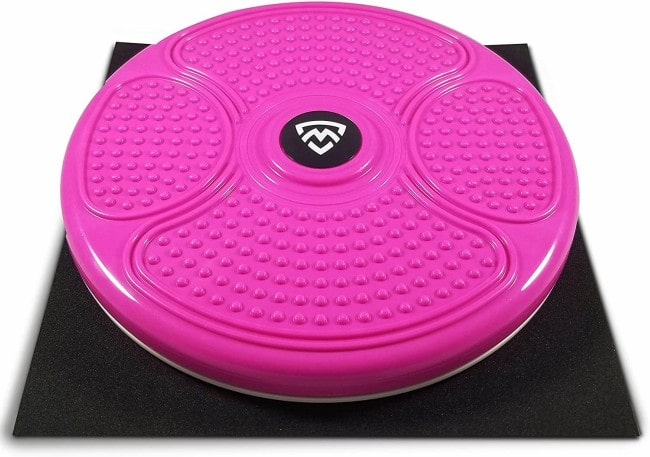 If you have tried everything to trim your tummy and became unsuccessful, then you should try the tummy twister. It is now widely available in the market and you can buy it for your home easily. It is simple equipment that doesn't take up much space and is affordable. By using the tummy twister, you will be able to tone the muscles around your midsection. By exercising regularly with the tummy twister, you will get a flatter and smaller waist which will make you look attractive in whatever you wear. The exercise that you can do with it is very simple and anyone can do it including kids, adults, and seniors. It is recommended that you perform the exercise on a stable surface. But, if you want a more challenging workout, then you can try it on an unstable surface and this trick will help you to improve your balance. You should do some research before buying a tummy trimmer. Here, we are going to review the MANYTONEZ Waist Trimmer.
Design
It is a large 14-inch tummy twister that is ideal for everyone. It is hot pink in color which looks very attractive. Most women users love it. The top disc rotates smoothly to make you feel comfortable doing the twisting movement. The surface has a ridged texture that provides an excellent grip during exercise so that you don't slide or fall over. This twister disc is lightweight and durable. You can easily carry it around from one place to another. You can be fit and have a toned waist by exercising on this tummy twister. Just twist and burn your calories to get a better body.
Build Quality
This disc is made of high-quality TPR material which makes it strong and durable. It has a non-slip surface and so you won't slip off during exercise. The ridged surface helps you to keep balance. It can support weight up to 250 pounds, so is perfect for heavy users as well. As it is very strong, it won't break easily even after long term use. The tummy twister comes with a floor mat to provide extra protection for your floor.
Size
Its size is perfect for anyone. The size is about 13.75 inches, so you will be able to place your legs comfortably on it. It is lightweight which makes it portable. You can store it conveniently at any corner of your house.
Comfort
As the surface is non-slip, you will feel very comfortable while working out. You get a non-slip workout floor mat with it that provides extra protection for both the tummy twister and the floor. You won't feel any pain while exercising and will be able to keep balance without any risk of falling. Though the surface is ridged, it won't hurt your feet and you will have a comfortable experience.
Ease of Use
The Manytonez Waist Trimmer has a rotating disc on top which allows you to perform the twisting motion. You only need to stand on it and rotate the torso. You will see that your chest and shoulders are going in one direction and your knees and hip are going in the other direction. This twisting motion will help to burn calories and tone your muscles in the waist region. You get a downloadable product user guide and also fitness tips to get a great body.
Effectiveness
You can do a variety of exercises using this tummy twister. This disc is appropriate for everyone from beginners to advanced exercisers. You can perform the basic twist with it by standing on the disc with your feet a little apart. You need to do the twisting motion by keeping your torso erect. You can do the squat twist and seated twist as well. This tummy twister will help you to feel stronger in the back and stomach region. You will have stronger and more toner abs. It comes with a floor mat to protect your floor and the tummy twister. So, as an extra advantage, you can perform push up and planks on the mat. If you exercise with this tummy twister every day, then you can improve your abs, stomach, core, and legs.
Pros
It is made of high-quality materials that make it durable.
The board is big and you will find it comfortable.
It has a non-slip surface that is durable; so it will now crack.
It can support weight up to 250 lbs.
You can get fit within a short time.
You can do cardio and other exercises on it and burn unnecessary fat.
It will improve your abs and make your core stronger.
It is lightweight, so you can move it around from one place to another.
You get a free exercise mat with it, so you can do push-ups and planks as well.
You will get a 100% money refund if you are not satisfied with the product.
Cons
It is a bit expensive.
You only get it in pink, so most men will be reluctant to buy it.
There is no leg shape on the board, so some people may not position their legs on the board properly.
Final Verdict
According to health professionals, balance and core training exercises should be part of a person's daily routine. You can do different exercises on this simple board. You will not only get a trimmed waist but also improve your balance and strength. If you find normal exercises boring then you will love exercising on this tummy twister. It's a fun way to reduce your waist size.
This tummy twister is made of high-quality materials, making it strong and durable. It is a favorite among women and they love exercising on it to get a slimmer tummy. You can twist while standing or sitting to make the exercise more challenging. The twisting motion will also help to burn calories. It will be a good investment to buy this tummy twister. You can exercise anywhere and anytime. Just spend 10 minutes every day on this tummy twister and get your desired results.