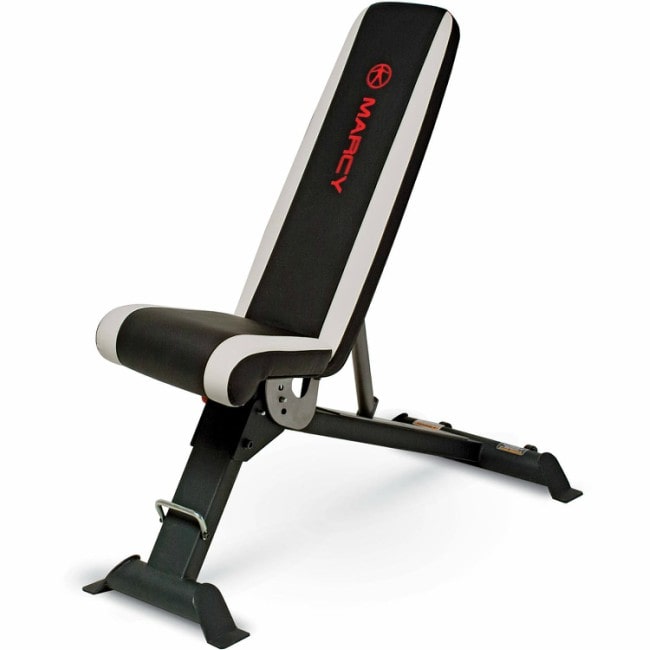 The fitness industry is evolving continuously. The manufacturers are coming up with new equipment and training methods to make the fitness journey easier. It is not always necessary to visit a gym to train yourself. You can buy different equipment for your home as well which will make it more comfortable for you to work out regularly. Among the various equipment you can buy, a gym bench is an essential one. You can use this bench to help you with different exercises and get effective results.
The Marcy Adjustable Utility Bench SBB-670 is one of the best gym benches that's available today. In terms of quality and price, this bench is almost unbeatable. Here, we are going to look at the various features of this bench and understand how you can use it to accomplish your fitness goal.
Design
It is made of premium-quality materials. It is made of a powder-coated steel frame that makes it durable. There is high-density foam in black and white color which looks very appealing. The bench keeps the body well supported during the workouts. It has a sawtooth design that provides various adjustability options. You will be able to set the bench to your desired angle and then target specific muscle groups. Adjusting the bench is easy and you will be able to shift from one position to another quickly. The seat and backrest are very comfortable because of the high-density foam that's inside them. It helps to retain the shape of the bench for many years no matter how intensely you use it.
This bench has been designed for providing great stability. It has a wide back stabilizer bar that keeps the frame stable and helps in lifting heavyweights. It has a 600 lbs of weight capacity that is perfect for the beginners and the intermediate users. For this, bench space is not a concern. There are wheels which will help you to transport the bench from one place to another easily. The bench is highly adaptable as it will be able to attach it to half cages, squat racks or Smith machines.
Build Quality
It is a very stable bench which will let you exercise comfortably and safely. You won't experience any wobble issues with this bench. It is high and the backrest is wide to give you enough support. The frame is made of 14-gauge steel which is strong and durable. You won't notice any scratches or corrosion for years due to the powder coating of the frame. The seat and backrest are covered with a vinyl coating that makes the bench durable.
You can adjust the building to 6 different angles which will enable you to do several exercises. You can incorporate dumbbells and barbells easily in your workouts. The seat is also adjustable to 3 different positions so that there is no gap between the cushions.
Ease of Use
You will be able to assemble the product easily with the help of the instructions provided. You will get a packet of nuts and bolts to help you assemble the bench quickly and properly. Only 2 people are needed to fully assemble this bench. It will only take about 30 minutes to assemble it.
Size
This bench measures 52 inches by 25 inches by 46.5 inches. It is a very tall bench and is suitable for tall people. It weighs 46 lbs which is a bit heavy. However, there are transportation wheels available that will help you to move the bench from one place to another. You can fold it to make it fully flat and that way you will be able to save on your storage space.
Comfort
It has high-density foam padding on the backrest and seat that protects the body during exercise, thus reducing muscle fatigue. The seat is wide and comfortable. The back is fully adjustable which allows you to do different types of exercises such as incline, decline, or shoulder presses. You can also adjust the seat to your desired position so that you can have a comfortable experience.
Effectiveness
This bench is great for a full-body workout. It is ideal for building muscles and works in your shoulders, back, abs and other parts of the body. You will be able to sit, lie or kneel when you do lifts, presses or curls. That way you will get the flexibility to shape your body the way you want.
The back pad is highly adjustable and you can set it to different angles that will help you to perform different exercises. The seat is tilting and can be adjusted to 3 different positions. You can add this bench to any Smith machine, power rack or other equipment for getting better results. Some of the exercises you can do with this bench include dumbbell press, dumbbell curl, dumbbell bench press, and more.
Price
It is one of the cheapest benches you will find today. With a weight capacity of 600 lbs, you will hardly get any better offer. It costs only $109 at Amazon. If you wait and keep an eye on the various websites that sell this product, you may buy the bench for less as most sites offer some discounts.
Pros
Its design is stylish with the white stripes on the sides.
It is made of high-quality steel having a powder coating to prevent it from scratches and corrosion.
You can adjust the back to 6 different angles and the seat to 3 different positions that allow you to do various types of exercises.
There is a long backrest that supports your back during the exercise and makes you feel comfortable.
The backrest and seat cushion are made of high-density foam for extra comfort.
It has built-in wheels that make transportation easy.
It has a weight capacity of 600 lbs so users will be able to use heavyweights as well.
It will adapt to fit Smith machines, half cages, squat racks, and other equipment.
It can give you a full-body workout.
You get 2 years warranty for it.
Cons
There is no leg support for the decline position.
In the flat position, the backrest and cushion are not perfectly aligned.
Advanced users need more weight support which is not available here.
Final Verdict
The Marcy Adjustable Utility Bench SB- 670 is one of the most popular benches you will find in the market today. It's solid construction and stylish design can motivate anyone to buy it. It is made of premium quality materials which make it durable. The powder-coated steel frame ensures that no rust is formed. The upholstery is made of high-density foam. It is a very stable machine and you will be able to do intense exercises comfortably. It will give you lots of options to target specific muscle groups to give you a full-body workout.
This bench is easy to transport and store, making it perfect for home or gym use. If you buy this bench, you won't have to be concerned about the quality or function of this bench. So, if you are looking for an affordable and high-quality bench, then you should buy this gym bench.