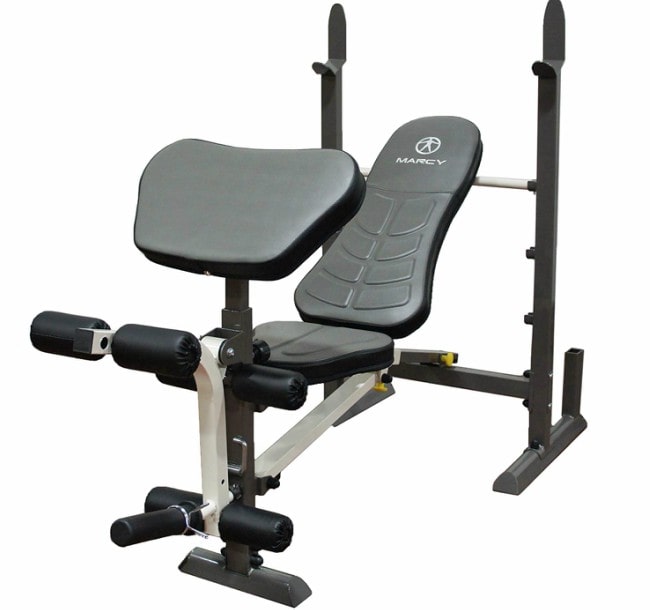 The biceps or the 'show muscles' are one of the main concerns for the bodybuilders. Strong biceps are needed for lifting weight, throwing a ball or turning the bat during different games. The biceps actually support the back during the pulling motions. One of the best ways to work your biceps is to do preacher curls. For doing this you can use barbells, dumbbells or EZ curl bars that will help to isolate the muscles and target the brachialis muscles in particular. Having a biceps curl bench is very helpful in performing these exercises. Here we are going to review the Marcy Folding Weight Bench and see how it can help to improve your biceps.
Design
This bench is designed for a full-body workout. It has arm curl facets, leg developer, and back and seat pads that will help you in performing different exercises. Its seat is adjustable and you can change it to the incline, decline or flat position whenever you want to according to the exercises you are doing. The bench is ideal for both weight lifting workouts and equipment-free exercises.
This bench is foldable, so after you have finished exercising, you can fold it and store it anywhere. The arm curl pad that is included with it can be stored away in the storage post when not in use, thus saving space. You can also move it easily from one place to another. Its space-saving design makes it ideal for those who have small space. It has comfortable foam roller pads that help you to perform leg extension exercises. It has an ergonomic design and will protect your body from injuries. 
Build Quality
It is made of a steel frame that is durable. The strong solid construction makes it ideal for heavy users as well. It has a powder coat finish and is scratch and rust-resistant. It has high-density upholstery and lots of padding to help you exercise for long hours. It can hold a 5-feet weight bar which is ideal for both the beginners and the experts. Its structure is unbreakable and it can be used to perform exercises using weights. It has a maximum user capacity of 300 lbs which is sufficient for most users.
Size
It has a compact size and has dimensions 68.8 X 29.3 X 63.8 inches. You can fold it to make it more compact when not in use. It is not that heavy, so you can move it around easily.
Comfort
This bench is designed for comfort. It has various handy features that make it comfortable to use. Its seat is well padded and can be adjusted so that you feel comfortable during workouts. Its arms curl pad is adjustable and removable as well, so you can put it away when not in use. The leg developer has foam covered rollers. Overall, the bench has high-density upholstery that will make your strength training very enjoyable and reduce fatigue and physical exertion after a workout. You will feel comfortable to sit on it and it will prevent any back pain as well.
Ease of Use
It is very easy to use as detailed instructions are given on how to assemble the product. It won't take much time to assemble. You can adjust the different settings comfortably.
Effectiveness
This bench is ideal for a total body workout. You will be able to tone your arms, shoulder, back, abs, and leg with the help of this bench. You can adjust the seat in the incline, decline or flat positions. So, you can lift your dumbbells and barbells by laying down in a flat position or do curls and crunches as well to target various parts of the body. The preacher pad will isolate the arms when you perform curls. You can also perform equipment-free exercises with it. 
It has foam rollers for leg developers which help in performing leg extensions and other exercises. It helps to stabilize movements and strengthen the lower body. You can work out your torso by lying down on your back. You can train the arms using the arm curl facts. It is a great bench for strength training and building your biceps. You can easily perform bicep curls with it. If you exercise regularly with this bench, you will get a well-balanced physique that will improve your appearance, performance, and health as well.
Pros
It is foldable and so when not in use, you can store it in your room without taking up much space.

It is constructed with heavy-duty steel making it strong and durable. 

It is powder-coated and rust-resistant.

It has rollers covered with foam for leg developer.

It has an adjustable and removable arm curl pad.

It has an adjustable seat pad which lets you change the position of the bench to an incline, decline or flat positions. 

It has boxed upholstery that provides excellent comfort.

It has a fixed rack that can hold up to 135 kg with 5 feet, 6 feet or 7 feet bars.

It provides get back support while exercising. 

It provides a full-body workout. 

It is affordable.

You get 2 years warranty for the product.

Cons
When folded, the bench becomes a little unbalanced.

It is not appropriate for users above 6 feet tall.
Final Verdict
You can get the best body workout with the Marcy Folding Standard Weight Bench. You can sculpt your shoulders, arms, chest, abdomen, back, and legs with it. The ultimate result will be super toned muscles that make you strong and look good as well.
It is a strong bench as it is made of a heavy-duty steel frame. The structure won't break even if heavy users use it for a long time. The seat and back are well-padded and you can adjust the seat to different positions. It is a versatile bench and you can do various types of exercise on it. So, buy this bench today and get a leaner and healthier body.