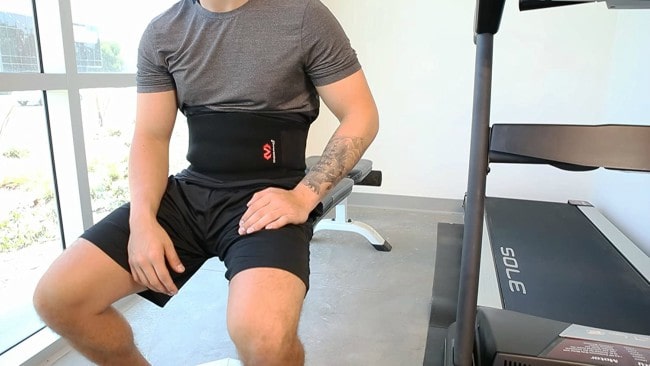 Wearing a fitness trainer belt is one of the most comfortable ways to lose weight. You won't need to work for months to get your desired body; you can get in shape within a short time if you wear a fitness trainer belt. But, wearing this belt only won't get you results. You need to exercise while wearing it and also maintain a healthy diet. The unique fabric of the belt keeps the heat of the abdomen and relieves the extra sweating, thus reducing calories. Another benefit of wearing this belt is that it acts as a great tool to support the stomach and back. So, if you are suffering from back pain, you will feel better by wearing this belt. This belt can be worn by both men and women and is ideal for those who want to lose weight within a short time. Here, we are going to review the Mcdavid Waist Trimmer Belt and find out why it is one of the best-selling fitness trainer belts in the market today.
Design
It is designed to help you reach your weight loss goal more quickly. This belt is lightweight and breathable. So, you won't feel like you are wearing anything extra. You will feel comfortable wearing it both on top and below your clothes. As it is breathable, you won't have that congested and suffocating feeling during workouts. You will feel comfortable wearing it even when you sweat extensively. It has an adjustable Velcro strap that fits up to 40 inches of waist size.
Build Quality
This belt is made of high-quality latex-free neoprene which is comfortable and provides thermal therapy. You sweat a lot wearing this belt and that way burn calories. The soft tissue support and non-slip inner layer prevent slipping when you exercise. The neoprene material is stretchable and provides great heat insulation which results in more sweat and faster weight loss.
It uses therapeutic heat tech that gets rid of the excess water weight and increases the productivity of muscles.
Size
It has dimensions 3.5 inches by 5.8 inches by 5. 1 inch and weighs only 4 ounces. This belt is lightweight and you will feel comfortable wearing it. The belt comes in one size and is ideal for people with waist size up to 40 inches. It comes with a Velcro strap and makes the belt adjustable.
Comfort
As the belt is made with soft neoprene material, it feels very comfortable when you wear it. The Velcro strap allows a snug fit and it won't shift or slip off during exercise. You can either wear it above or below your clothing.
Ease of Use
You can get it in one size, so you won't have to waste so much time looking for the perfect size. The material of the belt is stretchable and it will fit your waist properly. You can use this belt comfortably for 2 to 3 hours even when you sweat. As the belt is breathable, you won't feel uncomfortable wearing it.
Effectiveness
You will see a drastic change in your midsection within a short time. This belt helps you to lose water weight by increasing the fat burning rate with its therapeutic heat tech. It helps to maintain an increased core temperature which results in increased sweating and eventually you lose weight.
It can also help to correct your posture by providing support to your abdominal muscles and lower back, thus giving you a strong core. As a result, you will have better posture and balance.
This belt provides heat therapy; as a result, your sore muscles will recover and you will feel better. If you suffer from back pain then, you will feel better wearing this belt. People suffering from arthritis, tendonitis or bursitis can get a lot of benefits by wearing the belt. It is a very useful belt for everyday use. This is a great belt for the athletes who need to burn calories quickly before a competition. However, you should remember that you won't get any positive results by wearing this belt and watching TV. You should exercise wearing it and maintain a proper diet to get the best results. 
Pros
This fitness trainer belt is made of latex-free neoprene which makes it soft, comfortable, and effective.

The inner lining of the belt prevents it from slipping off when sweat builds up.

It covers your entire midsection and so helps to burn fat in that region.

It uses therapeutic heat to burn fat and increase muscle productivity.

This belt is lightweight which makes it comfortable to wear.

When you wear a belt, it will make you look slimmer.

It will maintain elevated core temperature and result in increased sweating.

It is breathable, so you can wear it for 2 to 3 hours without feeling any discomfort.

It has a Velcro closure that allows you to adjust the belt according to the size of your waist.

It provides relief from sore muscles and back pain.

It is ideal for people suffering from arthritis, tendonitis, and other health issues.

It is easy to clean and maintain in good condition.
Cons
It is not ideal for people with a waist size of more than 40 inches.

It doesn't provide any warranty.

It is only effective when you wear it during exercise.
Final Verdict
This fitness trainer belt is so effective that you will notice visible results in your midsection within a short time. It uses therapeutic heat tech to remove the excess water weight of your body and at the same time increases muscle productivity. This belt is multifunctional because along with weight loss and waist toning, it can improve your posture and balance as well. You will also get support for your lower back and feel better if you have back pain. It provides great support to your abdomen and lowers back while you work out. The non-slip neoprene inner layer helps to maintain proper positioning during exercise. As the belt is breathable and lightweight, you will feel very comfortable wearing it. It is made of latex-free neoprene that is soft and environment-friendly. The belt is very effective in toning the midsection of your body and burning calories.