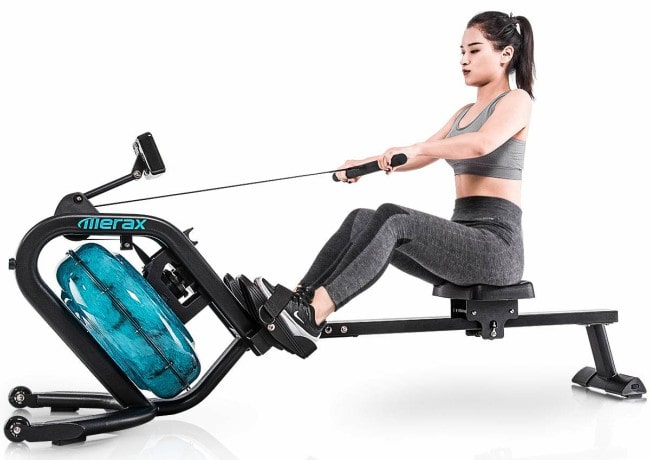 Many people are now becoming members of their local gyms to stay fit and healthy. However, the gym membership fees are very expensive and sometimes it can be difficult to maintain the membership. Not everyone is lucky to have a good gym in the neighborhood, so they have to go far to find a gym. Maintaining a proper fitness routine can be difficult in such a case as people work long hours in the office and they have very little time left for doing exercise. So, many people now prefer exercising at home rather than going to a gym to save time and money. If you have to choose one equipment for your home, then you should choose the rowing machine. It is a very effective machine for a total body workout. It allows you to perform low impact exercises that don't hurt your muscles or joints. The Merax Water Rowing Machine is a very high-quality equipment for performing cardiovascular exercises. We are going to look into its features to find out why it is so popular in the market.
Design
It has an elegant and sleek design. The dashing blue color looks amazing. It has a unique inclined water tank that makes sure that the resistance is strong so that you get more effective results from your workouts. So, this machine is undoubtedly better than those that have a flat position. It is designed in a way to provide a soothing glide that resembles the dynamic rowing movement in the water. It has a water tank and you will enjoy the sound of splashing water as you exercise.
It has an LCD monitor which is large and so you can view the stats. You will get accurate data on strokes, duration, calories, heart rate, distance. You can start or stop rowing using a single push button. There is a competitive race mode that allows you to get on a challenging workout session.
It has an ergonomic handle that is long and comfortable to enhance your performance. The seat is molded to provide the ultimate comfort during exercise. It has a compact footprint that makes it suitable for small apartments. It also has built-in wheels so that you can easily move it from one room to another.
Build Quality
It is made of high-quality steel which makes it solid and strong, as a result, it ensures steady performance. It can support weight up to 330 lbs. It doesn't produce any noise, so you can watch TV or listen to music while exercising. It provides a smooth gliding motion that will make you feel as if you are rowing in a river or stream.
There is a water tank that you can fill up in the desired water level resistances. You can adjust the resistances using the funnel and pumping siphon. It has long footrests that provide good balance during workouts. The footrests also come with Velcro strap which will keep your feet secured even during intense rowing sessions.
The water rower is designed using high-density hydro blades that create resistance during exercise. You can change the resistance to 6 different levels. It has an excellent floor grip, so it won't slip or slide during exercise. The frames are anti-corrosive, so they will last for years.
Size
This machine is compact, so it won't take up much space. You can set it up in any corner of your room. It has built-in wheels that will let you transport it from one room to another if needed. It has dimensions 78'' by 20'' by 25.5''.
Comfort
It has a large contoured seat that provides maximum comfort during exercise. The smooth gliding system provides an effortless movement, so you will be able to do the exercises effectively. It has an adjustable non-slip PVC foot pad that helps to customize the workouts. The long handle helps to maximize your effort. The footrests provide balance and stability during workouts.
Ease of Use
The water tank comes pre-assembled, so you can easily set up the other parts like the seat, handles, and footrests using the detailed instruction manual. It won't take much time to set it up.
Effectiveness
As the water tank is inclined, it provides more resistance, making it ideal for those who want to meet higher fitness goals. You will have a very comfortable and relaxing experience as you will enjoy the calming sound of the splashing water. It provides low-impact cardio that helps to engage the major muscle groups. Your heart will pump harder as you increase the resistance level and it will improve your lung's ability to provide oxygen to the blood. It is a great machine for both the upper and lower body and it specifically targets the back, arms, shoulders, thighs, buttocks, and calves. By exercising regularly, you can increase your endurance and build up stronger muscle and core. You will also lose a lot of calories by exercising on this rowing machine.
Pros
It is well designed and aesthetically appealing.

It has a solid steel construction.

It provides a quiet and smooth workout.

There are transportation wheels for moving it from one place to another.

It is suitable for a small place.

It is ideal for heavy users as well.

You can adjust the water levels to vary the resistance and get more challenging workouts. 

The seat is comfortable, so you can work out for hours.

It has a large LCD monitor for displaying various stats like distance, calories, and more. 

It has a heart tracking function. 

It is easy to assemble.

It is affordable. 
Cons
It has a short warranty period.

There is no integrated backlight in the console for better visibility.

It doesn't include an HR chest strap. 
Final Verdict
This rowing machine can provide high efficiency and performance. It is an affordable machine that can be a good investment for your home. When using this machine, you will get a similar experience as rowing a rowboat on water. It provides a full-body workout and so will help you to stay in good health.