Destiny rarely gives anybody the choice to pick their moment to shine when it suits them. Opportunities arrive erratically and unexpectedly. One can only stay prepared to grab hold of the next one to convert it into a moment of triumph. Miesha Tate trained in the gym for six uncertain months dwindling between despair and determination to finally win the women's bantamweight title at UFC 196 on March 5, 2016.
Emotional, humble and grateful in her victory, Tate expressed her immense respect for her opponent Holly Holm, who refused to tap out even when she found herself pinned down in a rear naked choke only to black out at 3 minutes 30 seconds into the fifth and final round.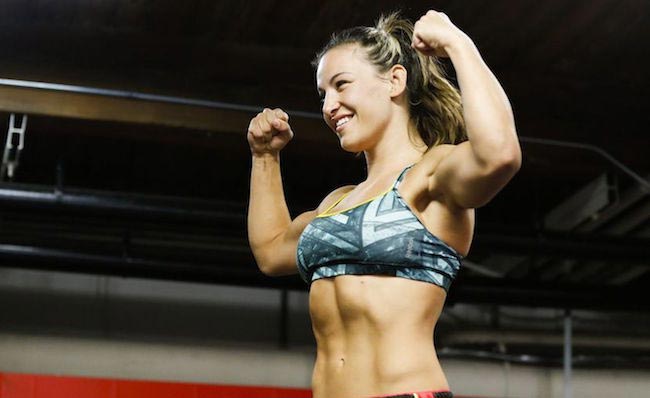 Rising from the ashes does not happen overnight
Miesha lost her title to Ronda Rousey way back in 2012 and faced another loss in the rematch in 2013. She had to wait patiently for a painfully long time before even being considered worthy of getting another shot at the UFC title fight. After four consecutive wins within the next two years, she worked her way up to become a notable contender and appealed to the UFC president, Dana White for an opening in one of the main events in November 2015.
Even though the UFC president acknowledged Miesha's uphill battle, she was overlooked in favor of former undefeated boxer, Holly Holm to take the title shot against Ronda Rousey that culminated in a major upset of Ronda losing her title.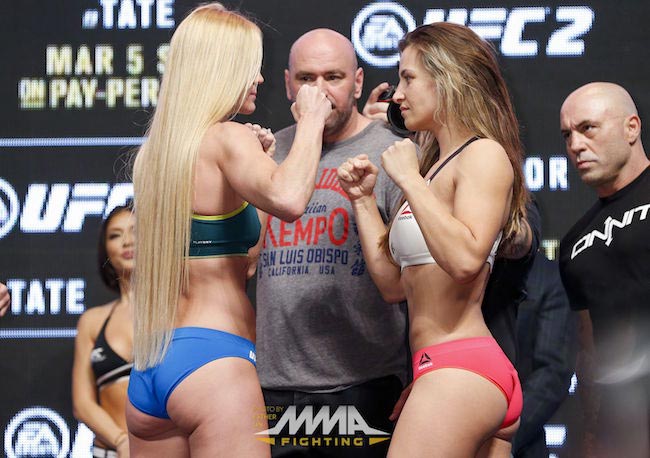 Stay ready to take sudden chances
Disappointed and crushed to the point that she even considered retirement, Miesha's motivation to train plummeted.
However, when Ronda Rousey claimed to be unavailable for a rematch anytime soon in early 2016 owing to her commitment to movie projects, Miesha Tate unexpectedly found herself back in the running. Psyched and mentally prepared, she left no stone unturned in getting herself ready for what seemed like her last shot at earning back the championship – an accomplishment she claims she will happily look back at with satisfaction even when she is 80.
Here are three reasons why Miesha Tate is at the top of her game and presently in the best shape of her life.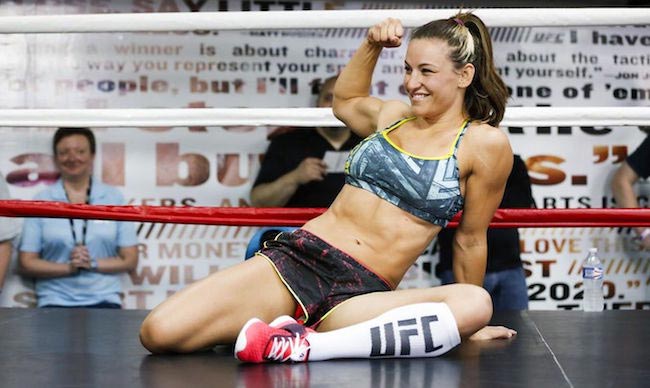 Clarity of purpose
Tate was dedicated to breaking into the sport right since the beginning when she had to work odd jobs to simply pay for her training. Living in a motor home right outside her gym, she explains that though life was hard, she was enjoying every minute of it as all her spare energy and resources were directed towards making her dreams come true which was to make it big as a mixed martial arts fighter.
Once she broke into UFC, she was clear that she wanted her hands on the championship belt that validated her hard work and performance and did not want to get lost in the sea of unknown fighters who fought, failed and disappeared.
Resilience
Training and self-improvement during your downtime after a loss is the only source of respite that will help you come back stronger.
Miesha Tate watches what she eats to have enough energy to train twice a day, be it her morning strength and conditioning routine or MMA sparring in the evening. It always helps to have a personal favorite physical activity that you find easy to lose yourself into as it serves as an ideal release for negative emotions. For Tate, Jiu-jitsu provides that outlet. She further elaborates that most of the moves in Jiu-jitsu are meant to provide weaker opponents with leverage to successfully defend themselves against a much stronger attacker.
When the motivation to do anything else fails, Miesha creatively engages with the different techniques of her preferred martial art to sharpen her skills.
Patience of a hunter coupled with focus of a hawk
A two year wait is not short and Miesha carefully planned her preparation and dispensed her energy to ensure progressive improvement as a fighter. Finishing upon the details of all her skills and closely analyzing all her accomplishments she prepared for an unwavering comeback to the big league. Disappointments could not do much damage, since her body and mind were conditioned to stay ready.
Though Holly Holm gave her all to defend her title and dominated in rounds 1, 3, 4 and managed to break Miesha's attempt to pin her into a submission in round 2, Tate doggedly pursued until she found her window of opportunity yet again in the last round that took her to victory!
Next up in 2016, is her title defense against arch rival Ronda Rousey.