Ronnie Dean "Big Ron" Coleman is an American professional bodybuilder, who started bodybuilding on the suggestion of his friend Gustavo Arlotta (Arlotta was a fellow officer at Arlington, Texas with Ronnie).
Ronnie was born on May 13, 1964 (48 years old). Ronnie Coleman is 5 ft 11 inch tall and weighs around 150 kg, normally. See Ronnie Coleman Measurements, here.
Ronnie Coleman holds the record of 8 titles of Mr. Olympia and also the record of most wins (26 wins) as an IFBB (International Federation of Body Builders) professional.
Ronnie Coleman Workout Routine
Ronnie Coleman used to workout from 11am onwards starting from Monday with the following exercises, and Sunday is the holiday. Ronnie does Aerobic work after he finished the shift as a police officer (In Arlington, Texas, His shift was from 3-11PM from Sunday to Thursday). Ronnie goes to Metroflex gym in Arlington, Texas and does these exercises –
Monday – Quads/Hams/Calves
Barbell Squat – 3 sets 10-15 reps
Hack Squat – 3 sets of 15-20 reps
Leg Extensions – 3 sets of 15-20 reps
Standing Leg Curl – 3 sets of 15-20 reps
Lying Leg Curls – 3 sets of 15-20 reps
Seated Leg Curl – 3 sets of 15-20 reps
Seated Single Leg Curl – 3 sets of 15-20 reps, each legs
Seated Calf Raise – 3 sets of 15-20 reps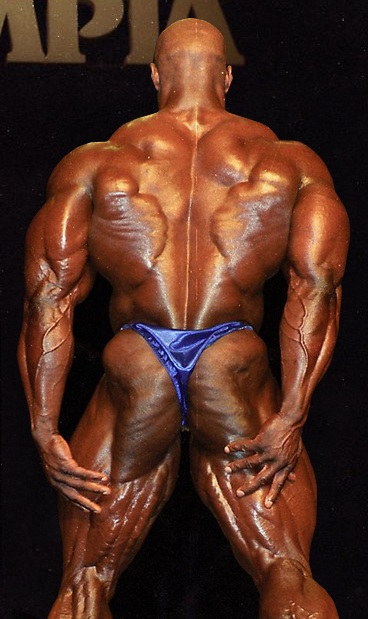 Tuesday – Back/Triceps
Bent Over Barbell Row – 3 sets of 10-15 reps

Lying T-Bar Row – 3 sets of 15-20 reps

One Arm Dumbbell Row – 3 sets of 15-20 reps

Wide Grip Lat Pull Down – 3 sets of 15-20 reps

Dip Machine – 3 sets of 15-20 reps

Standing Dumbbell Triceps Extension – 3 sets of 15-20 reps

Lying Triceps Press – 3 sets of 15-20 reps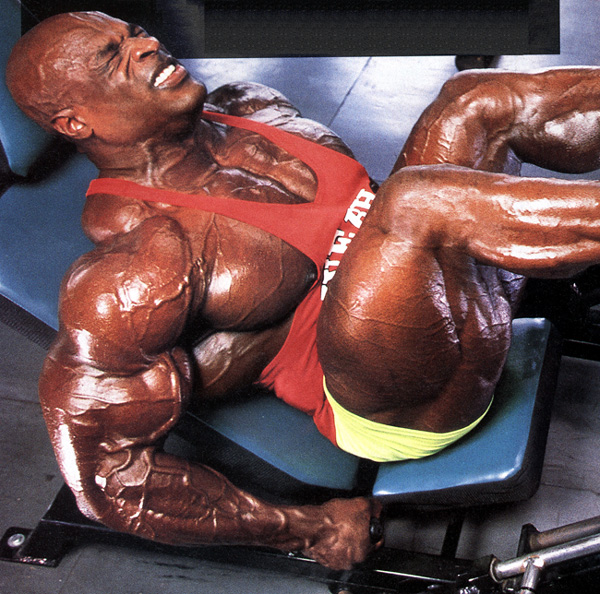 Wednesday – Shoulders
Smith Machine Overhead Shoulder Press– 3 sets of 10-15 reps

Side Lateral Raise – 3 sets of 15-20 reps

Front Dumbbell Raise – 3 sets of 15-20 reps

Seated Bent Over Rear Delt Raise – 3 sets of 15-20 reps
Thursday – Chest/Biceps
Barbell Bench Press – 3 sets of 10-20 reps

Barbell Incline Bench Press – 3 sets of 15-20 reps

Decline Barbell Bench Press – 3 sets of 15-20 reps

Barbell Curl – 3 sets of 15-20 reps

One Arm Dumbbell Preacher Curl – 3 sets of 15-20 reps

Hammer Curls – 3 sets of 15-20 reps
Friday – Quads/Hams/Calves
Barbell Squat – 3 sets of 10-15 reps

Hack Squat – 3 sets of 15-20 reps

Leg Extensions – 3 sets of 15-20 reps

Standing Leg Curl – 3 sets of 15-20 reps

Lying Leg Curls – 3 sets of 15-20 reps

Seated Leg Curl – 3 sets of 15-20 reps

Seated Single Leg Curl – 3 sets of 15-20 reps, each legs

Seated Calf Raise – 3 sets of 15-20 reps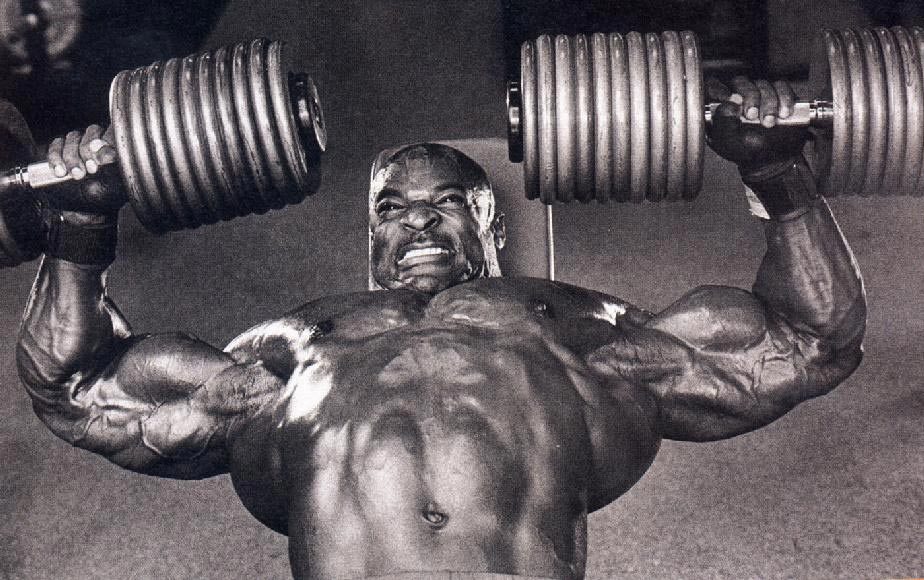 Saturday – Chest/Triceps/Calves
Incline dumbbell press – 4 sets of 12 reps
Decline barbell press – 3 sets of 12 reps
Incline dumbbell flyes – 3 sets of 12 reps
Decline dumbbell press – 3 sets of 12 reps
Skullcrushers – 4 sets of 12 reps
Triset with Machine pressdown dips – 4 sets of 12 reps
Triset with Seated tricep extensions – 4 sets of 12 reps
Donkey raises – 4 sets of 12 reps
Seated raises – 4 sets of 12 reps
Crunches – 3 sets of 12 reps
Sunday – Rest