Muhammad Syed Quick Info
Height
5 ft 9 in
Weight
74 kg
Nationality
American
Hair Color
Salt and Pepper
Eye Color
Dark Brown
Muhammad Syed is a Pakistani-American writer, speaker, political activist, and software engineer who has served as the president and executive director of Ex-Muslims of North America (EXMNA). He co-founded EXMNA in 2013 with an aim to normalize religious dissent and to help former Muslims leave the religion by linking them to support networks.
Born Name
Muhammad Syed
Nick Name
Mo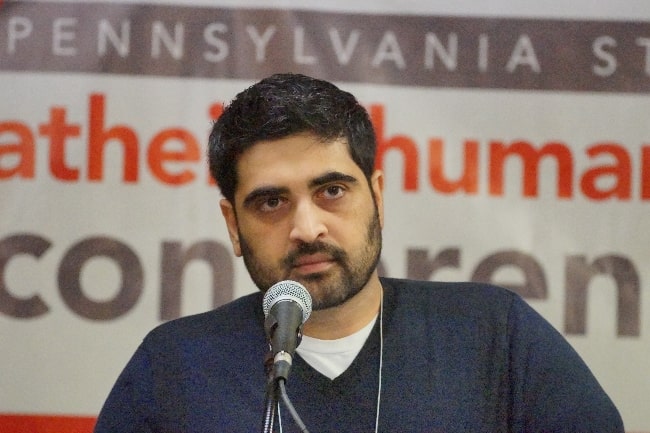 Born Place
United States
Nationality
Occupation
Writer, Speaker, Political Activist, Software Engineer
Build
Average
Height
5 ft 9 in or 175 cm
Weight
74 kg or 163 lbs
Race / Ethnicity
Asian
Hair Color
Salt and Pepper
Eye Color
Dark Brown
Sexual Orientation
Straight
Distinctive Features
Deep-set eyes
Religion
Atheism
Muhammad Syed Facts
He spent his childhood years growing up in Pakistan.
He was born to well-educated parents who both had PhDs and has described his upbringing as "relatively liberal", with his mother being particularly open-minded.
In a 2016 interview with The Humanist, Muhammad Syed stated, "My family is relatively pro-science. I was a Muslim who understood and accepted evolution."
Growing up, he was inclined towards the sciences, mainly astronomy, and was a big fan of Star Wars and Star Trek.
Muhammad Syed has credited the book Cosmos by Carl Sagan as the one that helped him understand evolution. The book did not make him question his faith directly but set him on a path to secularism.
In 2001, he shifted back to the United States, a few months before the September 11 attacks.
He joined anti-war protests in 2001, following the September 11 attacks and the invasion of Afghanistan by the United States.
Muhammad Syed saw some of his Pakistani friends become "ultra conservative" in the post-9/11 years and that made him "scared".
After he was fed up with conservative and radical Muslims, he started studying his religion, i.e. Islam at that time, more deeply so that he was able to advocate against conservatives. He went on to read scripture (the Quran and Hadiths) and secondary texts for about a year and eventually realized that the radical interpretation was actually more accurate than the moderate interpretation. As he couldn't accept what he saw as a radical position, that marked as the end of his belief in Islam.
When one of his friends recovered from leukemia and attributed it to God, Syed realized that it was not entirely correct as he knew a certain percentage of leukemia patients survive regardless of God. He said, "I knew what he is saying is fantastical. It's not really real. It's an issue of probability. From there I thought: I understand this is all false, and I've understood it for a while, I just haven't self-acknowledged it." With this, he became an atheist in 2007.
After he went public about his apostasy in 2007, he began organizing an Ex-Muslim Community in the Northeast Corridor surrounding the D.C. area in 2012.
Alongside Pakistani-American writer, public speaker, and political activist Sarah Haider, Muhammad Syed co-founded Ex-Muslims of North America (EXMNA) in 2013. A non-profit organization, it has been described as the first organization of its kind to "establish communities exclusive to ex-Muslims in order to foster a sense of camaraderie and offer a space free of judgment for lack of religiosity."
The New York Times took note of the EXMNA motto "No Bigotry and No Apologism" in a 2014 article and described the organization as welcoming. Not anyone is allowed to join EXMNA and the group has a screening process. The reason behind this has been explained as: "In the Muslim world, we are openly persecuted and regularly meet grisly ends. In the Western world we are safer, but even here open meetings can be a big risk."
Muhammad Syed spoke at the annual conference of the American Humanist Association on the topic of "Examining Honor Culture & Violence in Islam" in September 2016.
After being targeted by Islamic fundamentalist groups, the Facebook group for EXMNA (24,000 members) was shut down in May 2017.
Featured Image by Eric Haas / Wikimedia / CC BY-SA 4.0 DEED