Pop singer and TV presenter, Myleene Klass owns perfectly enviable and curvaceous figure. Her incredible and feminine body bestows her nerve to flaunt her svelte figure in bikinis. However, the gorgeous star contends, she is not naturally blessed with slender body, just as most of the people assume. Her body rather is voluptuous and she precisely has ample boobs and hips.
And to get them in perfect shape, she has to really put tremendous hard work. Since long time, Myleene has been facing the problem of cellulite around her arms, and thighs. She in-fact tries numerous ways to camouflage the shabby flab. The brunette admits of being petrified by wide fluctuations occurring in her weight. Her body being vulnerable of gaining weight doesn't take long in growing obese.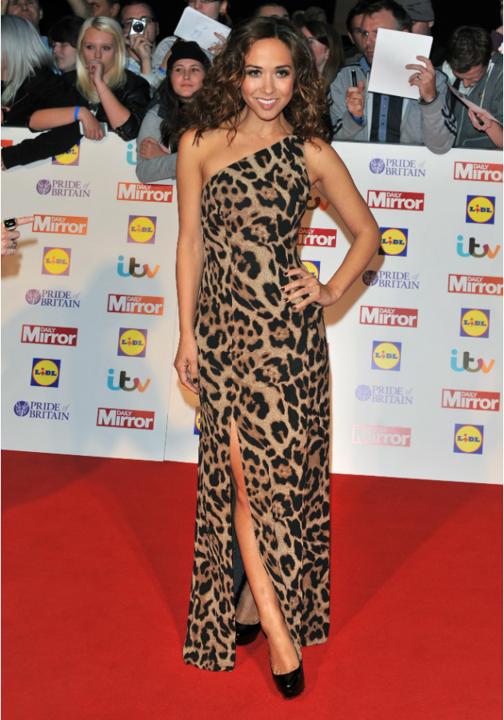 Past the split of her marriage with Graham Quinn in 2012, Myleene in particular could be seen extremely emancipated. However, since her weight loss was due to loss of appetite, we cannot put it under the category of healthy weight loss.
Myleene Klass Diet Plan
Being a big foodie, the hottie finds her unable to adhere to healthy diet regime for long. She often relishes her adored foods such as chocolate, pizza, cheese, pasta etc. She even doesn't refrain from incorporating these high calorie foods in her breakfast. In addition to that, the bombshell uses foods as weapons to combat against stress. Emotional eating is what bugs the beautiful star most and that probably is the culprit responsible for her challenging weight.
Myleene tried couple of healthy diet plans in past, but only ended up skipping them. However, at times, when the stunner has to fit her in skinny clothes, she is left with no other choice but to succumb to healthy eating habits. She eats copious green and leafy veggies, complex carbs, lean proteins etc. in her diet to nourish her body.
Eggs, sushi, pistachios, prunes, granola bars, mixed salad, salmon, lean turkey, chicken etc. happen to be her most reliable food items, when her objective is to attain sleeker body. Apart from being mindful of eating wholesome foods, she also pays attention to healthy eating traits such as, eating while sitting peacefully on dinner table and maintaining the portion size of foods small.
Myleene Klass Workout Routine
The lissome model is not very much in love with workouts. Although she hits gym regularly, but she often finds pushing herself too hard to execute workouts there. However, persuading herself to do them too is nothing less than appreciable. Instead of executing intense or hard workouts, Myleene prefers stress-free and easy workouts. In gym, she executes strength training and cardio workouts such as running, crunches, squats, sit ups, skipping etc. just to condition her muscles. Besides that, she loves scorching pounds from her body with dance.
She reckons, your body in persistent motion cannot gain flab. To keep her moving, the mommy of two engages her in various games such as ball games and numerous other games, which she plays along with her daughters. Being a doting mother, becoming a role model to her daughters is far more important to the fab star than to acquire sleeker body shape. Conventional workouts not being very thrilling do not enthrall Myleene and that's the reason she feels far more comfortable with physically agile schedule.
Healthy Recommendation For Myleene Klass Fans
Here comes one diet recommendation for all the fans aspiring to have well-defined fascinating body like of Myleene Klass.
Since your diet plays critical role in determining your health and body shape, you need to be discreet about your diet. Most of us are very careless in our selection of food items. Breakfast being the first and foremost important meal of the day has to be eaten with great caution.
Make sure that you don't eat high carb or high fat foods such as bread, milk, sweet corn flakes, pizza, pasta, coco pops etc. in your breakfast. Your body has to pay the toll of your unhealthy choices, so swap unwholesome foods with porridge, oatmeal, fresh fruits, whole grain cereals, sugarless green tea, black tea, skimmed milk etc. These foods will not only keep you energized until your next meal but will also rev up your metabolism and immune system, and will get you hale and slender body.