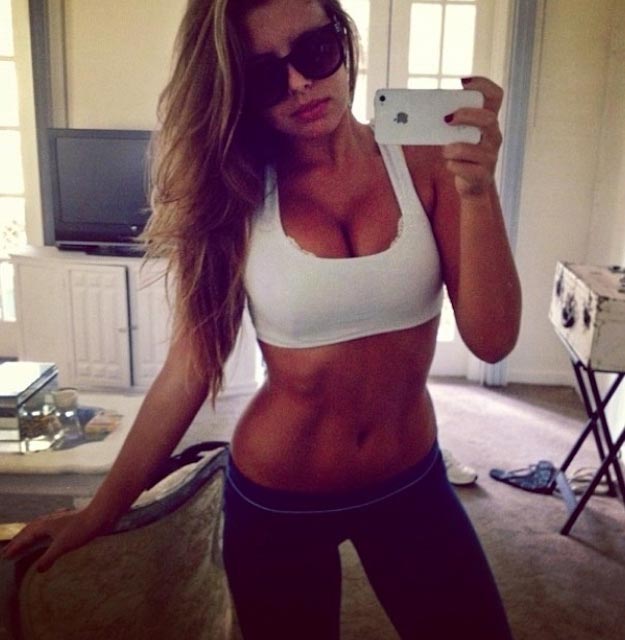 Natasha Oakley is one of the rare super sexy models who wear a bikini on a daily basis and still manage to amaze their fans. She has been showing off her curves to 1.6 million followers on Instagram and recently shared how she does that. No, it's not by some miracle of genes (though we certainly hoped it was). The fact is that the model likes to work out, eat whatever she likes but compensates for it and does enjoy hitting the gym regularly (unlike most of us!!). What else did she share? Let's find out.
Beginning of a Day
The FitBit ambassador begins her day with checking her emails and then having some coffee with a smoothie. As soon as she is done, she heads to the gym for her workouts.
Workout Routine
The stunner enjoys hitting the gym. She admits she has tried all sorts of exercises to decide which exercises she enjoys and which ones she does not. She hates cycling and would probably never do it. She likes doing exercises that help her enjoy herself as enjoying yourself while exercising is the key to making the workouts easier. (And we totally agree with her!!)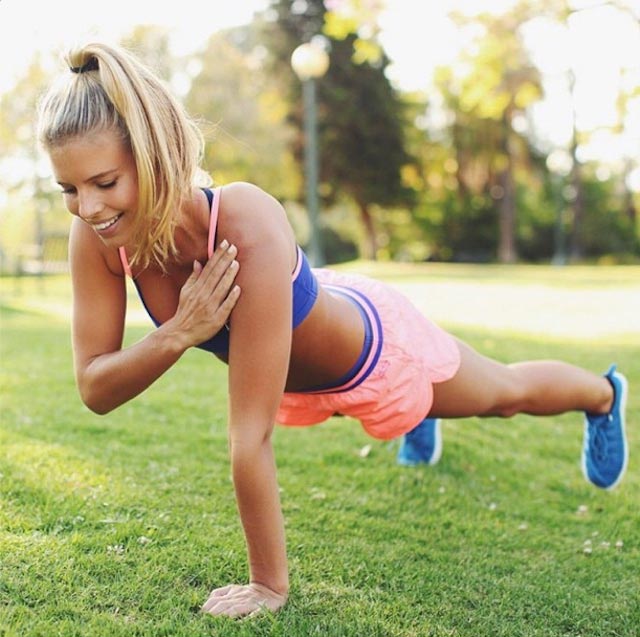 The Aussie tries to workout daily but when she can't manage it, she sticks to working out 4 days a week. The workout sessions last for one hour or one and a half hours. In case she can't manage more than 4 times a week, she doesn't beat herself over it. (which is a good idea, we think)
The workout routine of the expert blogger depends on what part of the world she is in. She likes mixing up her workouts but she does have some preferred exercises. She likes doing butt workouts and circuit routines mentioned on abikiniaday.com. She also likes doing exercises like paddle boarding and yoga on a regular basis.
Benefits of Working Out
The current girlfriend of Gilles Souteyrand says that a good workout helps her to loosen up, have a positive mindset and relaxes her completely. She likes doing a good workout every day no matter what part of the world she is in. She also adds that if people do the exercises they enjoy, it would be a whole lot easier for them to work out regularly. (And we agree again!!!)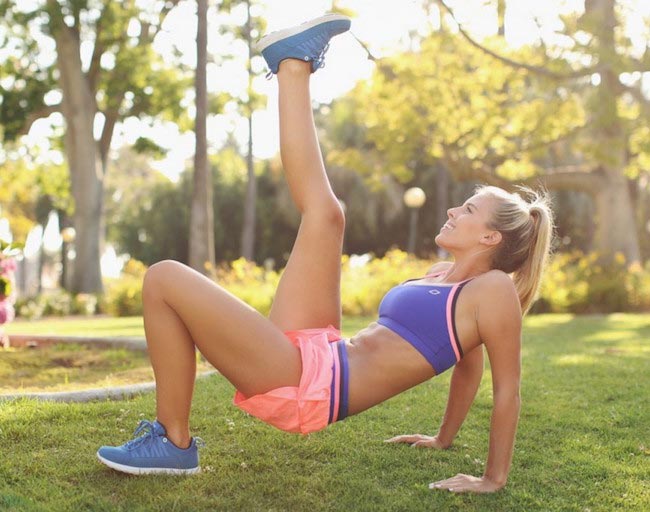 Workout Wear
The fashion designer also spilled beans on what she wears when she is working out. She is currently obsessed with Activewear (activewearusa.com) and likes wearing the black tights the most. When she is working out in an outdoor environment, she likes wearing a cool sports bra, a pair of sunglasses and her Fitbit.
Diet Plan
The co-creator of A Bikini A Day likes to eat healthy meals to keep her tummy full. She doesn't snack much but when she does, she sticks to healthy options like some fresh fruits or nuts. She does not follow any diet restrictions. In fact, she admitted to having a lot of pasta on an Italian holiday earlier this year. She ate the pasta dishes in the morning and compensated for it by eating just some salad with some smoothie or juice for lunch. (That's smart, don't you think)
What will she never include in her diet?
The blonde bombshell does not like to eat Oysters. She has tried them and doesn't like their slippery texture a bit. So, she won't be having them again in her life.
Tips for Fans
How to be Confident in a Bikini
If you want to know how to be confident in a bikini, then this bikini expert has an amazing advice for you. She says that a woman who wishes to wear a bikini should never compare herself to others.
She also adds that every woman is beautiful and the differences between women is what makes them stand out from each other. The owner of several busty assets revealed that most people go to the beach to relax and enjoy themselves, so they won't care about how other women are looking. All women should remember it while wearing a bikini as it will stop you from freaking out while wearing one.
Health Tip
The co-owner of Monday Swimwear also gave a useful health tip to her fans. She thinks that people should live a balanced lifestyle. Don't stress much over your diet or exercise, instead focus on being positive, eating healthy and doing only those exercises that you truly like. Be the best version of yourself and don't attempt to be like someone else.