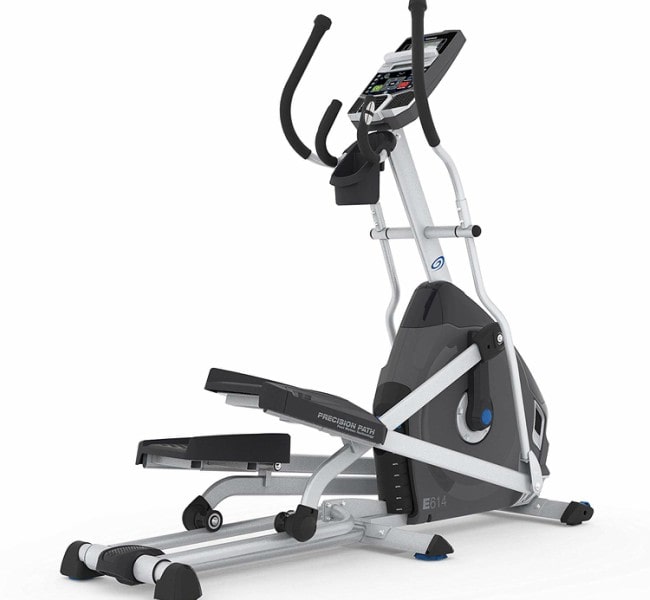 Many people are now buying exercise equipment for their home. But, it can be confusing which one to buy. There are lots of options available like a treadmill, exercise bike, rowing machine, and more. One of the most versatile equipment you will find today is the cross trainer or elliptical. This equipment has proved to be very effective for toning your upper and lower body. It is great for your cardiovascular health. Those suffering from joint problems may find it difficult to work out on a treadmill or rowing machine. But, the cross trainer is ideal for those with leg problems as it provides low impact exercise. As your feet stay on the wide pedal all the time without the need to lift them, exercising won't cause any pain to your joints. Among the various types of cross trainers available in the market, we have picked up the Nautilus E614 Elliptical for review.
Design
This cross trainer has an innovative design. It has a DualTrack LCD monitor with a large display and also a secondary display. The dual display allows you to prop up an iPad or book over the main display and view your exercise data on the smaller display. So, exercising won't be boring anymore. It has great features including a fan, water bottle holder, media tray with charging option, and also a computer so that you can download your exercise data to track your progress. The footpads are large to fit any user. It has 6 position incline that adds extra intensity. It has moveable handlebars that help to keep the upper body engaged.
Build Quality
It is made of steel tubing and all the metallic parts are powder coated with anti-corrosive paint to give a long-lasting finish. It has 3 bases that have plastic caps and adjustable levelers to increase stability. It can withstand a weight of up to 300 lbs. It is stable, so you will be able to work out comfortably. You get a 10-year warranty for it. With high speed and high inertia drive system and a perimeter weighted flywheel, you will get a smooth operation from start to finish. It has 20 inches precision path stride to allow natural movement.
You will be able to adjust the incline to 6 different positions. There are 20 levels of magnetic resistance that allows a wide range of workout options. It has 3 fans to keep you cool during exercise. There are both static and moving handlebars to increase your range of exercises. The moving handlebars are angled which helps to find the most comfortable hand position. This is a strong piece of equipment that is suitable for heavy users as well. The perimeter weighted flywheel keeps the machine well balanced even during intense workout sessions.
Size
It is 50 inches long, 34 inches wide, and 22 inches high. It weighs 167.3 lbs. It is quite large compared to the other cross-trainers you will find in the market. It has transportation wheels that make it easy to move around. It is not foldable.
Comfort
It has large footplates with cushioning that gives comfort. Its operation is smooth and you will be able to make transitions from one resistance to another easily. 
Ease of Use
It is easy to assemble this equipment. You get a fully illustrated manual and the necessary tools to assemble the cross-trainer. It will take about one hour to assemble it fully.
Effectiveness
Unlike other cross trainers, this one has goal track capability. So, you will know exactly how well are doing with each passing day. It has 22 programs in total which include 9 profiles. The profiles include 3 mountain rides, 3 fun rides, and 3 challenges. There are 8 heart rate monitoring programs. The 2 fitness test programs allow you to measure your improvements. You can store your workout data which includes distance, time, intensity level, heart rate, calories burned, and more. You won't need to make up your exercise routine anymore. Still, there is a custom options tool. You can easily download your exercise data and track your progress over time. You can vary the resistance to 20 different levels which allow you to perform different challenging workouts.
Pros
The media shelf is included.

You get a wide range of exercise options due to 20 levels of magnetic resistance.

It has a DualTrack LCD display.

There are in-console speakers including USB media charging and MP3 input port options.

It has a fan with an adjustable speed option.

The high-speed perimeter weighted flywheel allows smooth operation.

It provides 22 programs which include 9 profile, 8 heart rate, 2 fitness, 2 custom, and 1 quick start. The profile programs include 3 fun rids, 3 challenges, and 3 mountain rides.

It has goal track capability which allows the user to set individual workout goals.

It has transport wheels that help it to move around.

You get a 10-year warranty for the frame, 2-year parts warranty, 1-year electronics warranty, and 90-day labor warranty.
Cons
The 6 levels of incline need to be adjusted manually.

The machine is heavy, so you won't be able to move it around easily.

The LCD isn't backlit, so you might find it difficult to read the readings in dark.
Final Verdict
The Nautilus brand has a good reputation for manufacturing innovative and high-quality exercise equipment. This elliptical from Nautilus is good looking and durable. It has cutting-edge design and technology. With 22 workout programs, it is great equipment for the entire family. The heart rate monitor provides accurate readings. It has acoustic chambered speakers that deliver clear sound, so you can listen to music or watch a movie while exercising. It has a full-color console and lots of customizable options. Though the price is a bit expensive than the other cross-trainers you will find in the market, it provides many unique features that you will not find in any other machine. So, it's worth buying it.