Cross-training can help to improve the performance of athletes and to boost their fitness levels that can eventually lead to a healthier lifestyle. That's why, for cross-training, the best possible gear and apparel is required. Shoes are one of the most important things that you need for cross-training. Without a good pair of shoes, you won't be able to perform well.
There are various types of shoes available but it can be difficult to find the best one that will suit your needs. You should first know that you cannot use running shoes for lifting or CrossFit. This is because the running shoes have higher heels than the toe so that you can propel forward while running. But in the case of CrossFit or lifting, stability is more important. Also, running shoes are too soft in the ankle and are inappropriate for weight lifting. The cross-training shoes have the proper heel support required for the different moves. Among the various types of cross-training shoes, you will find in the market, the Nike Men's Free X  Metcon Shoes are one of the best. Here we are going to review it in detail.
Design
These shoes have a trendy design and are great for everyday use. You can get it in attractive colors and a wide range of sizes. The shoe has a TPU heel counter that wraps around properly and acts as an adjustable lacing system so that it fits well. The midsole of the shoes is very stiff which gives extra stability while lifting. To secure the foot, a traditional lacing system is used. This shoe is designed to meet your demands of exercises like box jumps, power cleans, squats and other cross-training exercises. The shoe is designed in a way to provide flexibility, stability, and comfort that is needed for everyday training. It's minimalistic design and versatility lets you use it for running and other purposes as well.
Build Quality
Nike is all about quality and these shoes are made of high-quality materials from inside out. The bottom of this shoe is made of two types of rubber: carbon rubber and blown rubber. The carbon rubber is durable and the blown rubber gives a lightweight and cushiony feel. So, the shoe feels soft and comfortable. Nike Free technology is used here which gives flexibility and allows lateral movement.
The midfoot is wrapped in rubber and TPU which helps to guard the shoes against friction or abrasions that is caused due to activities like rope climbing. The low-profile heel clips in the sides of the outsole reduce drag and during push-ups. The midsole is of dual-density and has soft compound inside and a firmer compound using cold fusion technology to provide comfort, stability, and balance.
The upper part of the shoe is made of mesh that is covered in TPU to provide breathability, support, and flexibility. The front and heel are made of neoprene which is breathable and provides a cushion for comfort. So, you can see that the entire shoe is constructed in such a way to provide comfort and flexibility. These shoes are extremely durable and won't tear even after intense use.
Comfort
It is very important to feel comfortable during a workout as it can affect your performance. The shoes are constructed with mesh materials which makes them breathable. The TPU sidewalls in the middle of the foot provide support during lateral movements. The midsole has dual-density providing stability, comfort, and balance. Cold fusion technology is used in the midsole that provides a plush feeling. These shoes are so comfortable that you can lift or run in them throughout the day without any problem.
Effectiveness
These shoes are not only designed for powerlifting or weightlifting but for other exercises as well. It has a low profile heel clip that lowers heel drag during movements off the floor and walls. With Flywire technology, your feet will be locked in place due to light compression. These shoes provide the ultimate comfort you need to hit your fitness goals. Apart from allowing the wearer to do various exercises like rope climbing or weight lifting, these shoes help people suffering from plantar fasciitis by reducing foot pain. So, if you are looking for a pair of shoes that will meet your everyday training needs and will give you the ultimate comfort without causing any foot ache, then you should buy these shoes.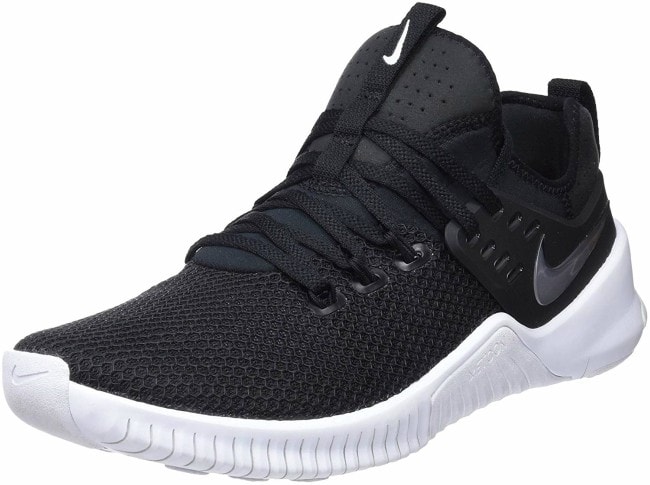 Price
These shoes give you great value for money as you can buy them for only $120. This is a fair price as you get a hybrid shoe that will meet your everyday workout needs. These shoes will provide comfort in everyday use and so are definitely worth buying.
Pros
The shoes come in a wide range of sizes from 6.5 to 15.
You can find them in different colors and the design is very aesthetic.
It has a comfortable neoprene collar.
The shoes have a 5mm drop that is good for running and lifting.
They are wide and comfortable and will fit well.
The lower part of the shoe is made of rubbers that give comfort and makes the shoes durable.
The midfoot is wrapped in TPU to guard the shoe against abrasion.
The TPU-faced mesh on the upper side provides durability, flexibility, and stability.
The upper part of the shoe is constructed with mesh-like material that makes the shoes breathable.
They can be flexible and stiff where needed.
Provides great support on the upper and mid-region.
You won't experience any pain while wearing these shoes.
The price of the shoes is reasonable.
Cons
Some people have experienced heel slip.
Due to the cushioned midsole, the shoes provide insufficient support for heavy loads.
The rubber resists abrasion while rope climbing.
Final Verdict
The Nike Free x Metcon shoes have received a lot of positive reviews for its versatility, comfort, stability, and flexibility. They have a very pleasant appearance which makes them perfect for casual use as well. The shoes are stable enough for weightlifting and perfect for running as well. They provide flexibility and a natural running experience. These are the shoes you can use to lift, jump or run comfortably.
If you have experience in rope climbing, then you would know what effect it can have on the shoes. These shoes have a wraparound outsole in the area where you grip the rope and make the shoes perfect for rope climbing. They also have a midsole strap to ensure that the feet are locked in place and thus making them perfect for weightlifting.
In running shoes, there are too much cushioning that makes them inappropriate to be used as weight lifting shoes. But, these shoes have the right level of cushioning that is ideal for both running and weight lifting. So, if you want a pair of training shoes to perform weight lifting, rope climbing, running or other exercises without feeling pain or discomfort, then you should buy these shoes. They come at a great price and you won't regret buying these as they are durable and of high quality.