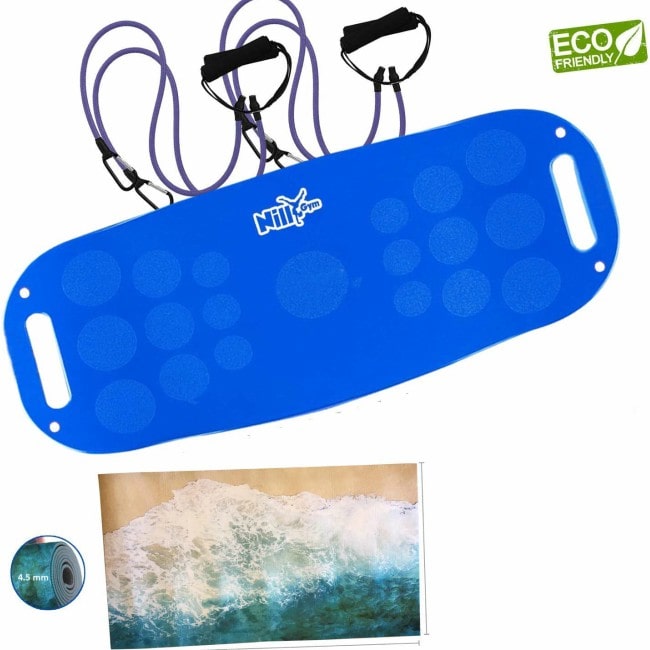 We should all exercise to be fit and healthy. But for some people, it becomes very difficult to exercise because of the high gym membership fees, gyms not available in the locality or lack of time. For these people, the fitness equipment manufacturers have come up with compact fitness equipment for home. If you can buy several such types of equipment, then you can easily set up your home gym. Our abs are a vital part of our body and if that part is out of shape, then we won't look good wearing anything. Also if fat accumulates in that area, then it may be the cause of different diseases as well. So, you must maintain a fit mid-section. One of the best home equipment for toning your abs is the Nillygym Balance Fit Board. It is very easy to exercise using this board and you will get amazing results within a short time. Here, we are going to look into the features of this board and find out why many customers have written a positive review about it.
Design
The board is designed in such a way that it is easy to use and can be used by people of all ages. It is blue which looks stylish. The board is lightweight which makes it easy to carry it around anywhere. You can use it for various purposes like doing twists, pilates, push-ups, and other exercises as well. You get a free yoga mat with it to help you do your yoga. The yoga mat has beach prints that look super stylish. So, the board and the yoga mat kit helps you to do various ranges of exercises to get a toned body.
Build Quality
The board is constructed using high-quality plastic. It comes with 2 pulleys that you can attach using carabiners. It has sturdy carabiners that attaches within seconds without giving much effort. The system is safe, so there is no chance of any injury. The board is slip-free, so you won't slip off or fall during exercise. The yoga mat that is included with it is made of natural rubber and microfiber. This board is stable and you won't find it difficult to maintain your balance during exercise.
Size
This board weighs only 5 pounds so you can carry it easily. It is compact which makes it easy to store. The board has the perfect size to perform different types of exercises. You will be able to place your feet properly and comfortably while working out on this board.
Comfort
The board is constructed from high-quality plastic which feels comfortable. The texture provides a good grip; so you won't slip off while exercising. The board stays stable on the surface, allowing you to work out comfortably. Attaching the pulley is easy and fast, so it won't disrupt your workout routine.
Ease of Use
You don't need any special skills to use this board. All you need to do is stand on the board and move your hip from one side to the other for the twisting motion. You can place the board on a flat surface like hardwood floor or carpet and perform planks. The yoga mat will help you to perform push-ups or other yoga poses. The boards come with 2 pulleys that you can easily attach to the board using the carabiners. These pulleys will help you to work out your upper body.
Effectiveness
This board is multi-functional. You can use it as a plank board, twist board or push-up support. With this board, you will be able to train all your muscle groups simultaneously. As a result, you get an easier and faster result. Twisting on this board is very easy. Just turn your hip from one side to the other and the board will rotate smoothly. You can use the pulleys for doing upper body workouts. You can attach the pulleys to the board using the carabiners and do upper body workouts. When not in use, you can take off the pulleys and put them elsewhere. The yoga mat is soft, so you will feel comfortable working out on it. Whether you do Pilates or push-ups, there is no chance of any injury due to the material with which the yoga mat is made of.
Pros
The board has a non-slip surface that helps you to workout without the risk of an accident.
It has sturdy carabiners that are easy to attach.
You can get a full-body intensive workout with it.
It works on the important muscle groups to give you a toned body.
It comes with a yoga mat that has a stylish print of beach and waves to give you a relaxing feeling.
It can be used both indoor and outdoor.
It is versatile and can be used as a twist board plank board and push-up board.
The board is affordable, so anyone can buy it.
You get a 100% money-back guarantee for it. If you are not satisfied with the product, you will get a full refund of your money without any questions being asked.
Cons
Some people find that the board doesn't turn smoothly due to the flat bottom.
Some users complained about the packaging.
Final Verdict
Now anyone can have a perfect body. With this board, you can get a toned ab and legs, and burn calories as well. Exercise is no more boring when you have this board at home. The Nillygym board is safe to use as it has a non-slip surface. You get a free yoga mat with it which helps to perform yoga, pilates, push-ups, and other exercises as well. The board is affordable and can be a good investment for your home gym. It allows you to perform low impact exercises on the comfort zone of your home and get a toned body within a few weeks. You will enjoy working out with the Nillygym Board.