We do various kinds of training in the gym to get a fit body but most often we neglect training our grips. The benefits of having a strong grip are limitless. The powerlifter benefit form having a strong grip. Even the rock climbers, golfers, baseball players, and others need a strong grip to perform well. Grip training is not difficult. You can use a simple tool like grip strengthener to train your grip. All you need to do with this tool is to squeeze it hard. At first, it may feel difficult but with the time you will notice that your grip has become stronger.
There are various types of grip strengtheners which include coil strengtheners, spring-based strengtheners, and articulated strengtheners. The coil strengtheners are built using a coil of metal; the spring-based one has handles that are separated by a hinge and is bound by a spring. The articulated strengtheners squeeze each finger. All of them are effective and you can choose one according to your preference. Here, we are going to review the NIYIKOW Grip Strengthener.
Design
This grip strengthener has an ergonomic design. It is a perfect hand trainer that you can easily adjust. It is appropriate for all age groups and hands. The fitness enthusiasts and athletes can get a huge benefit from exercising with this tool. It is also ideal for rehabilitation. So, if you are suffering from Arthritis, Carpal Tunnel or recovering from tendon surgery, then you will feel better by exercising with this tool. It is portable, so you will be able to carry everywhere. So, you can exercise at home, office or even on the go. It has non-slip handles and stainless steel extension springs. It is designed in such a way that it won't damage your fingers or hands.
Build Quality
This grip strengthener is built with top quality products that make it durable. You can easily vary the resistance levels from 22 pounds to 132 pounds. It is made of solid steel coils. The handles are made of rubber that makes them comfortable to hold. Its handles are curved and have a rubber-coated texture which ensures that it will stay firmly in the hands. The rubber has a medium-density that provides great cushioning. It also prevents hand fatigue. You get a lifetime guarantee for it. So, it won't bend or break even when you squeeze it too hard.
Size
It is small and palm-sized, which makes it easy to carry around and store. You will be able to train your hands at the office, park or elsewhere. It will fit any hand whether small or big.
Comfort
The handles of this grip strengthener are made of a comfortable rubber. They are non-slip and lets you exercise conveniently even when you sweat. It has padding that ensures that your hand or fingers are not hurt. The handles are non-slip, so even if you sweat, you will be able to exercise comfortably.
Ease of Use
It is an adjustable grip strengthener and you can vary the resistance from 22 pounds to 132 pounds. It is easy to adjust the resistance; all you need to do is turn the screw to shorten or lengthen the spring.
Effectiveness
As this grip strengthener has adjustable resistance, it works on the forearm, fingers, and the rest of the arm. You can adjust it from 22 pounds to 132 pounds. So, it is suitable for anyone, whether they are a beginner or an advanced trainer. As the tool is ergonomically designed, you won't feel any strain on your hands while training. The padded hands make it comfortable to hold.
With this grip strengthener, you can do 5 to 10 reps before strength training or any other training as a warm-up. You will be able to exercise in your leisure time. This tool will provide a quick result and you will notice that your performance in sports or playing instruments has improved. It is ideal for users of all levels, including beginners, intermediate, and advanced trainers.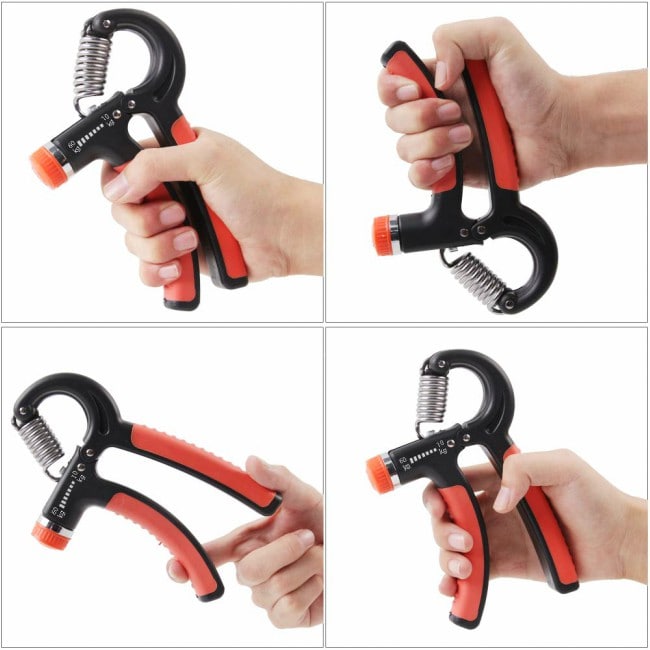 Pros
It has an ergonomic design which reduces strain.

It is made of stainless steel that makes it durable.

You can easily adjust the resistance from 22 pounds to 132 pounds. 

It is comfortable to use, so you will be able to exercise for long hours. 

It is ideal for health problems like arthritis, carpal tunnel syndrome, and more.

It is suitable for rehabilitation training as well. 

It is compact and so you will be able to carry it around. 

It has non-grip rubber handles that provide comfort and protection.

It is safe and won't damage the fingers. 

With this tool, you will be able to build muscle strength in the wrists, hands, fingers, and forearms. 

It helps to improve muscle imbalance and reduces the chance of injuries. 

You get a lifetime guarantee for it. 

You get a 100% money-back guarantee for it. 
Cons
They are expensive compared to other similar tools in the market.

The maximum resistance level of this tool is below the maximum average capability of the climbers.
Final Verdict
This grip strengthener is great for those who want to build grip strength for performing different activities like playing guitar or other instruments or participating in sports like golf, baseball, rock climbing, and more. If you suffer from arthritis or Carpal Tunnel Syndrome, then you will feel better by training with this grip strengthener. Many doctors suggest training with grip strengthener when you are recovering from surgery.
This grip trainer is ergonomically designed, so you will feel comfortable exercising with it. The rubber handles feel soft and let you squeeze the strengthener conveniently. As it is made of stainless steel, it is durable. Though the price is a little high, you will get good value for money. Unlike the cheaper brands, this grip strengthener won't break, bend or rust. So, you will be able to use it for a long time for doing advanced level exercises as well. If you are serious about strengthening your grip, then you must buy the NIYIKOW Grip Strengthener.