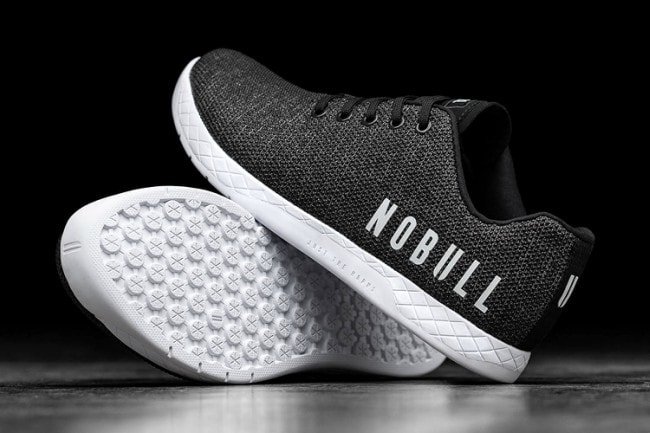 If you are serious about weightlifting, then ordinary shoes won't work for you. You need special shoes which will help you in lifting. These shoes can be used for other exercises and running as well as they are built with quality materials and can withstand pressure. But, if you use running shoes for weightlifting, you won't get the performance you want because the running shoes have too much cushioning in the midsole, heel, and sole. When you do weightlifting, this type of thick cushioning can affect your stability. Also, when you do Olympic lifts, it will result in loss of power as you won't get an efficient power transfer on a cushioned sole. In the case of shoes that are dedicatedly made for weightlifting, such issues are not there. The outsole and midsole of these shoes are much stable, making them perfect for weightlifting.
Nobull has earned a good reputation for a brand that is dedicated to making quality products for serious trainers. That's why you can count on Nobull's training shoes for your weightlifting and other training needs. Here, we are going to review the Nobull Women's Training Shoes and find out what makes them so special.
Design
The best design aspect of these shoes is that they are not flashy, yet comes in some wonderful eye-catching colors like dark denim, arctic grey, bright pink, vanilla, deep teal, red and more. These shoes come in different designs and color combos and so you will find one matching your taste. The colors are very unique and very stylish. You will be able to wear it in the gym and also use it as casual wear outside the gym. It has the reflective 'NOBULL' logo that provides visibility and lets others know about the brand you are wearing.
Unlike the typical running shoes, the heel, midsole, and sole of these shoes don't have much cushion. Also, the heel-to-toe drop is only 4mm which is lower than the typical weightlifting shoes. This makes these shoes versatile as you can use them for running, doing squats or other exercises. This shoe has all the features of a normal shoe and also, has the stability needed for weightlifting.
Build Quality
The shoe is made of high-quality materials that are meant to last. The seamless one-piece upper is made of SuperFabric which is breathable and very durable. It is also tough and abrasion-resistant making it perfect for outdoor use and can withstand glass, weather, and barbed wire.
The SuperFabric used in these shoes is usually used in gloves to resist cuts from knives or other sharp objects. So, you can imagine how tough the material is. You can even climb ropes wearing these shoes without damaging them.
The upper mesh is breathable and the tongue is also made of breathable perforated microsuede tongue. There is an anatomical sock liner that helps to keep the feet in place. Each pair of these shoes is handmade and includes a stacked leather heel. The shoes come with foot straps to provide good ankle support. The fabric of the shoe is strong enough to keep up with box jumps, rope climbs, and various CrossFit training.
Comfort
As the shoes are breathable, your feet don't get sweaty after intense workout sessions and you feel comfortable too. The shoes have protective layers on the upper which makes them scratch or abrasion-resistant and also prevents injuries. The sole of these shoes thins toward the toes which make it comfortable for jumping, transitions, and landing. It has the right amount of cushion in the sole so that the impact is less when running or carrying loads. It has a suede-like tongue having ventilation holes that provide an excellent fit.
Effectiveness
These shoes are perfect for a personal trainer, coach or someone who wants a professional look. This shoe is so versatile that you can use it for cross-training or at work. So, if you are thinking of going to the gym after work, then you don't need to carry an extra pair of shoes anymore. You can wear this shoe to your work and then to the gym as well. These shoes are particularly designed for weightlifting but can be used for running and other exercises as well.
You can do squats with this shoe as the heel to toe drop is minimal giving more stability. The sole and midsole are rigid, not too cushioned that can give you a stable surface for lifting. As the heel is not too high, you get a natural feel while doing weightlifting. With the right amount of cushioning, the shoes reduce the chance of injuries as well and so you will be able to workout without any stress.
Price
You can get these shoes for only $129. There are various colors to choose from and you might need to pay an extra $30 if you buy the fresh new colors and patterns. There are lots of special features included in these shoes that make them popular as training shoes.
Pros
You can find shoes in attractive colors and designs.
The 'NOBULL' symbol is visible and helps when you go for long-running.
These shoes are versatile and so you can use them for weightlifting, squats, running, climbing, and other exercises.
The upper has a seamless one-piece SuperFabric that is breathable, abrasion-resistant, and durable.
The SuperFabric guard plates protect the shoes from damage with rope climbing, harsh weather or other tough conditions.
It is designed for multi-environment usage and is perfect for using both indoors and outdoors.
It has high carbon medial and lateral guards for extra protection on the sidewalls.
As the shoes are breathable, your feet will feel comfortable always and our feet won't get sweaty.
It provides stability, exceptional grip, and better power transfer during sprints.
They won't hurt your feet as there is a protective layer for extra support and protection.
You can buy these shoes at a reasonable price.
Cons
Not appropriate for heavy weightlifting
The sole is too stiff for long runs.
Some users find the lacing system uncomfortable.
Final Verdict
These shoes will let you do various CrossFit workouts comfortably. You can wear these shoes all day without feeling any discomfort. These shoes are a blend of style and performance, so you can wear them at work and also to your gym. The shoes are stable for weightlifting and short distance running.
They come in different colors and designs. The upper is made of breathable and abrasion-free materials. The shoes have the right cushioning needed for CrossFit workouts. The drop is minimal which provides greater stability. These shoes have the features of higher-end training shoes and that's why the price is a bit high. However, you won't be disappointed with the performance you will get. A good pair of shoes like these can improve your performance considerably and help you to achieve your fitness goals easily. They won't hurt your legs and will help you to work out for longer hours without feeling any discomfort. So, buy these shoes if you are looking for style, function, and durability in your training shoes.
Buy NOBULL Women's Training Shoes