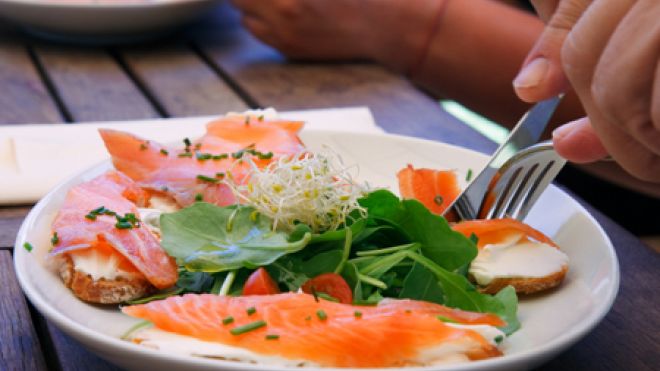 Developed by Dr. Artemis Simopoulo, The Omega Diet, which actually offers a complete health package, is greatly inspired by Mediterranean dietary approach. While pointing out the major differences between omega-3 and omega-6 fatty acids, the plan educate about their sources.
Dr. Artemis contends, most of the foods such as vegetable oil, poultry, grains, and others are rich in omega-6 fatty acids, which actually is not good for the health of your heart and mind because it leads to depression, heart diseases, and obesity.
People today consume plenty of omega-6 fatty acids. However, to attain health and adequate nutrition, you should try to prune the consumption of omega-6 fatty acids in your diet and replace it with omega-3 fatty acids.
What is The Omega Diet?
The plan emphasizes consumption of five small meals, rather than three big meals in a day. Having total duration of two weeks, the omega diet insists the intake of twelve units of foods in a day. The plan will provide you adequate guidance such as when and how you shall consume those units.
Without counting the number of calories, you can shed nine pounds of body weight in fourteen days. Depending upon your body weight, height, health conditions, and body structure, you will melt weight while abiding by the program.
Twelve Units of The Omega Diet
The omega diet is comprised of twelve units. Let's find out what these five units are and what kinds of food items will fulfill the requirement of these units into your body.
Unit One – Protein
Poultry, seafood, meat, and fish etc. are opulent sources of protein. You can consume tinned sardines, fresh tuna, fresh sardines, rainbow trout, shark, sea bass, smoked mackerel, bass, mullet, monkfish, lobster, crab, grouse, turkey, wild duck etc. to gain protein.
Unit Two – Nuts
Nuts such as walnuts, almonds, cashews etc. are dense sources of omega-3 fatty acids. Apart from providing monounsaturated fats to your body, nuts also contain minerals such as iron, zinc, fiber, magnesium, calcium etc.
Unit Three – Seeds
Seeds such as hemp seeds, flax seeds, apricot seeds etc. contain both omega-3 and omega-6 fatty acids. Seeds being high in minerals such as magnesium, zinc, selenium, and iron render adequate nourishment to your body. Besides that, seeds contain plenty of nutrients such as fiber, vitamins, vitamin E, fiber, calcium etc.
Unit Four – Oil
You are recommended to consume virgin oils having no additives and preservatives added in them. Healthy oil to be used in salad can be obtained by blending walnut, rapeseed, and groundnut oils. You can prepare this oil on your own and store it in refrigerator. Oil sprinkled over salad will make them taste awesome. Just be vigilant that you finish the oil within a month.
Unit Five – Vitamin C Fruits
You are recommended to have at least one serving of fruits rich in vitamin C such as, oranges, kiwi, papaya, mangoes, grapefruit, nectarines, blackcurrants, raspberries, strawberries etc.
Unit Six – Other Fruits
Apart from vitamin C fruits, there should also be inclusion of one fruit aside from vitamin C fruits in your diet. You can have melon, red grapes, peaches, bananas, pears, red grapes, plums etc. And in dried fruits, you can have raisins, apricots, dried figs etc.
Unit Seven – Carbs
You are recommended to consume healthy carbs having low glycemic index. You can consume pasta, brown rice, oats, black rye, millet, quinoa, muesli, pot barley, millet etc. for that.
Unit Eight – Green Veggies
Green and leafy veggies have opulent content of vitamin A, carbs, iron, fiber, magnesium, vitamin C, calcium etc. You can consume sprouts, spinach, Savoy cabbage, broccoli, kale, spring greens, seaweed, peas, lettuce, broad beans, mange tout etc. in green and leafy vegetables.
Unit Nine – Flame
Flame comprises of yellow, red, orange vegetables. You shall consume 150 gram of these veggies in a day. You can have tomatoes, orange peppers, red peppers, yellow peppers, carrots, swede and sweet corns etc. to provide this unit to your body.
Unit Ten – Calcium
Balanced approach of the plan recommends consumption of one unit of calcium. You can consume Greek yogurt, soya yogurt, cottage cheese, skimmed milk, soya milk etc. to nourish your body with calcium.
Unit Eleven – Pulses
Under the diet schedule, 150 grams of pulses are considered vital to be consumed in a day. Pulses have rich content of fiber, carbs, proteins, iron, zinc, selenium, vitamin B, vitamin E etc. You can consume green peas, split yellow, chickpeas, green or brown lentils, beans such as borlotti, red beans, black beans, soya beans, flageolet, baked beans, pinto etc.
Unit Twelve – Water
Last but never the least is water. Drink enormous amount of water in a day and provide proper hydration to your body. Should you drink one glass of water before starting your meals, your food consumption will naturally go down which will further help you in slimming your body.
Benefits of The Omega Diet
The omega diet can be seen as a lifestyle plan due to its exclusive and healthy selection of foods. The program will educate you about the value of healthy fats and how you can inculcate these healthy fats in your day to day life. Besides them, you will get several benefits from the diet program; let's have a look at some of them.
Omega-3 fats will rev up the functioning of your heart and will save you from several incurable heart problems.
The program will liberate your body from cancer, arthritis, and chronic fatigue. You will feel very energized and agile while going along with it.
Weight loss can aptly be recognized as one of the side effects of the program because it doesn't mainly focus on shedding pounds from your body.
Without depriving your body, the program will inculcate healthy eating habits in you and will speed up your metabolism with the help of variety of food items.
Fifty mouth-watering recipes of the program will assist you in moving along with the plan without any difficulty.
High content of omega-3 fatty acids of diet schedule will help in the development of brain in babies both pre and post birth.