Actress, socialite, singer, model, fashion designer, and heiress of Hilton Hotels, Paris Hilton is always in uproar partially due to the scandals associated with her, and rest due to her enviable figure. Having started modeling from childhood mainly for charity events, Paris got her first major modeling break at the age of 19 by Donald Trump's modeling agency.
Accustomed to luxurious lifestyle, Paris has also spent forty-five days behind bars, and learnt myriad valuable lessons of life during that time. Being the star of name and fame, the gorgeous star has no other option but to look glowing and in shape always.
Having naturally slender body, the stunning star could also be seen in hefty shape i.e.125 pounds in Feb 2011, and it was during that time when media gossips were high about her being pregnant. However, the fact got disclosed later and we got to know that her unhealthy eating habits and full-on gala moods were accountable for her transformation. Well, rumors and gossips fade away as readily as they pop up in celebs life; we can also call it irony of their lives.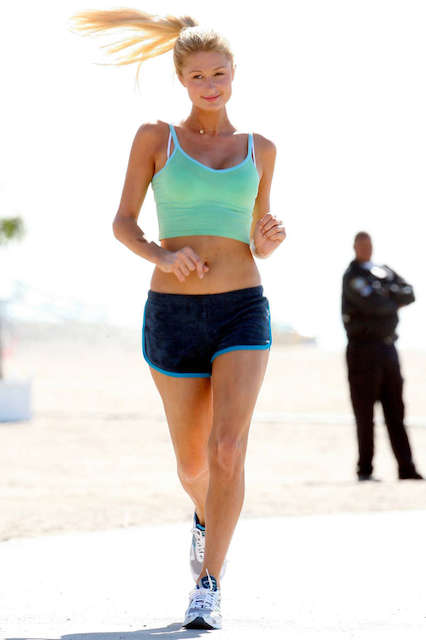 Paris Hilton Diet Plan
The affluent celebrity is vigilant about her diet, and the reason obviously is to keep her in good shape. Paris is averse to crash diet plans and strictly opposes starvation. She at no cost appreciates the idea of making her body devoid of foods.
Simply in love with McDonald's, hamburger, ice cream, and pizza etc., bleary-eyed star is not restrictive in her choice of foods. However, she keeps the portion size of foods small. She reckons whatever you wish to eat, eat those foods in small portion. It's better to satisfy your temptations with small portion size of those foods than to suffer from dreadful thoughts of those foods all the while.
The credit for wary choice of Paris goes to her ex-boyfriend Cy Waits, a former Las Vegas nightclub owner, as he was the one who developed healthy eating acumen in Paris. The brunette now puts great emphasis on the consumption of organic foods and homemade meals.
Paris Hilton Workout Routine
It's impossible to acquire toned and curvy figure like Paris unless you practice exclusive workouts to sculpt your body parts. Credited with perfect bikini body, the royal beauty practices workouts while getting directions from her personal trainer, Teddy Bass. Paris loves workouts and that's the reason, she didn't skip them even while going through unflattering life in prison. She in fact explored and learnt various new and efficient ways of workouts there.
Workouts, which are an indispensable part of Paris daily routine includes jogging, jumping jacks, push-ups, weight training, Pilates, crunches etc. Among cardio workouts, she is big fan of surfing and biking, and is always ready for them. In addition to formal workouts, Paris is also a night-bird and loves night-outs, partying, and tremendous carefree dancing.
Frequent whole dancing nights have also contributed a lot in keeping up the heiress in superb curvy shape. Dancing for one-hour burns 200 calories from your body. Now, just imagine, how many calories Paris shall be burning while dancing all night.
Healthy Recommendation For Paris Hilton Fans
Nominated as Worst Celebrity Role Model of 2006 after Britney spears, Paris indeed must be having numerous fans, looking forward to know the secret formulas used by her to uphold her killer shape.
Paris recommends all her fans to give green beginning to their lives. Endeavor staying away from processed foods because they have bountiful preservatives and additives used in them, having disastrous impacts, both on your body and mind. In workouts, develop affection for weights, as weight lifting is best pal women can ever have. It gets you closer to toned body without consuming much of your time.
Apart from that, dancing being the passion of gorgeous star has helped her a lot in attaining supple and marvelous body. Should you too have passion for any recreational activity, don't let your passion die.
You can use your passion as a tool to combat against weight gain throughout your life. So without waiting for any miracle, groom your skills. Research also braces the fact that activities capable of aligning your body and mind together can get you desired results without many efforts. And certainly, no other recreational activity can be as great as dancing is.