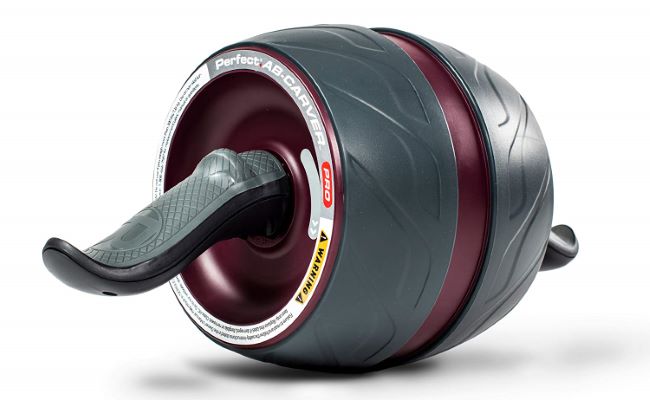 People are now more body conscious than before. They want to look and feel good about themselves. Having a great body boosts up confidence level as well. A good body is also directly linked to your health. The health practitioners now suggest that one should maintain proper body weight in order to prevent diseases like high blood pressure, diabetes, obesity, etc. That's why you will find that the number of gym-goers has increased over the years. However, going to the gym is time consuming and expensive as well.
There is some amazing exercise equipment available in the market today that can make your home a mini gym. Ab roller is one of them. Its main objective is to reduce abdominal fat and tone it up; however, it actually works on the entire body. If you buy an ab roller, you will be able to get into shape in no time. Buying an ab roller can be a daunting task as there are many different types of ab rollers in the market. Considering the quality and price, the Perfect Fitness Ab Carver Pro Roller is one of the best ones you will find. It has all the features of a great ab roller and can help you to get your desired body within a short time.
Design
It has a patented design that helps to strengthen and engage the muscles at the back, arms, chest, and core. It also increases the effectiveness of the exercise. It uses a carbon steel spring mechanism that helps the user to smoothly roll out and roll back. It provides resistance to amplify the overall workout. While rolling back, it provides assistance so that pressure on the lower back of the user is minimized.
One of the best design features of this ab roller is that unlike the other rollers that have a flat wheel, this ab roller has a spherical wheel that helps the user to not only roll straight out and back but also to the right and left. This helps to engage all the muscles thoroughly, including the oblique muscles.  The wheel is wider than the other similar products, and so gives you more stability and balance. It has angled ergonomic hand grips that help to engage the arm and core muscles. The handles have built-in thumb rests which takes off pressure from the wrists.
Build Quality
This ab roller is constructed using metal and heavy-duty plastic which makes it strong and durable. Its handles are sturdy and non-slip, so you won't have to worry about losing your grip while exercising. It has a carbon steel spring that provides resistance while rolling out and assistance while rolling back, thus ensuring smooth workouts.
It has an interior kinetic engine that has a coiled spring made of very strong carbon steel. This improves the workout to some extent. This spring also provides assistance when rolling back, so helps to ease the load from your back. The roller contains an external rubber grip that prevents you from slipping or damaging the floor.
The grips are ergonomically designed and so you will be able to work out comfortably for long hours. It comes with high-density foam knee pads that give comfort during workouts.
Grip
The handles are contoured in a way that it fits the user's hands nicely. They also feel comfortable on the wrists. The handles won't slip due to sweat even after an intense workout. The grips are curved and rubberized that is ideal for stability control. The handles are padded and angled so that it can optimize the engagement of core muscles and arm.
Control
Most ab wheels you will find in the market are narrow which makes it difficult to keep balance while working out. So, people struggle keeping balance instead of focusing on the actual exercise. This won't be the case here. The wheel of this ab roller is wide which ensures balance and stability. The wheel is made up of high-quality materials that make it durable. There is also no risk of tipping over and so, the risk of injuries due to tipping or strain on the wrists decreases considerably.
Effectiveness
This equipment works on all the 38 core muscles, and so is highly effective. It helps to strengthen the core which increases balance, reduces back pain, and improves posture. It activates various muscle groups including the core, chest, back and arm muscles. It is more effective in burning calories compared to the regular planks or sits ups. Due to the wide wheel, you can roll straight, back and on either side as well which engages the four sets of abdominal muscles. It provides a complete upper body workout. It is very easy to use and is ideal for both beginners and experts.
Price
You can get this amazing ab roller for $34.99 at Amazon. If you compare it with the gym membership fee per month, buying this ab roller is indeed a good investment. You get complimentary knee pads with it and a 21-day workout guide as well. So, overall you actually get more than what you pay for.
Pros
This ab roller is compact in design and lightweight, so you will be able to transport and store it easily. The handles are removable, making it easier to store under the bed or cabinet.
The wheel is coated with rubber and so doesn't cause any damage to the hardwood floor, carpet or any other surface.
As the wheel is wide, it reduces strain on the lower back.
It has ergonomic handles that maximize grip without making you feel uncomfortable.
By exercising using this ab roller, you will be able to work out the side muscles as well along with the core muscles, which is not possible with other ab rollers. Eventually, you will get stronger pelvic and spine muscles.
You get foam knee pads free with this product which gives extra support and comfort.
You also get a 21-day workout program that teaches you to exercise the right way.
1-year manufacturer's warranty is included with the product.
It has an automatic brake that prevents you from overextending and hurting your back.
Cons
Some people have complained that after a number of reps, the rollback point gets shortened by 8 inches from the starting point and the gap increases with more use.
The price is higher than many of the competitors.
The spring in the ab roller that assists in rolling back is prone to breakage under pressure.
Final Verdict
The Perfect Fitness Ab Carver Pro Roller can do wonders on your abs. It works on all the muscles and gives you a flat tummy. It is designed in such a way that you feel comfortable even during strenuous exercises. It is a very versatile product and allows you to perform a plethora of exercises comfortably. However, you have to accompany it with balanced cardio routine and a proper diet in order to get a flat and muscular stomach.
You should start the exercises slowly so that there is no strain on your muscles. You will get the result after 10 to 14 days of workout. This workout can easily replace your planks, crunches and other floor exercises. It is a very powerful abs training equipment for the beginners as well as the advanced users. Using it regularly can help to ease your back pain as well so that you feel much better.
Buy Perfect Fitness Ab Carver Pro Roller