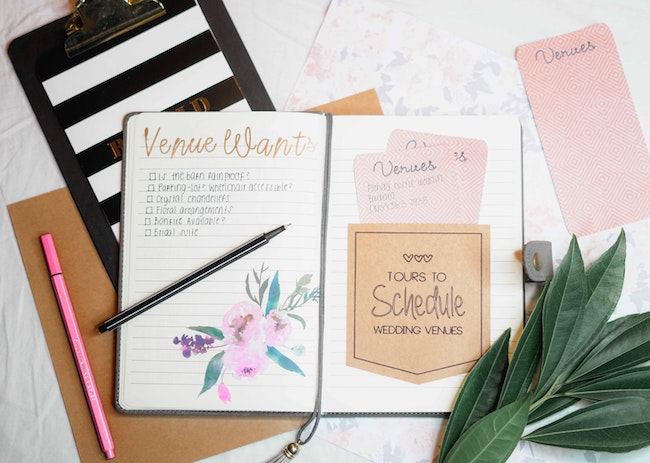 One of the most exciting times in your life is when you become engaged to the love of your life. On the contrary, it can very well become one of the most stressful times too. Planning a wedding has a lot of details involved, but have no fear. We have put together a helpful list of some of the top wedding planning tips. Stay calm, and read on!
Choosing The Right Wedding Ring and Band
You might be wondering how to choose the right wedding ring and wedding band for your special day. It's no wonder since there are hundreds of options to choose from. What type of stone will you choose? How many carats? What will the setting look like? How about the wedding band itself?
There are countless ways to customize the perfect ring. But most importantly, when it comes to choosing the best ring and band combination, you should think about yourself and your partner's unique taste and style.
You want it to be something timeless that doesn't simply fall into the latest trends. Trends come and go but your personality will last a lifetime.
Always Take Your Budget Into Consideration
Weddings are expensive – we all know this. But as you start to pick your caterer or hire your DJ, you may forget about your wallet and only think about making your special day absolutely perfect. How could you put a price on love?
But if you have intentions for your future like buying a house or having kids, you won't want to spend all of your savings in one day. Set a wedding budget for yourself before you start any of the major planning.
You might be thinking that you will get a favorable return from wedding gifts in the form of money. But that's where a lot of couples go wrong in the planning process. Don't let there be any expectations for monetary return. You have no idea what you might receive on the day of your wedding, especially if you have already set up a registry online somewhere.
Allocate a certain amount of funds towards different areas and see what you can do yourself, such as creating centerpieces through reused mason jars or repurposing old craft materials for aisle decor. Trust us – when the day is over, you will be grateful that you did.
Start Planning Early
There is already enough stress when it comes to planning your wedding. This is why it is crucial to start planning early, regardless of how big or small the event might be. There are dozens of things to consider.
Things like creating and sending your invitations, vetting and selecting the best vendors, finding your venue, and planning your post-wedding necessities – all take time to put together and implement.
Make your wedding day stress-free by starting your planning and executing earlier than you anticipate. Professionals in the wedding planning industry suggest starting to plan as early as a year or two before, depending on the destination and size of your guest list.
Get Fitted For Your Dress, But Do Alterations Later
Because you are starting your wedding planning process early, one of the important purchasing decisions you will make is your wedding dress or tux. A lot of brides and grooms will start a diet and workout routine for their wedding day. Whether you lose weight or gain muscle, your body will absolutely change in one year.
It is always suggested to find your attire early on, but make sure to wait until you are closer to your wedding to get it properly altered. This way, it fits and complements your body shape for your wedding day.
There is nothing worse than trying on your wedding dress a week before, only to find out that it no longer fits you. Give yourself a few months ahead of time, but no more than three. Talk to your tailor ahead of time so they can tell you what the turnaround time is for the alterations.
Don't Forget to Make The Day Personal
At the end of the day, your wedding is about you and your partner uniting as one. It's easy to get caught up in the planning process and make it all about catering to other people rather than your partnership. 
Don't forget amongst all the wedding planning chaos to keep it personal and make it about the two of you. There is no amount of planning that could do this for you. It has to be intentional throughout the process and especially on the day of your wedding.