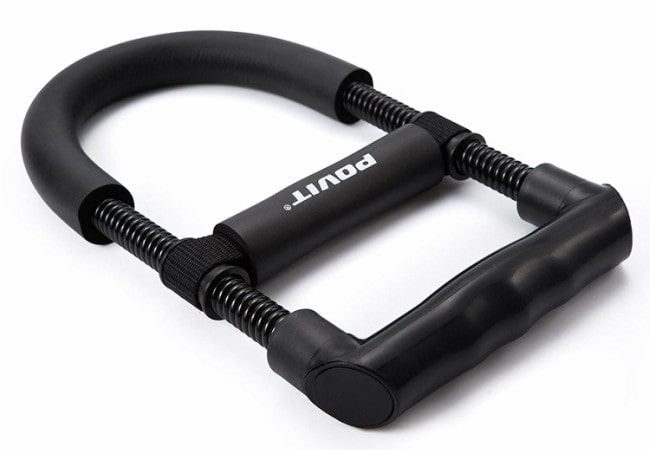 If you want to strengthen your wrists, then you need to exercise regularly. There are simple exercises you can do at home to make your wrists stronger. If you can buy equipment like a wrist exerciser, then it will be much easier and more effective to exercise your wrists. Our wrists contain joints, bones, nerves, and muscular attachments. If you have suffered from any injury or need physical therapy, then you must do regular wrist exercises so that your wrists can function normally. Physical therapists often recommend using a wrist exerciser for a quick recovery if you suffer from carpal tunnel syndrome, boxer's fracture, Smith's fracture, and more. Sometimes people find it difficult to move their wrists after a stroke as well. Athletes requiring throwing or overhead motions need a lot of strength in their wrists. So, if you play volleyball, tennis, golf or basketball, you can get lots of benefits by using a wrist exerciser.
Design
It has a stylish appearance and you will enjoy working out within in front of others as well. This wrist exerciser is designed to improve your power, strength, and speed of your forearms, wrists, and fingers. If you are an athlete, musician or someone interested in sports like golf, tennis, etc. then this equipment is for you. It can be easily adjusted, allowing you to perform both regular and reverse curls. It has an adjustable stabilizer pad as well. Using this equipment, you will be able to move your wrist from side to side and eventually build strength.
Build Quality
It is made of premium quality carbon steel spring. The electroplating spring is anti-corrosive. It is smooth and durable. It has a thick foam pad also for comfort and safety. It uses PP engineering plastics that provide better sealing and stronger pressure resistance. You will find this wrist exerciser very safe to use. Each part of the wrist exerciser is made carefully so that it doesn't cause any injury. It is tough equipment that is built to give you good results.
Size
It has dimensions 10.5 inches by 5.5 inches by 1.25 inches. The size is compact and you can easily put it inside your gym bag and carry it wherever you go. It only weighs 1 pound which won't cause any extra pressure on your wrists when using it.
Comfort
This wrist exerciser has stabilizing foam pad to give you the ultimate comfort you need during exercise. As it has an adjustable design, you will be able to turn your wrists comfortably in both directions without feeling any pain. You will have a very comfortable experience working out with this wrist exerciser.
Ease Of Use
You will be able to use this wrist exerciser easily. It takes less time to assemble and proper instructions are given in the user manual. You can adjust the spring to make sure that it fits your wrists well. The springs used in this wrist exerciser is harder and stronger than the regular springs. So, you need to be careful when bending it.
Effectiveness
This wrist exerciser can help to strengthen and build flexor and extensor muscles. You will be able to enhance your grip strength. So, if you are involved in sports where you have to throw a ball or use your wrists for movements, then this wrist exerciser will be helpful. It will also make your forearm strong. You will be surprised to see your athletic or music performance after exercising with this wrist exerciser for a few months. You will notice a drastic improvement in your performance. Your grip will improve and your hand muscles will become stronger.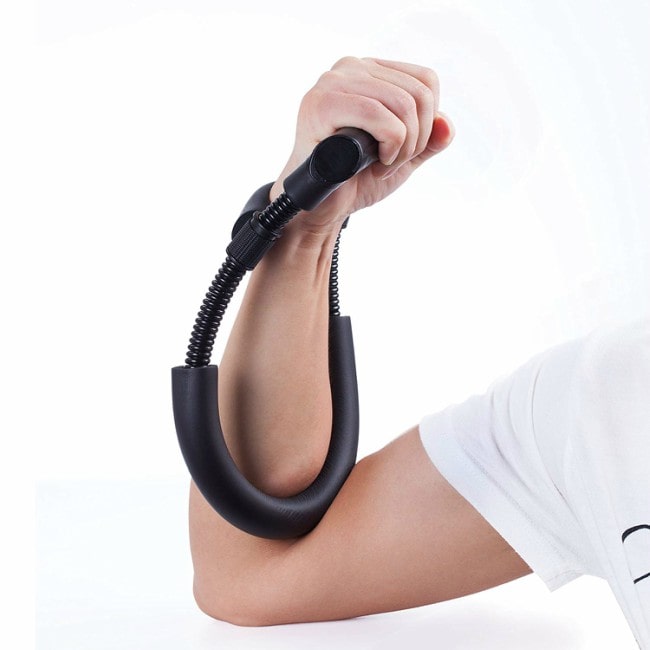 Pros
It has an attractive design which makes it appealing to many customers.
It is lightweight and portable, so easy to carry around.
It is compact, so you can store it in your gym bag.
It is made of heavy-duty carbon steel spring which makes it durable.
The spring is anti-corrosive, so it will last for a long time.
It has thick foam to provide comfort and safety.
It can improve the strength, power, and speed in the wrists, forearms, and fingers.
It is appropriate for athletes, rock climbers, tennis players, golfers, and musicians.
It is adjustable and you will be able to perform regular and reverse wrist curls with it.
It has an adjustable stabilizer pad for better control and comfort.
It is easy to set up and a user manual is provided to help you.
It can be used for physical therapy as well when recovering from injuries due to carpal tunnel syndrome, stroke or other health issues.
You will get good customer service from the manufacturer in case you have any complaints about the product.
Cons
There is no color choice; there is only one design to choose from.
No warranty is provided by the manufacturer.
Final Verdict
The Povit wrist exerciser is very helpful for the athletes, musicians, tennis players and others requiring a lot of wrist movements. It has a lovely design and can be easily adjusted. The spring is made of tough material so it is durable. It is anti-corrosive as well, so this wrist exerciser will remain in good condition for years. As it is adjustable, it will fit most hands easily. The foam pad makes it comfortable to use. This wrist exerciser has been designed for providing the ultimate safety to the users. So, there is no chance of causing any injury when exercising with this wrist exerciser.
You need to exercise with this wrist exerciser regularly so that your wrists and forearms become strong faster. The health condition of people may be different. It is better to check out with the doctor before starting to exercise with a wrist exerciser, especially if you are using it for rehabilitation purposes. The price is competitive and you can get good value for money. If you are looking for a quality product that can give you effective results quickly, then you should buy Povit Wrist Exerciser.