High-intensity workouts like weight training or CrossFit will make your hands sweat. The sweaty palms can lead to injuries as you won't get a good grip on the weights during weightlifting. You need a good pair of exercise gloves to prevent your hands from sweating and to keep your hands protected. Choosing good quality gloves is not easy. Now, you will find gloves in different designs and materials. You need to emphasize on the grip when you buy gloves so that you can lift heavy weights like dumbbells and barbells comfortably. You should consider the level of padding as well so that your hands are protected from blisters and calluses. The ProFitness Cross Training Gloves have received good feedback from the customers and so we are going to review these gloves in detail.
Design
These gloves are designed to be comfortable, functional, and easier on hands. They are very stylish and you can choose different trim colors such as red, pink, black, blue, camouflage and turquoise. There is an adjustable wrist wrap attached to the gloves that makes them comfortable and reduce the tension on hand while doing chin-ups, curls, pull-ups, and other exercises. The gloves are abrasion resistant that minimizes callous and prevents hand rips when exercising. They have silicone grip on that improves grip. The flexible Velcro closure makes it easy to put on and take out the gloves. They have an open design that allows flexibility of movement. As they are ergonomically designed, they allow the utmost flexibility and ventilation. Your hands won't feel tired after working out. These gloves are designed for both men ad women. They can be worn by both the beginners and the seasoned athletes and trainers. You will be able to protect your hands fully and focus more on your performance by wearing these gloves.
Build Quality
These neoprene gym gloves are flexible and feature reinforced silicone-padded palms. This improves grip strength, reduces friction, and provides extra comfort to lift weights like dumbbells and barbells. The fabric stretches easily and gives users various ranges of motion.
The neoprene is breathable and so sweat doesn't build up. Your hands will remain dry all the time and there will be no risk of blisters or calluses. You can use these gloves for different types of workouts like CrossFit, weightlifting, and other gym exercises. You get a 60-day guarantee for the gloves. These gloves are well built and durable.
Size
You can find these gloves in different sizes from XS to XL. You can custom fit the gloves using the strap. The snug fit will make you feel comfortable and you will be allowed a whole range of movements.
Comfort
These gloves provide good palm coverage. This open design gives freedom of movement. The open back keeps the hands cool. The soft neoprene layer provides comfort. The silicone padding feels soft and gives added comfort. These gloves provide good ventilation and a solid grip. The built-in Velcro wrist support provides additional support.
Effectiveness
The ProFitness Cross Training Gloves are versatile. You can use them for cross-training and powerlifting exercises. You can use them at home also for rope climbing, home gyms, and other indoor exercises. These gloves are ideal for both men and women. The nylon body is breathable, lightweight, and durable. These gloves are built in such a way that you can get a sturdy grip on the weight bar. They are sweat-resistant and so will be able to endure vigorous workouts. They have wrist support that gives stability and comfort. They can give extra support to serious athletes. These gloves will protect your fingers, wrists, and joints during exercise. You can use these gloves for doing cross-training and other exercises as they will protect your fingers and hands from developing calluses. These gloves are preferred by serious athletes due to the thumb and wrist support. These gloves are well built and you can rely on them.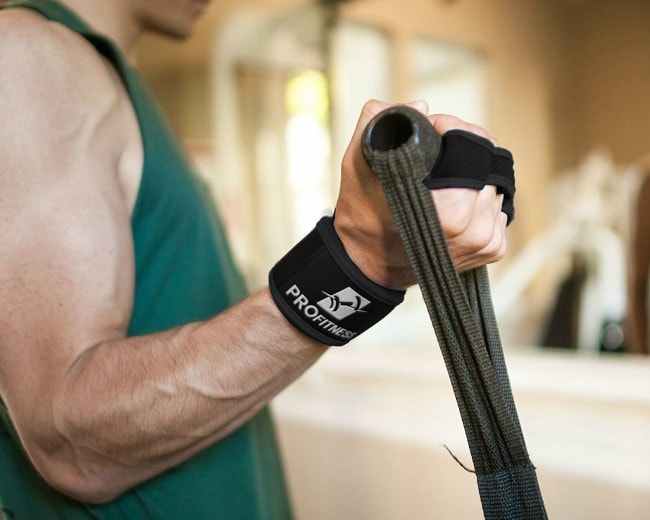 Pros
The gloves are lightweight and stylish.

You get choices for trim colors like camo, red, black, and more. 

Only the palm portion is covered and the top of the hand is left open, so you get the freedom of movement. 

These gloves are made of neoprene which makes them flexible.

They have silicone-padded palms that provide extra comfort and increases grip strength. 

They have moisture-wicking properties, so your hands will remain dry all the time. 

The gloves are breathable. 

They will prevent slippage. 

Palm callouses will be minimized and skin tears will be reduced as well. 

You can buy them at a reasonable price. 

They have large wrist support strap.

The Velcro closure allows it to put on and take off easily.

Cons
The palm padding doesn't go up to the thumb. 

Some users found the size to be inconsistent.
Final Verdict
These gloves have such minimal design that you will feel as if you are not wearing anything. Due to the open design, the back of your hand and the thumb remains free and gives you an extra range of motion. As the gloves are breathable, your hands won't get sweaty. The adjustable wrist gives stability and support. The thick Velcro strap gives the ideal fit.
You will be able to do CrossFit training, weightlifting, and other exercises by wearing these gloves. These gloves have the right padding to give you the comfort you need during weightlifting and other exercises. You will have an excellent grip on the dumbbells, barbells, and other equipment during workouts. They are suitable for both the beginners and the experts. For beginners, it's a great choice as the price is reasonable and the experts will highly benefit from the wrist support, they will get. These are one of the best exercise gloves you will find in the market that will give you good value. You will be able to protect your hands and won't experience any irritation. They are made of high-quality material. So, if you are looking for something that will last for a long time, you should buy these gloves.