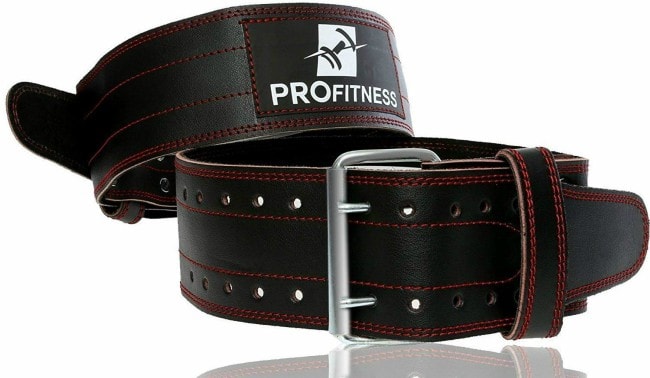 Weightlifting belts look so simple that it is often ignored by the workout enthusiasts. Not many people realize the usefulness of this belt for weightlifting. If you are suffering from back pain, then you must wear a weight belt before lifting heavyweights. You will be surprised to know that the weightlifting belts reduce and stabilize the stress on your spine by almost 40%. It will improve the overall performance of the weight lifters by reducing body flexion which is one of the major reasons for injuries.
These belts wrap comfortably around your waist and will give you the support you need to lift heavyweights. It limits how far out the gut will expand which creates pressure and thus stabilizes your inner core and the spine. Apart from weightlifting, these belts are perfect for workouts like back squats, power cleans, deadlift, and more. All the weight belts are not made equal. You need to do proper research before buying one. You should consider the material with which it is built, the design, size, and price of the belt. Considering quality and functionality, we have picked up the ProFitness Genuine Leather Workout Belt for review. This belt can provide you the right support you need for weightlifting. 
Design
The belt is designed to protect your core and allow powerful lifts. It can be used by beginners, intermediate users, and serious weightlifters. It is 5 mm thick and has a suede lining which increases comfort and prevents the belt from slipping. It is 4 inches wide that provides good support to your back and abdomen. It has a sturdy double prong metal buckle and a loop for adjusting. You have 2 styles to choose from: black belt with white stitching and black belt with red stitching. It is easy to strap in and adjust the belt to a size that is comfortable for you. The inside and outside finish of the belt are different that provides good adherence and the belt feels very comfortable to wear. This belt is highly recommended by the professionals as it is non-tapered.
Build Quality
This belt is made of genuine leather that is 4-inch thick. It will allow you to lift as much as 500 pounds comfortably. With this belt, you will be able to improve your performance and lift weights safely. It will support the lower back during intense weight lifting. The belt is flexible and allows quick movements in every direction. If you tighten the belt, it will provide excellent lumbar support. Thus, you will be able to prevent injuries during workouts. This belt is built in such a way that it won't slip even if you sweat, so you can do weightlifting for hours without any trouble. Once the belt is adjusted properly, it stays in place allowing you to do the exercises properly.
As the belt is made from top quality genuine leather, it won't tear, slip or stretch. So, it will maintain it's form and position no matter how long you exercise. You will be able to carry a lot of weight with the help of this weight belt. You get a 60 days money back refund, so you will feel confident about your purchase.
Size
This weight belt has a tight fit and so it is recommended that you buy a size up to get the right fit. This belt is available from size small to extra large. The size of the belt varies between 24'' and 49''. So, users can pick up the right size and adjust the belt if needed.
Comfort
This is a super comfortable weight belt that will help you to support your back and prevent any injury. Using this belt, you will be able to do squats, deadlifts, and other exercises confidently. The genuine leather feels great on the skin and you can wear it for long hours without hurting your skin. As the belt is 4 inches wide, it can give full support to your back.
Effectiveness
This weight belt is extremely versatile and that's why many people prefer it. Besides weightlifting, you can use this belt for burning calories, challenging your strength or doing other exercises like CrossFit. Using this belt, you will be able to demonstrate your lifting ability without slipping.
If you want to avoid lumbar injuries, then this belt is perfect for you. You will also be able to maintain squat when weightlifting and get support for deadlifts and overhead press. It will also help you to build core muscles on the front and back. The belt is fully adjustable which makes it comfortable to wear. You will feel confident during weightlifting when you wear this belt. This will automatically boost your confidence. Its rigidity and stiffness make it ideal for powerlifting.
Price
It is one of the best quality weight belts that you will find at an affordable price. You can buy it for $28.95 only at Amazon. You should always look out for offers and discounts so that you can get it at a cheaper price.
Pros
It is black and comes in different styles; one has red stitching and another has white stitching.

It is made of genuine leather that makes it long-lasting.

It is 4-inch thick that covers your back properly.

This belt provides a great range of motion.

It can be adjusted to the desired size.

It holds firmly to the body allowing you to exercise comfortably.

It provides great support to your back and prevents back injuries.

It is very comfortable and you will become more confident in weightlifting by using this belt.

It won't slip during exercise, thus making the weightlifting experience problem-free.

It helps to build core strength and burn calories as well.

It is highly recommended for CrossFit and Powerlifting.

You get a lifetime warranty and a 60-day money refund guarantee for this product.
Cons
Some users prefer a stiffer and thicker belt.

Some users complained that the color of the belt bleeds onto the clothes of the user.

The belt's rivets may pop out after using the belt for a while.
Final Verdict
The ProFitness Genuine Leather Belt can fulfill your lifting requirements. It can also help to achieve your weightlifting goals and help you to challenge your limits. It is useful in various fitness sectors and so users find multiple uses of this belt. It is a high-quality leather belt that will withstand all the abuse and last for a long time.
It is very important to maintain proper lifting and squat form as it reduces injuries. This weight belt can be used for CrossFit, deadlifting, squat racks, and other exercises. It provides stability and balance that is required for most of these exercises. It can improve your strength and help to avoid injuries. You will be able to have thick back and strong abdominals. It won't slip during weightlifting and so you will have a hassle-free experience. This belt provides a lifetime warranty. So, you can purchase this weight belt without any hesitation for comfortable and effective workouts.