It can be a hassle to go to a gym every time you have to exercise. Instead, if you bought an indoor exercise machine like a rowing machine, then it will be much easier for you to maintain your regular fitness routine. A rowing machine provides a pro-level cardio workout that will help to strengthen your shoulders, arms, back, and quads. You will find different types of rowing machines in the market today. Some of them have advanced features and are meant for home use. You need to set up a budget and look into the various features to buy a good quality rowing machine. Here, we are going to review the ProForm 440R Rower and find out why it is so popular among the users.
Design
It has a low pulley station that provides an extensive upper body workout. It provides smooth rowing motion due to the perfect size of the flywheel. It has magnetic resistance which doesn't create any sound. You can change the resistance levels to 8 different settings. It has a monitor that displays different parameters like time, distance, strokes per minute, etc. It also has a built-in pulse receiver that monitors the heart rate. It has a low pulley station that provides extensive upper body workout. The handles are ergonomic and covered with foam that provides an excellent grip. The seat is comfortable as it is well padded.
Build Quality
It is made up of a strong aluminum frame that is strong and durable. The seat is ergonomically designed and very comfortable. You won't feel any pain on your shoulder or back even after working out for a long time. The front part of the machine is made of steel and the inner parts are made of polyurethane. You can change the resistance levels which allow you to perform more challenging exercises. It has a small footprint and you can exercise comfortably in your small apartment. When not in use, you can fold it easily and store it somewhere in the house. It provides a 5-year frame warranty and a 90-days part warranty.
Size
Its dimensions are 76.6 inches by 38.3 inches by 20.5 inches and weigh 68 lbs which is lighter than most of the other rowing machines in the market.
You can fold it to a compact size when not in use and store it anywhere without taking up much space. It almost becomes half of its normal footprint. The size of this machine is perfect for tall users also and they can perform extended leg exercises comfortably as well.
Ease of Use
Clear instructions are given on how to assemble the rowing machine. It has built-in transport wheels, so you can move it from one room to another conveniently. You can change the resistance levels easily with the help of a knob. After finishing your exercise, you can easily fold it and store it.
Comfort
It has a soft-touch ergonomic handle that feels comfortable to hold. The adjustable ergonomic padded seat will allow smooth rowing motion as it glides smoothly on the rail. It has pivoting pedals with foot straps that keep your feet balanced and secure while doing exercise.
Effectiveness
You can do exercises like bicep curls, upright rows, and tricep extensions with it. It is great for interval training that can help you to be in shape within a short time. You can do 10 minutes of rowing, then take rest, followed by a few sets of bicep curls. On your next rep, replace the bicep curls with upright rows. So, you see how you can vary the exercises for better results.
It has a scan mode that displays the data for 6 seconds before going on to the next set. You can view strokes per minute, calories burned, distance, and time on your monitor that will help you to keep track of your progress. It is designed for full-body cardio and strength training. You can use it as a rower and as a stand-up strength trainer.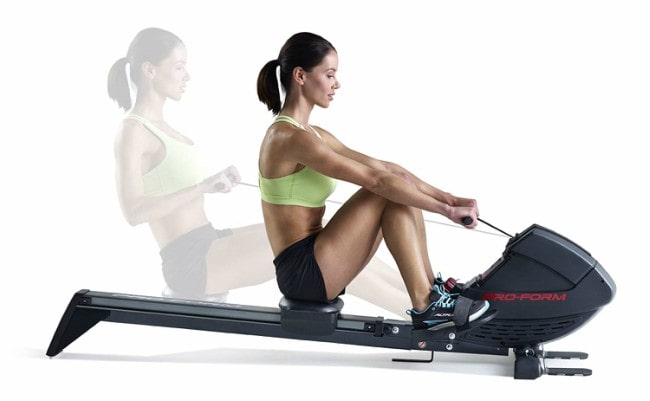 Pros
The pulley station allows convenient operation.
It provides a smooth rowing action.
There are 8 different resistance levels and you can control the tension with a knob.
You can fold it easily when not in use and store it under your bed or inside the closet.
It has a large LCD display for showing various fitness parameters as calories burned, number of strokes, distance, etc.
It provides silent rowing action.
It has a pivoting pedal with adjustable foot strap that will keep your feet in place.
It has transport wheels that make it easy to transport.
The flywheel allows smooth and steady strokes.
It has a SpaceSaver design, so you can fold it easily when not in use.
Its oversized aluminum seat is comfortable.
Cons
It is an entry-level rower and doesn't provide strong resistance needed for the professionals.
Some users found it a bit difficult to assemble than the other rowing machines in the market and you may need additional tools to assemble it.
Final Verdict
This rowing machine will suit your budget and will be a good investment for your home gym. It is compact and won't take up much space. So, you will be able to exercise comfortably in any corner of your room. You will be able to work out your upper and lower body with it. At the same time, it will be good for your lungs and heart. It is great equipment for beginners and intermediate users who want to improve their cardio health.
You can use it as a stand-up pulley station and as a rower. Both modes support cardiovascular training and strength training with 8 levels of resistance. It is one of the few rowing machines in the market that is so versatile. You will have a comfortable and effective exercising experience by using this super cool and budget-friendly rowing machine.